Ola S1 Pro is a popular electric scooter, while the Honda Activa is one of the highest-selling regular scooters in the country.
In this post, we shall perform a thorough comparison between the Ola S1 Pro and Honda Activa 6G in terms of specs, features, range, mileage and more. If you are in the market to buy a scooter, there are more options than ever before. What makes everything even more interesting is the fact that these options also include electric scooters representing the wave of future mobility. Hence, it makes sense to compare the two.
You may also like: Royal Enfield Bullet 350 vs Ola Electric S1 Pro Drag Race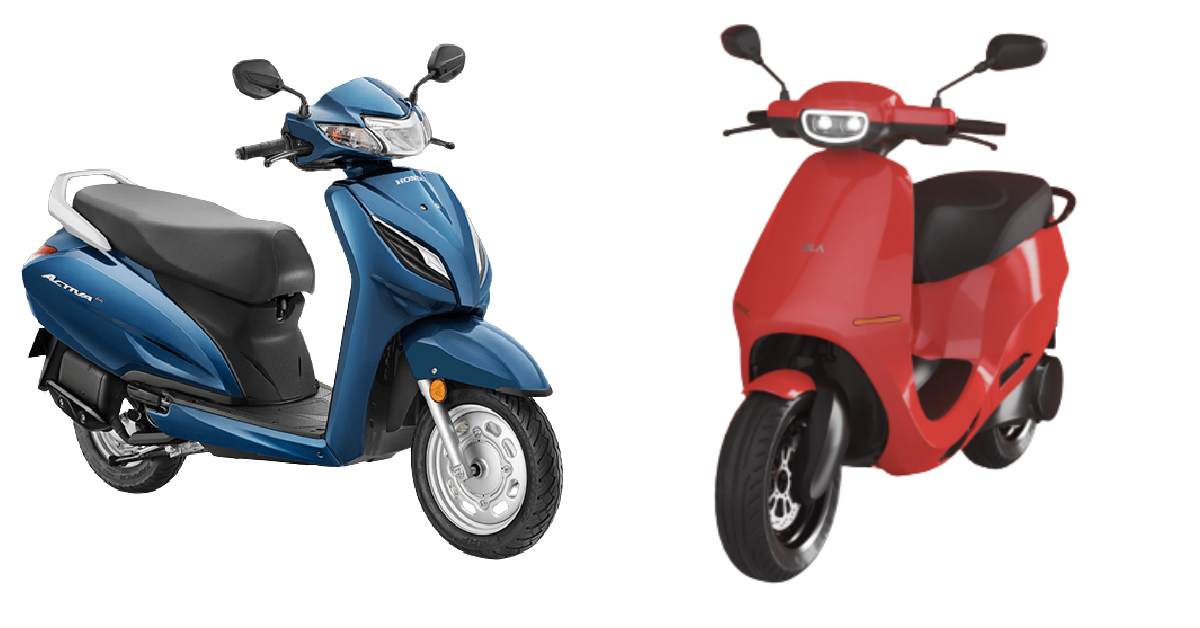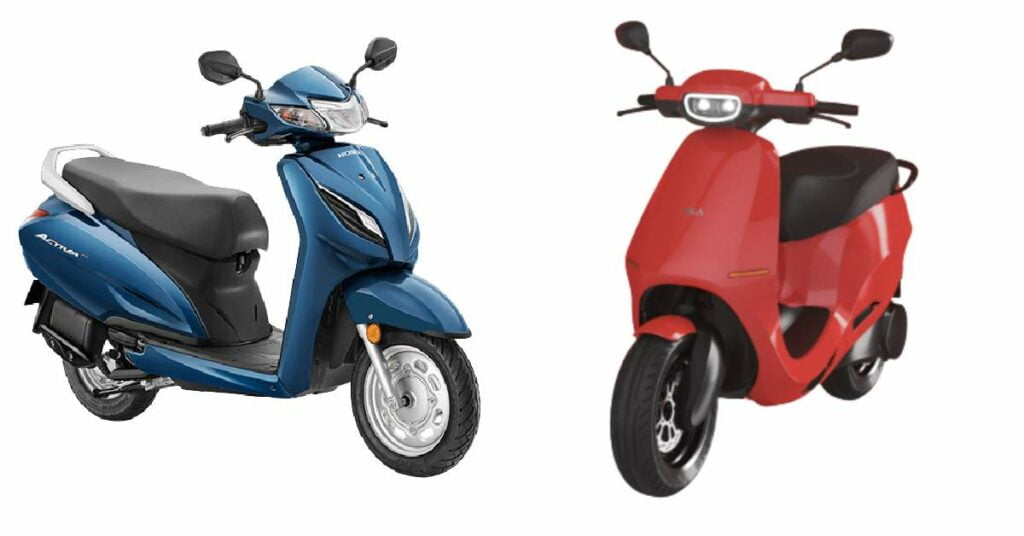 You may also like: Ola S1 Pro Undergoes Water Crossing Test- Will It Survive?
Ola S1 Pro vs Honda Activa 6G – Specs Comparison
The Ola electric scooter comes powered by a 3.97 kWh battery pack that allows a claimed range of 181 km and in the real world, one could expect around 110 km. The total power and torque outputs are 11.4 hp and 58 Nm respectively. There are three drive modes – Eco, Normal, and Hyper. You can get upto 75 km of range in just 15 minutes. It tips the scales at 125 kg and the top speed is 116 km/h.
You may also like: Owner of 2 Ola S1 Pro Scooters Shares Pros & Cons
On the other hand, the Honda Activa 6G comes powered by a 109.51 cc engine making a healthy 7.79 PS and 8.84 Nm of peak power and torque. This engine is mated to a CVT automatic transmission. The fuel tank is a decent-sized 5.3 litres and the real-world mileage is around 50 km/l. The weight of the scooter is 111 kg.
You may also like: Side Stand of Ola S1 Pro Breaks Off; Repair Takes 3 Days
Ola S1 Pro vs Honda Activa 6G – Features Comparison
The Ola S1 Pro comes with a ton of new-age features like a MoveOS 2 Operating System, Music Playback through In-Built Speakers, a Passenger Footrest, an Underseat Storage of 36 litres, an Anti-Theft Alarm, an LED Turn Signal, a 7-inch Touchscreen Display, Cruise Control, an Mobile App Connectivity, Bluetooth and Navigation among others. The storage is decent and the handling is particularly noteworthy. It is offered in 10 colours.
You may also like: Road-Roller vs Honda Activa Strength Test is All Kinds of Stupidity
The Honda Activa 6G also comes packed with features including a Seat Opening Switch, LED Turn Signal Lamp, Odometer, Passenger Footrest, Carry Hook, External Fuel Filling, Tachometer, and Trip Meter among others. Active is offered in 9 colours.
You may also like: 2022 Honda Activa 7G to Launch Soon- What We Know
Price Comparison
The price of the Honda Activa 6G ranges from Rs 72,400 to Rs 75,400, ex-showroom. This is the reason why people have made it one of the highest-selling scooters in the country for a while. On the other hand, the Ola S1 Pro costs Rs 1.48 lakh, ex-showroom. However, the catch is that with the government subsidies and incentives, the price is reduced drastically and even comes under Rs 1 lakh in some parts of the country.
You may also like: Watch Ekta Kapoor's Reaction To Smriti Irani Riding Honda Activa to Work
Who Should Buy What
For all those, who are looking for an established product in the market with a proven track record, a feature-rich package at an attractive price point, Honda Activa 6G still makes perfect sense. Note that the Active 7G is also around the corner. However, if you are tired of the ever-increasing fuel prices, or you are willing to spend some more for premium and tech features and want to embrace the future of mobility, Ola S1 Pro is a great option.