Aftermarket automobile tuners could amp up the specifications of any vehicle. Here, the old Thar has been tuned to produce 30% more power than the latest model.
Etuners India has calibrated the old Mahindra Thar to produce 30% more power than the latest version of the SUV. Professional aftermarket automobile tuners have capable engineering to calibrate the ECUs of the vehicles in such a way that the performance aspects of any vehicle could be changed drastically. Thar is a popular lifestyle off-roader that is not generally associated with high-speed driving or 0-100 km/h sprints. But in this case, the bump in power and torque has improved its acceleration times significantly.
You may also like: Mahindra Thar Superhero NFTs Raise Rs 26 Lakh for Charity
You may also like: Here's India's Best Old Mahindra Thar to New Model Conversion
Old Mahindra Thar 30% More Powerful Than The Latest Model
The video of the two models of Thars doing acceleration sprints has been uploaded on YouTube. For the first case, the 2020 model with the mHawk diesel engine has been upgraded using BMC Air Filter and with a little play with the ECU of the SUV, the power output stands at a massive 170 hp with 400 Nm of peak torque. This is significantly up from the stock 130 hp/320 Nm. After the modifications, the 0-100 km/h acceleration test is done which was completed in just 10.01 secs compared to 13.23 secs with the regular mHawk diesel engine. The enhancements have certainly made the Thar much more fun to drive.
The older 2016 Mahindra Thar came with the CRDe diesel mill that produced 105 hp and 250 Nm of peak power and torque. To upgrade this model, the Etuners added a BMC Air Filter, KSM Intercooler and Full System SS Exhaust. All these components bumped up the power and torque figures to 170 hp and 350 Nm respectively. In the acceleration test, 0-100 km/h after the modifications came up in just 13 secs compared to 21.127 secs in the stock configuration. Both these tests confirm the performance enhancements using tuning.
You may also like: This Mahindra Thar Video Shows Dark Side of Unorganised Car Mods Industry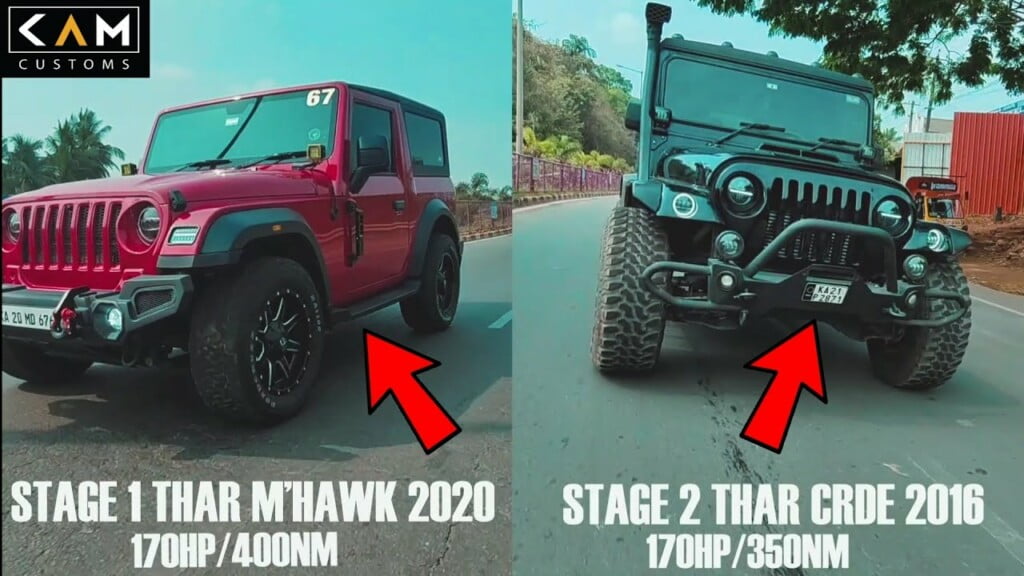 While these performance-boosting techniques are quite common and effective, they come at the cost of fuel consumption. Regular cars are calibrated in such a way that there is a perfect balance between performance, fuel economy and emissions. By altering the engine parameters, the balance is bound to get disturbed. Hence, you might see your vehicle consuming more fuel.
Join our official telegram channel for free latest updates and follow us on Google News here.