Foggy windows are a constant source of worry for a lot of car owners, especially during the winters. Here are some ways to prevent it.
Fogging of windshields, especially during winters is a common phenomenon that a lot of people struggle with and here is how you could prevent it. Depending on where you live, the temperatures during winters could drop down well below freezing. When you are in a hurry to go to work or somewhere else, you can't waste time cleaning the windows again and again. It is also a distraction while driving. Modern cars come with defoggers, but sometimes it is not easy to maintain that ideal temperature to get rid of the fog. Therefore, here are some tips and tricks to have clean glass under such conditions.
You may also like: You've Been Using Your High Beam Incorrectly All This While! 
You may also like: 5 Reasons & Solutions For Burning Smells In Cars
Tips To Prevent Fogging Windshields During Winters
You should try raising the temperature of the AC. Warm air collects all the moisture from the surroundings and the windshield is cleared up.
Make sure that your AC is operating with fresh air from outside the car. For this, turn off the air recirculation function. The fresh and dry air from outside will reduce the moisture content from inside the car.
The easiest way, if possible, still remains opening car windows for sometime until the temperature outside and inside becomes similar. This could only be done if it is not extremely cold outside. 
You may also like: How To Remove Watermarks and Rain Spots From Car?
The use of shaving foam is the cheapest way to clean up a foggy windshield. You must use a micro-fibre cloth and apply shaving foam on the window thoroughly. Then use another dry cloth to wipe it clean. This will form a layer on the window and fog will not be able to deposit on the windshield.
There are other ammonia-based window cleaning products that must be applied regularly. Here, an impact aspect is to ensure that you apply the product in a vertical or horizontal pattern. It will help you remove any kind of build-up on the inside of the windshield.
You may also like: What Happens if You Drive With Low Tyre Pressure?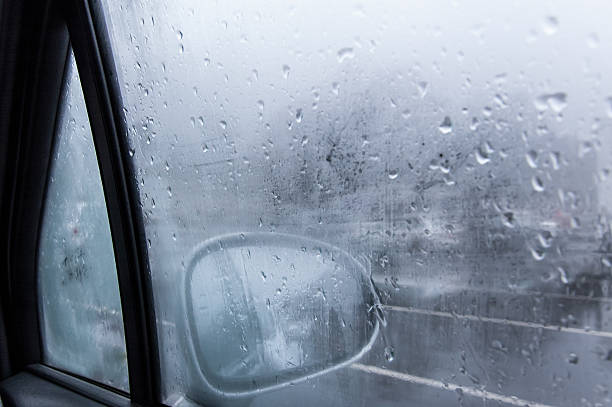 Both, the shaving foam and the ammonia-based products could be used for all windows in a car.
Another cause for moisture entering your car could be snow and water through your footwear. Make sure to dry them before entering the cabin as it will contribute to the moisture content in the car otherwise.
If you still keep getting a foggy windshield despite the AC, there might be some malfunction in the HVAC system of the car. You should get in inspected at the workshop.
We hope you use these tips next time to prevent the windshields of your car from fogging during the winters.
Join us for FREE NEWS Updates on our Whatsapp Community or our official telegram channel.