In a new video, Rahul Gandhi showcased the truck container where he stayed for 136 days during the Bharat Jodo Yatra.
Rahul Gandhi is one of the most famous Indian politicians. Recently, he completed the 'Bharat Jodo Yatra' during which he walked across the country. The whole journey took 136 days and gathered a lot of public support. Mr. Gandhi started walking early morning and the journey came to halt after every sunset. While completing this ambitious plan, Mr. Gandhi used a makeshift truck container to rest every day. A new video gives a glimpse look at the well-furnished container.
You May Also Like: Car Collection of PM Narendra Modi – VIDEO
You May Also Like: Cars Used by Finance Minister Nirmala Sitharaman – Maruti Ciaz to Skoda Octavia
As you can see in the above YouTube video by Rahul Gandhi, the truck container comes with all the essentials and amenities. It looks like a well-furnished room with an air conditioner, a fan, and a small couch. The small container gets a double bed with pillows and mattresses. You can see wooden furniture and panels all over. There is also a lockable shelf on the right side of the bed. An open stack is occupied by a box for storing valuables below the shelf. There are also blue-colored curtains on either side of the bed.
Additionally, the container also includes an attached washroom. The compact-sized washroom is separated by the main resting area with a curtain. It contains a wash basin, a tap for running water, a couple of buckets, and a commode. There is also a geyser for the availability of hot water. Overall, the new container seems good resting place after walking on public roads for a whole day. Many members of the 'Bharat Jodo Yatra' stayed in similar movable containers. These containers were mounted on full-sized commercial trucks.
You May Also Like: Khushi Kapoor Seen with Her Humble Toyota Fortuner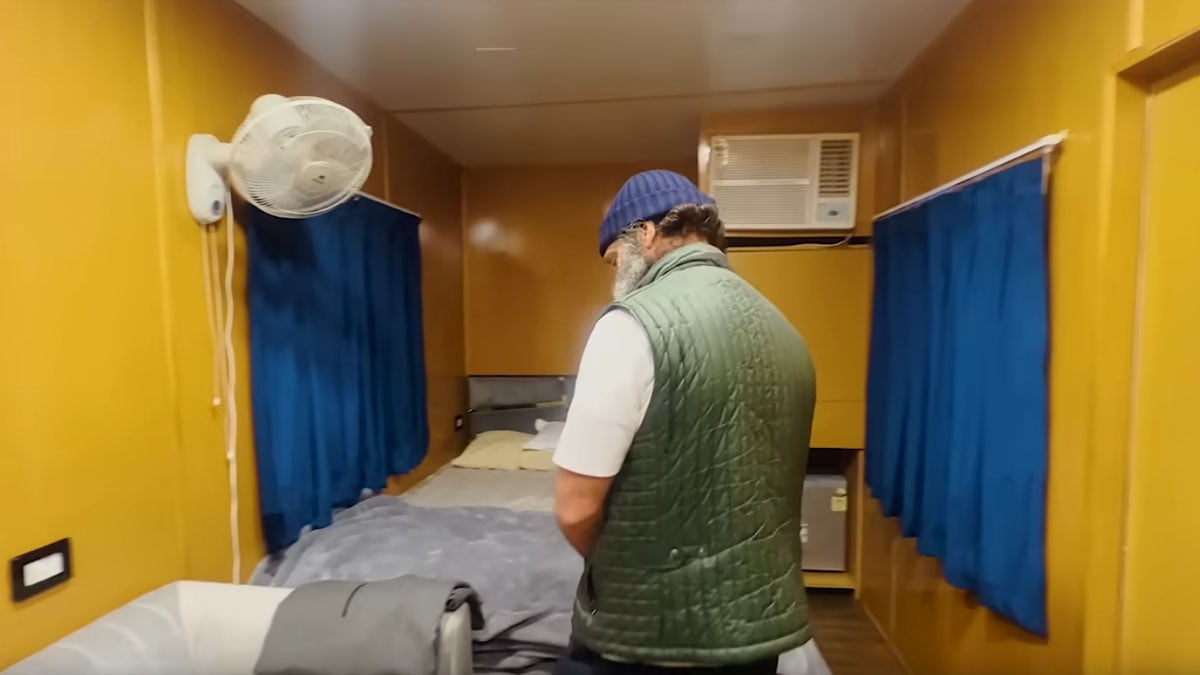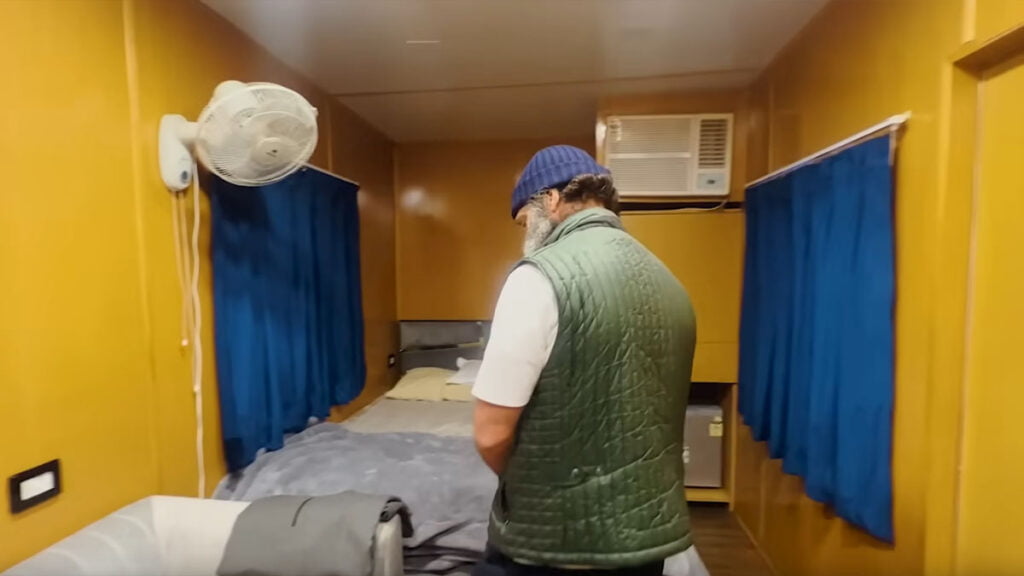 You May Also Like: Rahul Gandhi Prefers Yamaha RD350 Over Royal Enfield
Mr. Rahul Gandhi's temporary home is quite similar to the vanity vans used by Bollywood celebrities. During film and TV shoots, the talent is provided with similar vans to rest and freshen up on different locations. A vanity van comes equipped with essential features and is essentially a moving home. However, some celebrities spend lakhs of Rupees to spruce up their vanity vans. Some of these customized vanity vans are indistinguishable from expensive hotel rooms. In comparison, Rahul Gandhi's van is quite modest.