It is simply unbelievable to comprehend just how rich some people can be.
This video is a prime example of that.
This Indian kid has cars and watches worth millions of dollars.
An Indian kid in Dubai has Rolls Royce cars worth crores. Yes, you heard that right! It is simply mind-boggling to see how filthy rich some people can be. Things get elevated to a whole new level if they are kids who are not even eligible to vote yet. One such case is mentioned in this video. A young kid of Indian descent showcases his assets living in Dubai. Let us take a look at it.
You may also like: Kumar Mangalam Birla Seen In His New Rolls Royce Ghost – VIDEO
You may also like: Bhushan Kumar Seen in his Rs 7 Crore Rolls Royce Cullinan
You may also like: Sanjay Dutt Spotted in his Exotic Rolls Royce Ghost
Indian Kid Has 2 Rolls Royce Cars
The video has been uploaded by Mo Vlogs on YouTube. He visits the property of this rich Indian kid in Dubai. Standing in the open-air garage of the kid, the YouTuber mentions that the kid bought a Rolls Royce Ghost and a Rolls Royce Wraith. The Ghost is with black exterior and a bright orange interior theme while the Wraith has shades of blue on the exterior, as well as on the inside. Additionally, both these Rolls Royce cars are finished with 24-carat gold Spirit of Ecstacy symbols on the bonnet which are a trademark of Rolls Royce products. In addition to these super luxury cars, the rich kid has a watch collection worth millions of dollars.
You may also like: Ambani Buys 2 Rolls Royce Phantoms This Diwali – 1 Each for Mumbai and Ahmedabad
Rolls Royce Ghost
The Rolls Royce Ghost comes with a 6.7-litre V12 turbo engine that outputs a colossal 563 hp (some variants make up to 592 hp). In spite of weighing over 2,400 kg, this monstrous luxury saloon has an impressive 0-100 km/h acceleration time of under 5 secs. The all-wheel-steering and all-wheel-drive, along with almost the 50/50 weight distribution contribute a lot to the impressive driving dynamics of this car. It has a starting price of around Rs 6.95 Crore, ex-showroom in India.
You may also like: The Ambanis Now Have 3 Bentley Bentayga and 4 Rolls Royce Cullinan SUVs
Rolls Royce Wraith
The Rolls Royce Wraith has a 6.6-litre V12 engine that is good for 591 hp and 900 Nm of peak power and torque. It comes mated to an 8-speed automatic gearbox and has a 0-100 km/h acceleration time of 4.7 secs. The price of the Wraith in Indis is around Rs 6.22 Crore, ex-showroom. What are your thoughts about this stupendously rich Indian kid?
You may also like: Gold Rolls Royce Phantom Taxi in Kerala Can Be Rented for Rs 25,000/Day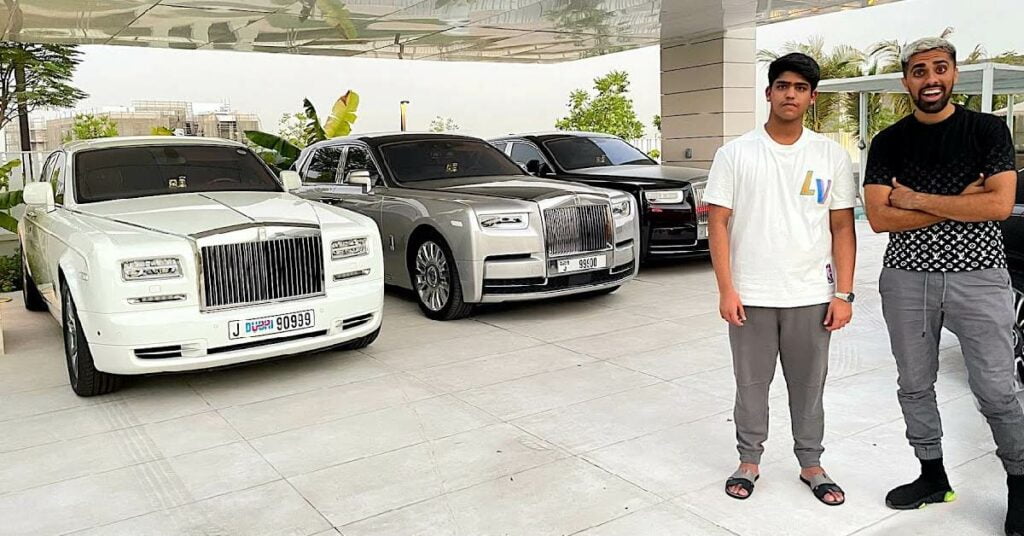 Disclaimer- The embedded videos/ external content is/are being used as a convenience and for informational purposes only; they do not constitute an endorsement or approval by Car Blog India of any of the products, services, and /or opinions of the corporation or organization or individual. Car Blog India bears no responsibility for the accuracy, legality, and/or content of the external site or for that of subsequent external videos/ external content. Contact the external publisher for answers to questions regarding its content.
Join our official telegram channel for free latest updates and follow us on Google News here.