Check out this interesting drag race between Ford Aspire and Toyota Innova Crysta, where you get an unexpected winner.
We all know, Ford diesel cars are mini rockets, packed with a lot of punch. Ford has to be one of the few manufacturers where people like its diesel engines over the petrol ones. Here is one such example where the smaller and less powerful Ford Aspire defeats Toyota Innova Crysta in a quick drag race. Check it out ahead.
As you can see, right from the start, Aspire manages to take a lead. Swiftly, it goes far away from the Innova only to win the race by a huge margin. Two attempts have been done to get a clear idea. Right in the second gear itself, the Aspire takes a lead in the first attempt.
Also Read: Kia Seltos vs old Hyundai Creta – Drag Race – Find Out Who Comes Out on Top!
Even in the second attempt, the Aspire manages to race ahead of Innova in just a fraction of second. In some time, the sedan disappears and actually cannot be seen. Innova gets a 2.4 litre turbo diesel engine that produces 148 BHP and 343 Nm of peak torque. This variant comes paired with a 6-speed manual gearbox.
As for the Aspire, it gets a 1.5 Litre four-cylinder diesel engine that produces 100 BHP and 220 Nm of peak torque, mated to a 6-speed MT. On papers, the MPV is a lot more powerful, nearly offering 50 BHP and 120 Nm of torque more. However, when it comes to power-to-weight ratio, Aspire is the clear winner.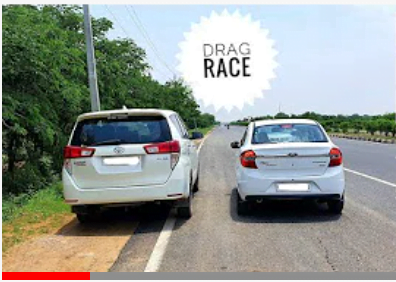 The length of the race does not seem long enough. Since the Ford Aspire is lighter in weight, its acceleration is much better than the Innova. However, if we compare both of them on the basis of top speed, the Innova will defeat the Aspire. If the MPV loses in acceleration, it gains in achieving a better top speed.
Also Read: Tata Harrier Vs Toyota Innova Quick Drag Race – See Who's The Winner
Probably, if it would have been the Figo instead, we would have seen even better results. The 1.5 Litre TDCi diesel engine remains constant on Figo, Aspire, Freestyle and even EcoSport. However, the EcoSport gets a more powerful petrol engine when compared against the likes of other three cars.