Indian roads are filled with astonishing sightings every day and this certainly qualifies as astonishing and even perilous.
This latest incident on the road shows an elephant being transported on a Tata Ace. Now, while this might well be a common way to move animals around, it is certainly not the safest. In fact, it is not only dangerous for the animal but for everyone around. Activities like these are what make the Indian roads so perilous and challenging. Let us take a deeper look at what this video clip is all about.
You may also like: Girl Dancing on Royal Enfield is More Stupid Than Skilful – Here's Why
You may also like: Mahindra Thar Mowing Down Pedestrian Shows What's Wrong with Our Drivers
Elephant Transported by Tata Ace
Someone driving behind a Tata Ace recorded the video from his/her car. It looks like a busy highway with plenty of cars around. And on the middle of this highway, there is this Tata Ace carrying a mammoth elephant. There is a trailer attached to the compact pickup truck on which the feet of the elephant seem to be tied. That is the only harness that has secured the giant elephant to its place.
You may also like: Car Driver Harassing Lion in Gujarat Shows What's Wrong With The Society
Now, since the trailer is too small for the elephant to sit, it has to keep standing. But that is exactly what makes this entire procedure so unpredictable and unsafe. On hard braking, the animal could easily fall off. Since its feet are tied it could land awkwardly on the road causing other cars to become a victim. That could create a litany of collisions since sudden manoeuvring could cause disturbance to the flow of traffic. Therefore, such an attempt could prove to be fatal for the animal, as well as for everyone around.
You may also like: Stupid Biker Highlights Perils of Street Racing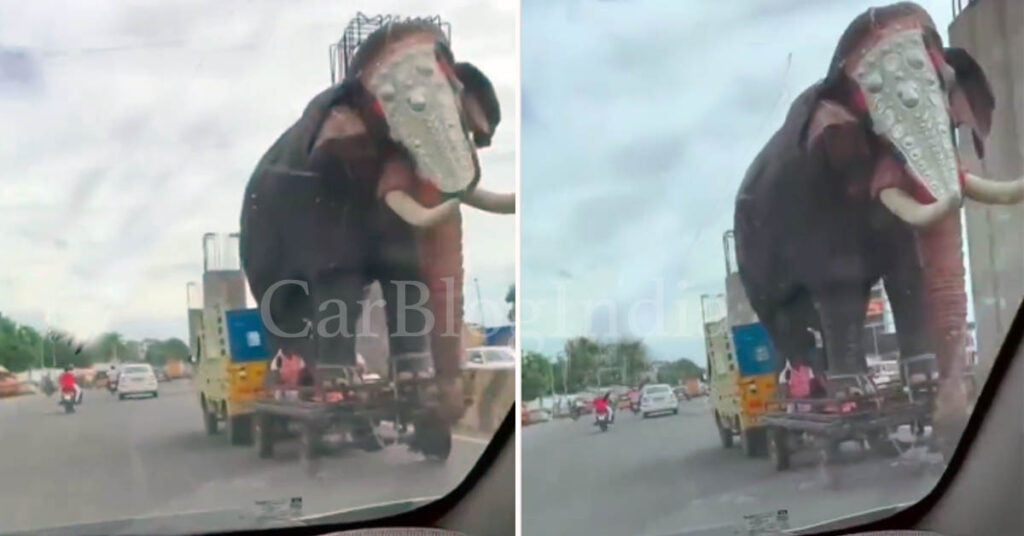 Finally, the average weight of the elephant could easily be around 4,000 kg. However, the load-bearing capacity of the Tata Ace is a mere 750 kg. That is already a huge blunder and represents the carelessness of the people trying to carry weight for which the pickup truck is not engineered. Such huge elephants must be transported using huge trucks which are covered and provide sufficient safety to the animal and enough area for it to sit. We hope that this doesn't cause any harm to anyone.
Disclaimer- The embedded videos/ external content is/are being used as a convenience and for informational purposes only; they do not constitute an endorsement or approval by Car Blog India of any of the products, services, and /or opinions of the corporation or organization or individual. Car Blog India bears no responsibility for the accuracy, legality, and/or content of the external site or for that of subsequent external videos/ external content. Contact the external publisher for answers to questions regarding its content.
Join our official telegram channel for free latest updates and follow us on Google News here.