In a new viral video, a Tata Nexon EV claimed that the charging port of his car was damaged by a cow.
Stray animals are a huge problem on Indian roads. Whether it's dogs in the streets or cattle on highways, random movements have caused many accidents. Now, even parked vehicles are being damaged. A Tata Nexon EV owner was unpleasantly surprised to find his car's charging port broken. Apparently, it was damaged by a stray cow. Mr. Sumit (@SumitKK3) shared the video of this incident on Twitter. You can see significant damage to the charging port of the Tata Nexon EV.
You May Also Like: Tata Compares Sales of Nexon EV and Yet-to-be-Launched XUV400!
You May Also Like: Tata Nexon EV Owner Saves Rs 90,000 in 9 Months – Explains How
Mr. Sumit claims that his Tata Nexon EV was charging outside his home as usual. At a certain point, a stray cow ran through the area. During this activity, it pulled the charging plug that was attached to the car. Usually, the connector gets locked when the charger is connected to the car. This means that the cow applied so much force that the charger was pulled from the socket. As a result, the connector plug is now unusable. Mr. Sumit might have to replace the whole charger now. While the exact cost is now clear, even third-party replacement cables cost Rs 20,000 – Rs 35,000.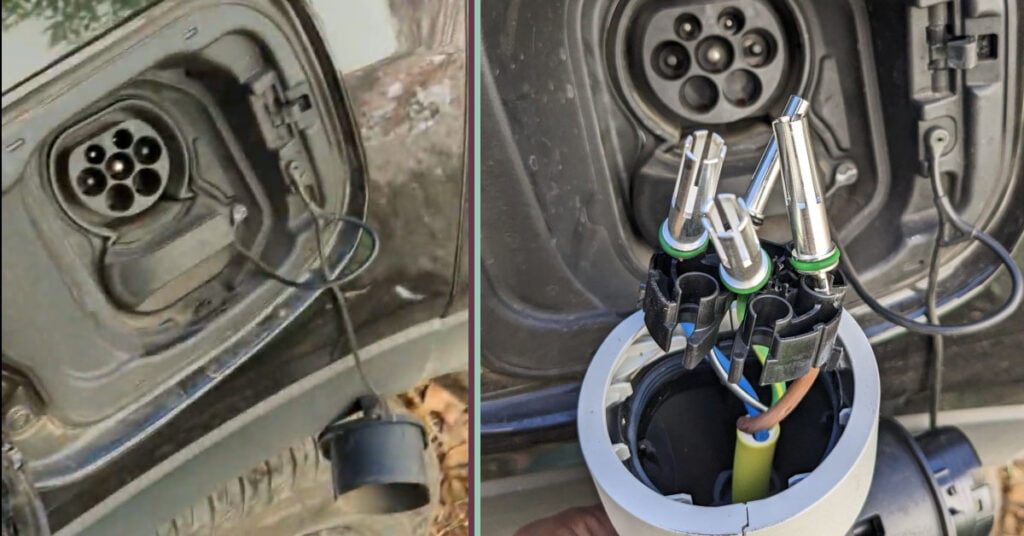 Cattle Versus Cars
Unfortunately, this is not the only incident where a car was damaged by stray cattle. Recently, a herd of stray cattle damaged a parked Tata Tigor. This incident was also caught on CCTV. It shows a herd of cattle on a rampaging run. The Tata Tigor was unwilling to be part of this chaos. As it was parked on the side, the Tigor received multiple dents and scratches. Initially, the car owner suspected anti-social elements. However, everyone was shocked to see a big herd of cattle on the CCTV.
You May Also Like: Neelgai Tests Build Quality of Tata Harrier
In general, stay cattle and dogs have become a nig problem on Indian roads. Nothing much has been done to resolve this issue, despite many promises. As a result, Indian roads are way more unpredictable now. It is advisable to drive defensively and avoid overspeeding. Especially at night and in foggy weather, tray cattle are quite hard to see. Even overtaking is a bad idea as any animal might jump out of nowhere. We will also advise you to not leave any gap on the charging side of your EV. This will make it difficult for random animals to remove or chew the charging cables.
Join our official telegram channel for free latest updates and follow us on Google News here.