Tata is a leader in the EV space in India and Mahindra will challenge that leadership pretty soon.
The Nexon EV will face stiff competition from the upcoming XUV400.
The XUV400 is slated for launch in January 2023 and is a longer version of the ICE-powered XUV300.
Tata Motors has started mind games with Mahindra (about the upcoming XUV400) as their Nexon EV achieves 35,000 sales in our market. Nexon EV is, by far, the most successful EV in India. It is based on the popular Nexon compact SUV that sells in impressive numbers as an ICE-powered vehicle already. Leveraging its bold looks, 5-star safety rating and modern features, Tata Motors introduced the EV version of the same. It has clocked an impressive feat of selling 35,000 units as a result. Now, the XUV400 is about the launch to stake claim to the title of being the highest-selling EV in India.
You may also like: Tata Nexon EV Charger Chewed By Cow, Owner Left Helpless
You may also like: Tata Nexon EV Owner Saves Rs 90,000 in 9 Months – Explains How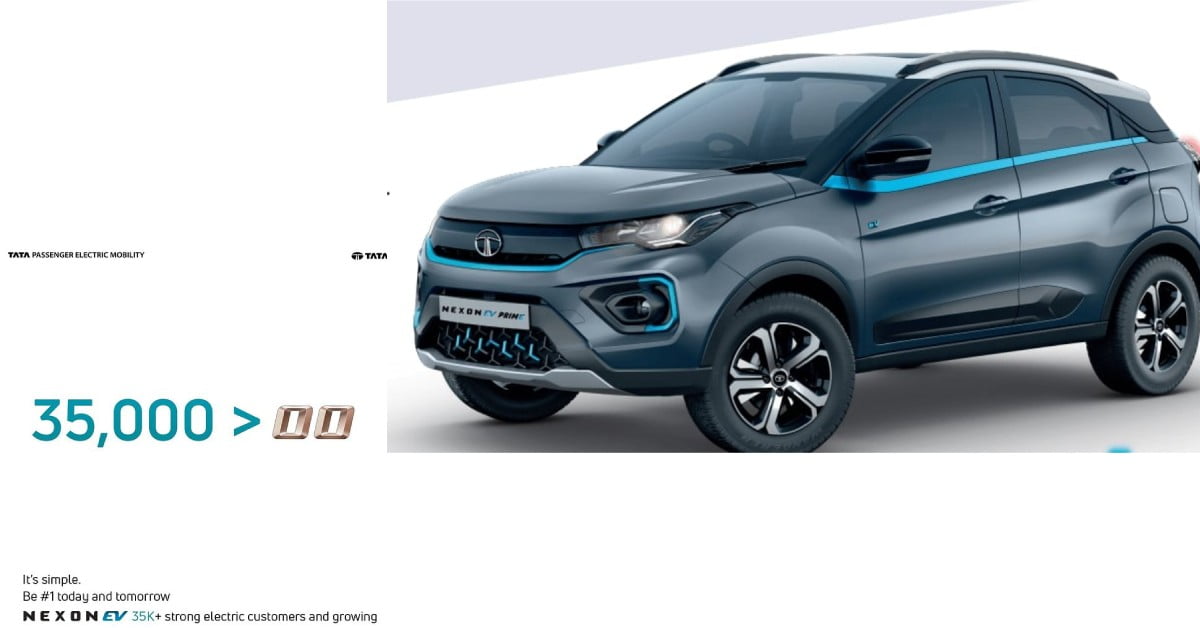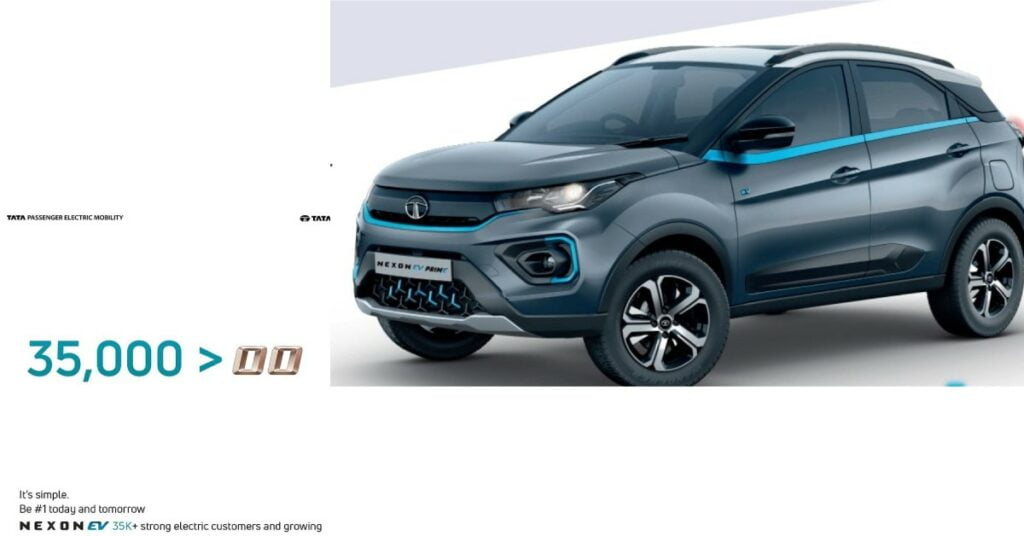 You may also like: Mahindra XUV400 Electric SUV One Of One Edition Unveiled in Presence of Ananya Pandey
Nexon EV Reaches 35,000 Sales, Trolls XUV400
As per the official Instagram handle of Tata Motors, they have posted an encrypted message for Mahindra. Having sold over 35,000 units of the Nexon EV, Tata writes, "35,000 > 00". The "00" signifies the name of the upcoming electric SUV from Mahindra, the XUV400. Hence, one can clearly see the funny mind games already starting among Indian carmakers. We appreciate the witty and healthy competition side of the car makers in which the customers ultimately stand to benefit as both will try to equip their EVs with the latest tech and offer them at attractive prices.
You may also like: Watch Tata Nexon EV Max Getting Towed by Ford Figo to Recharge Its Battery – VIDEO
Mahindra XUV400
The XUV400 will come with a 39.4 kWh IP67-rated LFP battery powering the electric motor that will produce a healthy 150 hp and 310 Nm of peak power and torque. These figures will allow a 0-100 km/h acceleration time of around 8.3 seconds which is very impressive. The top speed is limited to around 150 km/h. More importantly, the range of the XUV400 is rated at 456 km in ideal conditions. Using the 50 kW DC fast charger, the 0-80% comes up in just 50 mins, while the standard 3.3 kW/16 A domestic socket will fill up the juice from 0-100% in 13 hours.
You may also like: Tata Nexon EV Battery+Motor Costs Rs 11.5 Lakh But Here's Why Buyers and Owners Shouldn't Worry
Tata Nexon EV
Tata Nexon EV features a 30.2kWh lithium-ion battery that offers an ARAI-claimed range of 312 km. It produces 129 PS of max power and 245 Nm of peak torque. The Max version of the Nexon EV offers 141 bhp and 250 Nm. It has a 40.5 kWh battery pack with an ARAI-certified range of 437 km. The prices for the Nexon EV start at Rs 14.99 lakh and go up to Rs 20.04 lakh, ex-showroom. What are your thoughts on the Nexon EV and the upcoming Mahindra XUV400?
Join us for FREE NEWS Updates on our Whatsapp Community or our official telegram channel.