The sales of EVs are increasing on a daily basis in India.
But there are still a lot of questions about EVs among regular folks.
This post will answer a big question, "What happens if I run out of charge on a highway?"
Here is a unique case where a Tata Nexon EV Max owner get his car towed by a Ford Figo for an interesting reason. Basically, this video shows what would happen if you tow your EV on a highway using some other vehicle. Nexon EV has a huge market share in the electric car market of India. While EVs are gaining momentum in India, Tata Motors is focusing a lot on bringing the cost down to boost mass adoption. Its Tiago and Tigor EVs are prime examples of that. But people who are able to spend some more money opt for Nexon EV.
You may also like: Tata Nexon EV Owner Saves Rs 90,000 in 9 Months – VIDEO
You may also like: Tata Nexon EV Becomes a Part of the Indian Air Force
Ford Figo Tows Tata Nexon EV
The video has been uploaded by Techno Perry on his YouTube channel. He is the Nexon EV Max owner. In order to demonstrate what would happen if you run out of charge on a highway and decide to tow your vehicle, he uses a Ford Figo. The Nexon EV owner decides to put the car in max regen mode to recoup the maximum charging from the kinetic energy of moving the vehicle. They decide to do this exercise for 10 km to see how much percentage of the battery is replenished.
You may also like: Tata Nexon EV Owner Spends Over Rs 1 Lakh in Charging in 2 Years/85,000 km
During the towing, it was becoming difficult for the Figo to keep pulling the EV and increase the speed. This is due to the fact that the regenerative braking was decelerating the EV. This posed a greater resistance for the Figo to pull. As a result, the driver of the Figo could hardly put the car in 3rd gear. Also, it was only because the Figo was a diesel model with 215 Nm torque that it was able to pull against the strong green brakes of the Nexon EV Max.
You may also like: Tata Nexon EV Battery+Motor Costs Rs 11.5 Lakh But Here's Why You Shouldn't Worry
Battery Replenished by 14%
Finally, after completing 10 km, they come to a halt. At the beginning of this experiment, the Nexon EV Max had a 51% charge. After this entire operation, it got up to 65%. The 14% charge amounts to around 35-40 km more range considering that 1% range is good for 2-3 km. Hence, in such situations where your EV is drained of battery on a highway, you could get around 40 km range by getting towed for around 10 km. This will allow you to reach the next charging station. However, this is not the ideal way to recharge your vehicle. Not only this involves a risk of an accent, but even wears out the clutch plates of the vehicle that tows your car. All in all, such an exercise should be conducted only in case of an extreme need.
You may also like: Tata Nexon EV Max Pwns VW Virtus in a Classic Drag – VIDEO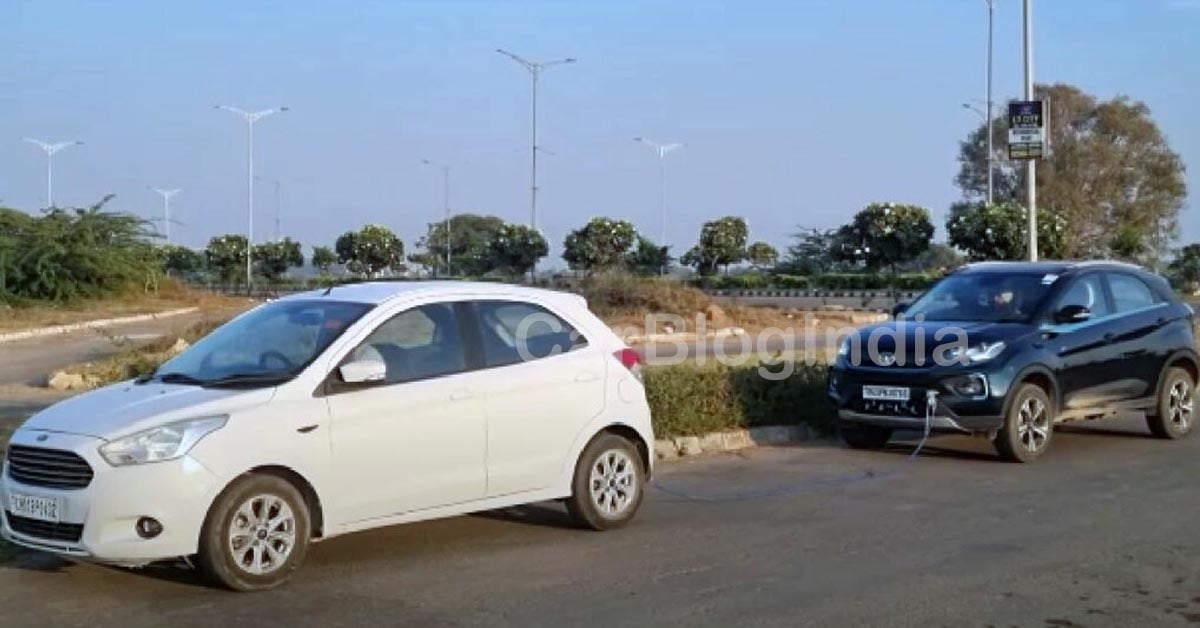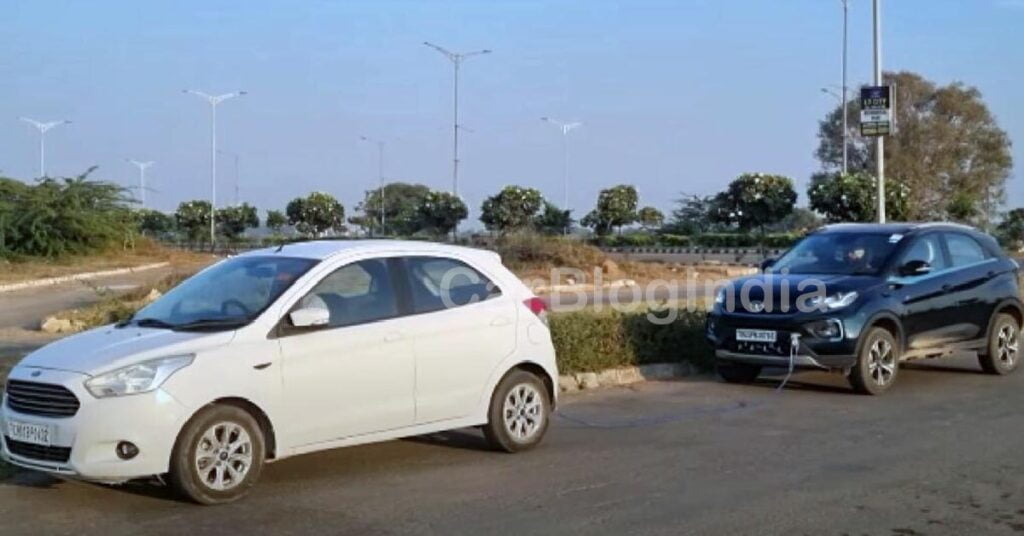 Disclaimer- The embedded videos/ external content is/are being used as a convenience and for informational purposes only; they do not constitute an endorsement or approval by Car Blog India of any of the products, services, and /or opinions of the corporation or organization or individual. Car Blog India bears no responsibility for the accuracy, legality, and/or content of the external site or for that of subsequent external videos/ external content. Contact the external publisher for answers to questions regarding its content.
Join us for FREE NEWS Updates on our Whatsapp Community or our official telegram channel.