EVs are gaining popularity as sales are going up exponentially month after month which is why topics like cost of ownership become critical.
In this post, we shall take a look at a Tata Nexon EV owner, who shares the costs of charging after using his EV for 2 years and having driven around 85,000 km. Nexon EV continues to be a stalwart in the EV space driving the industry forward like no other EV. As a matter of fact, Tata Motors recently achieved an unprecedented milestone of getting their 50,000th EV off the manufacturing belt. This is an unequivocal testament to the way the sector is growing. Let us find out how much it costs to actually own the Nexon EV.
You may also like: Tata Nexon EV Battery+Motor Costs Rs 11.5 Lakh But Here's Why Owners Shouldn't Worry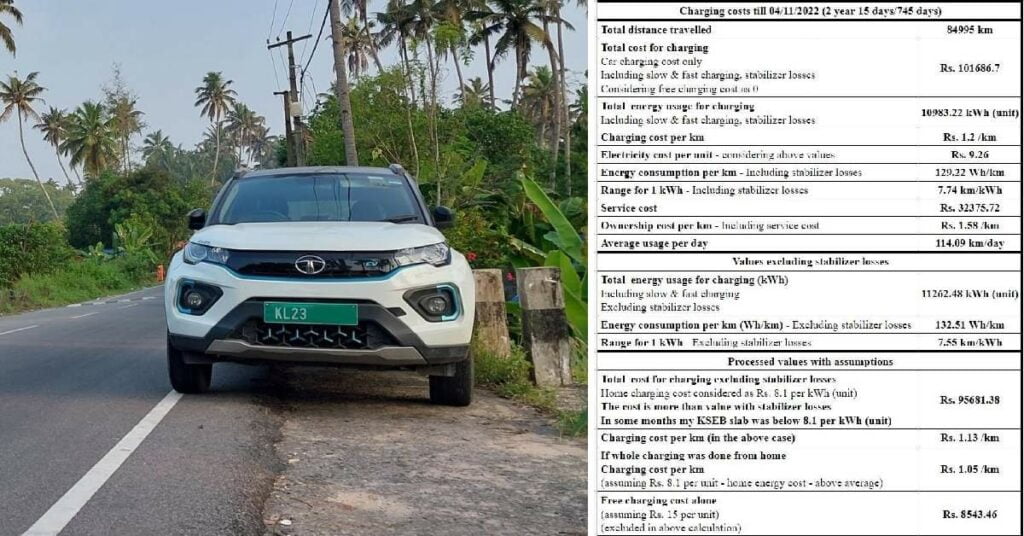 You may also like: Tata Nexon EV Max Pwns VW Virtus in a Classic Drag Race
Tata Nexon EV Charging Cost
This information has been shared by a certain Manu M on Facebook who is a proud owner of the Nexon EV. He has driven the EV for about 85,000 km in just 2 years with an average running of 114 km per day. Based on this, he has devised this table taking into consideration the costs associated with electricity prices, fast and slow charging, stabilizer losses, his driving mannerisms and more. Considering the cost of electricity per unit to be around Rs 9.26 and the energy consumption of the EV to be 129 KWh/km, he spent just over Rs 1.01 lakh for charging.
You may also like: How About a 7-seater MPV Based on Tata Nexon EV for the Sub Rs 20 Lakh Segment
More importantly, this number gets reduced to just over Rs 95,500 if we exclude the stabilizer losses. In this case, the charging cost per km comes out to be an impressive Rs 1.13. Note that this includes DC fast-charging scenarios as well. Those are a bit more expensive compared to charging at home with AC power. It must be understood that these are significantly more affordable and cost-effective than their IC-powered counterparts.
You may also like: How Tata Nexon EV was Born as an Outcome of 'Jugaad'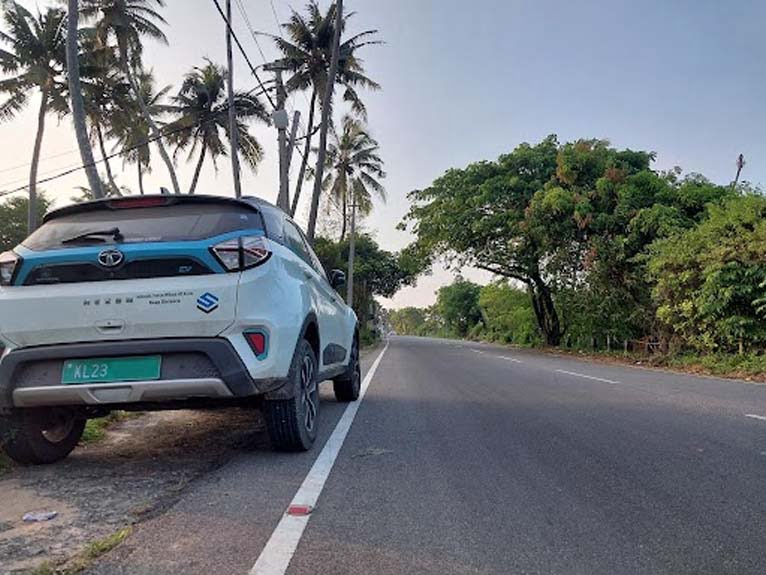 Nexon EV
Tata Nexon EV features a 30.2kWh lithium-ion battery that offers an ARAI-claimed range of 312 km. It produces 129 PS of max power and 245 Nm of peak torque. The Max version of the Nexon EV offers 141 bhp and 250 Nm. It has a 40.5 kWh battery pack with an ARAI-certified range of 437 km. The prices for the Nexon EV start at Rs 14.99 lakh and go up to Rs 20.04 lakh, ex-showroom. What are your thoughts on the Nexon EV and this entire EV wave that is gripping the nation?
Disclaimer- The embedded videos/ external content is/are being used as a convenience and for informational purposes only; they do not constitute an endorsement or approval by Car Blog India of any of the products, services, and /or opinions of the corporation or organization or individual. Car Blog India bears no responsibility for the accuracy, legality, and/or content of the external site or for that of subsequent external videos/ external content. Contact the external publisher for answers to questions regarding its content.
Join our official telegram channel for free latest updates and follow us on Google News here.