This short clip on YouTube shows the Tata Nexon EV wading through water on the flooded streets. As we are all aware, the roads during the monsoons become swimming pools in various parts of our country. It is challenging to move around for the vehicles. In such situations, SUVs are the preferred mode of transport for a whole bunch of people. Practical features like high ground clearance and tough and rugged build enable people to put their SUVs through challenging environments. As a matter of fact, that is the reason for the massive popularity of the SUVs of every segment in the last 5-7 years in India. Our roads are not ideal for the most part and one requires a vehicle that he/she can count on travel to any part of the country.
Also read: Tata Nexon EV Pikes Peak Concept Is A Hill Race Monster!
Tata Nexon EV Navigating Its Way Through Water
The Nexon Electric seems to be wading its way through the flooded streets quite effortlessly. This is a testament to Tata's build quality which can take on almost any sort of challenge. Many people must have wondered how an EV behaves in harsh conditions. Although this may not be a very comprehensive test, it still gives some indication of how EVs tackle such challenges. In the case of Nexon EV, the SUV is based on a regular compact vehicle. Therefore, it has those tendencies.
Also read: Tata Nexon EV Is Still Eligible For The Government Subsidy!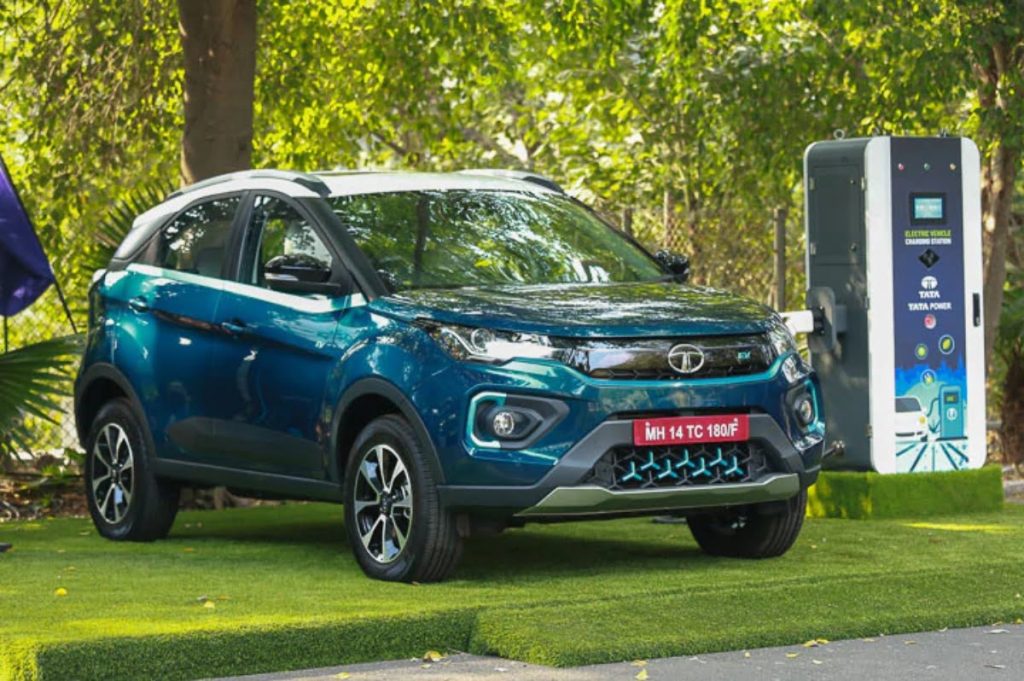 Specs
Tata Nexon EV has a decent battery pack of 30.20 kWh capacity and a range of 312 km. The power that the EV makes is an impressive 129hp and 245Nm torque. Regular charging from 10% to 90% takes around 8.5 hours, whereas 0-80% with a DC faster charger takes just one hour. The monthly subscription fee is Rs 29,500 for 3 years. The Nexon EV is well within the reach of customers with prices ranging from Rs 13.99 lakh to Rs 16.85 lakh, ex-showroom. 
Also read: Tata Tigor EV (Xpress-T EV) launched for the fleet operators – Range, Specs & Prices!
Charging Infrastructure
One of the main concerns hindering the mass adoption of EVs in India still remains the charging infrastructure. While some of the federal governments are bringing out various exciting policies to promote the usage of electric cars, range anxiety continues to bother the customers. The initial cost of purchase is also very high compared to the IC engine-powered counterparts. The government subsidies are looking really promising though. States like Maharashtra, Delhi and Gujarat have huge discounts on the initial costs of the EVs. More such policies might trigger people's minds to start opting for electricity-powered vehicles.
Also read: Tata Nexon EV gets as affordable as diesel variant in Maharashtra!
Join our official telegram channel for free latest updates and follow us on Google News here.