Dogs climbing on the top of cars at night is a common phenomenon but people have devised ways to avoid that.
A Tata Nexon owner has come up with a creative way to protect his car from stray dogs. In most parts of the country, stray dogs are often found sleeping on the roofs of cars parked outside. We know that most people don't have the option of having a garage to park their cars. Hence, cars are seen parked on the roadside in most cities. However, in some cases, it leads to dents on the bonnet or roofs of the cars that have a rather flimsy build quality. In order to prevent that, here are some solutions.
You may also like: Tata Nexon vs Skoda Kushaq – Which 5-star SUV is Safer?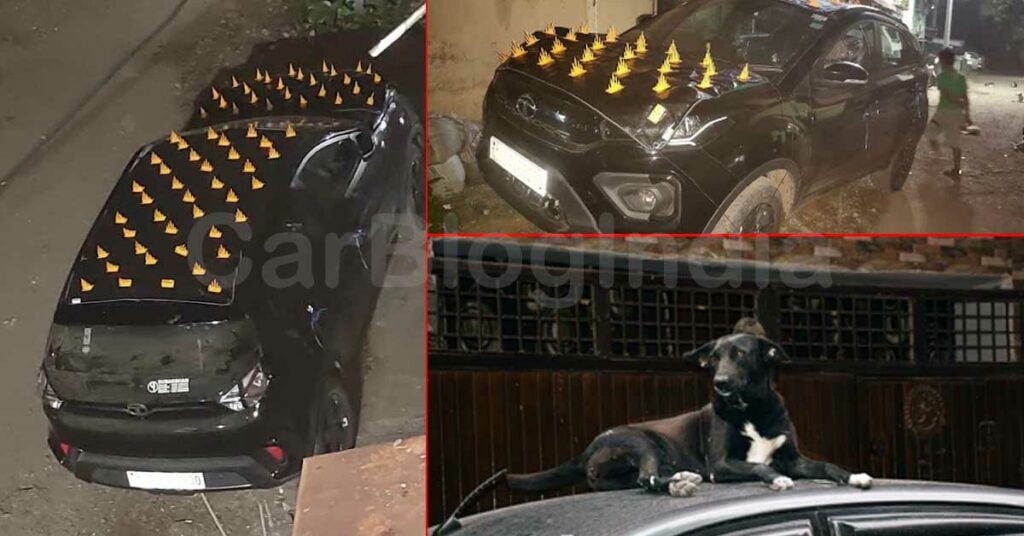 You may also like: Mahindra Bolero (GNCAP – NA) Hits Tata Nexon (5-Star), Inflicts Major Damage
Tata Nexon Owner Protects His Car From Dogs
These images have been shared by the Nexon owner on Facebook. He has bought something that looks like a transparent plastic cover with spikes on it. We don't if these spikes are capable of causing harm to the dogs or not. But these look scary which might be the aim to discourage dogs from thinking of climbing up the car. This is not the first time that car owners have had to resort to such creative ways to deal with this situation.
You may also like: First MASSIVE Accident of Tata Nexon Kaziranga Edition Reported – Performs As Expected
There are other methods to prevent the damage caused by dogs or the natural elements on cars parked out in the open. This includes things like using a dog alarm that sets off as soon as the dog touches the car. It is similar to the anti-theft alarm that can scare away the animal. Apart from that, the use of a body cover will also prevent the paint and body surface from minor scratches caused by the paws of the dogs. One can even use a thick transparent sheet to achieve the same result.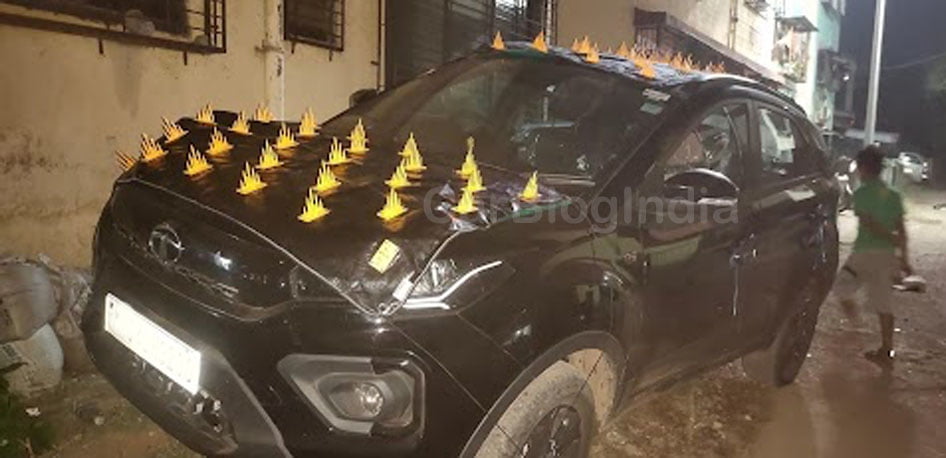 You may also like: Tata Nexon Driver Loses Control and Runs Over Parked Bikes Soon After Delivery
Finally, there are sprays available in the market with a particularly strong smell that can put off dogs from coming anywhere near your car. These dog repellent sprays are a cost-effective technique to take care of this situation. All in all, there are tons of ways to prevent dogs and other stray animals from damaging your car if you park it outside. Do you have any other suggestions to save vehicles from stray dogs?
Join our official telegram channel for free latest updates and follow us on Google News here.