Both these SUVs boast a full 5-star safety rating from the GNCAP but let's see how well do these perform in real-life situations.
Tata Nexon and Skoda Kushaq are both 5-star SUVs which is slowly and thankfully, becoming a norm with certain carmakers. Tata Motors and VW-Skoda Group focus on safety more than anything else. That is the prime cause for the increased sales of their products. Nexon consistently features at the podium positions on the list of highest-selling compact SUVs, while the Kushaq (with Slavia) has propelled Skoda to reach its highest sales in the country ever. But let us see which one of these performs better in a real-life incident.
You may also like: Mahindra Bolero (GNCAP – NA) Hits Tata Nexon (5-Star), Inflicts Major Damage
You may also like: Skoda Kushaq Faces EPC Error After 25,000 km of Use
Nexon vs Kushaq – 5-star SUVs
This video has been uploaded on YouTube by Raftaar 7811. As per the information in this video, this accident took place in Jharkhand. Reportedly, the Nexon hit the Kushaq from the rear. The exact reason for the crash is still unknown. It is entirely possible that the Kushaq had to be brought to rest suddenly and the Nexon driver couldn't react quickly enough. As a result, the Nexon collided with the Kushaq from the back. No injury has been reported in this crash to anyone.
You may also like: First MASSIVE Accident of Tata Nexon Kaziranga Edition Reported – Performs As Expected
One can clearly see that the damage on the Nexon is more than on the Kushaq. The front end of the Nexon suffered a broken bumper, headlight, fender and bonnet. However, the side pillars are intact and have been able to absorb maximum damage. On the other hand, the rear section of the Kushaq has suffered relatively less damage. The bumper and tailgate are bent a little but the other components are unaffected. In this case, both 5-star SUVs are able to perform according to their ratings.
You may also like: Skoda Kushaq Crashes at 90 km/h Days After Bagging 5 Stars From GNCAP, See Results
Obey Traffic Rules
Finally, we would like to advise our readers to always follow traffic rules and drive within the speed limits. Overspeeding continues to be the most common reason for accidents on Indian roads. Let us pledge to be responsible drivers so that such undesirable situations on the roads could be avoided. What are your thoughts on the matter?
You may also like: Tata Nexon Drives into Bus to Save Cow on Road- SHOCKING Results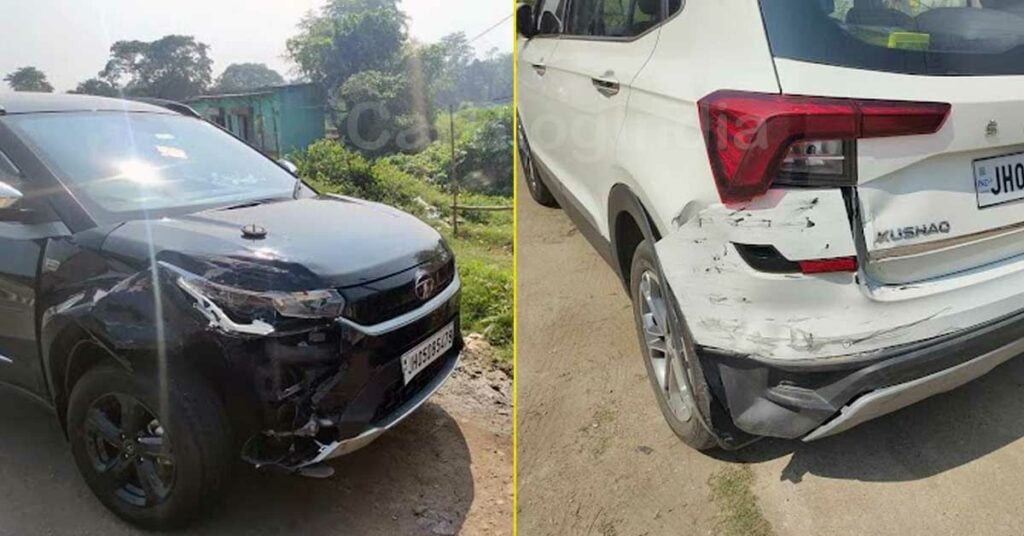 Disclaimer- The embedded videos/ external content is/are being used as a convenience and for informational purposes only; they do not constitute an endorsement or approval by Car Blog India of any of the products, services, and /or opinions of the corporation or organization or individual. Car Blog India bears no responsibility for the accuracy, legality, and/or content of the external site or for that of subsequent external videos/ external content. Contact the external publisher for answers to questions regarding its content.
Join our official telegram channel for free latest updates and follow us on Google News here.