Two Tata Nexon SUVs struggling in the sand show how important it is to have a 4×4 for such occasions. Read all the details here.
A couple of Tata Nexon SUVs can be seen struggling in the sand in this video that we have below. The YouTuber had managed to arrange a day out with the Nexon owners. In this event, around 17-18 Nexon owners participated. This took place in the Aravali hills area and the convoy travelled in and around Delhi-NCR. The proud owners got together to do some sand bashing as well. While most of the drivers managed to complete it successfully, they did struggled a fair bit. Let us check out how well the Nexons performed on the sand.
You may also like: Tata Nexon vs Nissan Magnite – Dune Bashing Battle!
You may also like: Meet Tata Nexon Gold Edition – Yay or Nay?
Tata Nexon Struggling in Sand
After a long drive, the group decided to end the trip by spending some time in the Aravali hills. As the Nexons were arriving, some of the experienced drivers were able to glide through the sand quite effortlessly, while some others were not. There was one particular area where the sand is quick deep. For an amateur driver, it could be difficult to drive through it as seen in the video. For others, they ensured that they maintain the momentum and don't stop in the sand. They managed to come out of sand easily.
As the newer drivers came to that point, they stopped, fearing the surface ahead. However, as soon as they decided to move again, the tyres of the Nexon started rolling and sinking into the sand. As the driver pressed the accelerator, the tyres kept sinking deeper and deeper. Then, some of the other people came to the rescue by pushing the SUV manually. With the force and correction directions from the other owners, the Nexon was able to safely come out of the hole created by its tyres.
You may also like: WATCH Tata Nexon Dark Edition Crossing River Like A Boss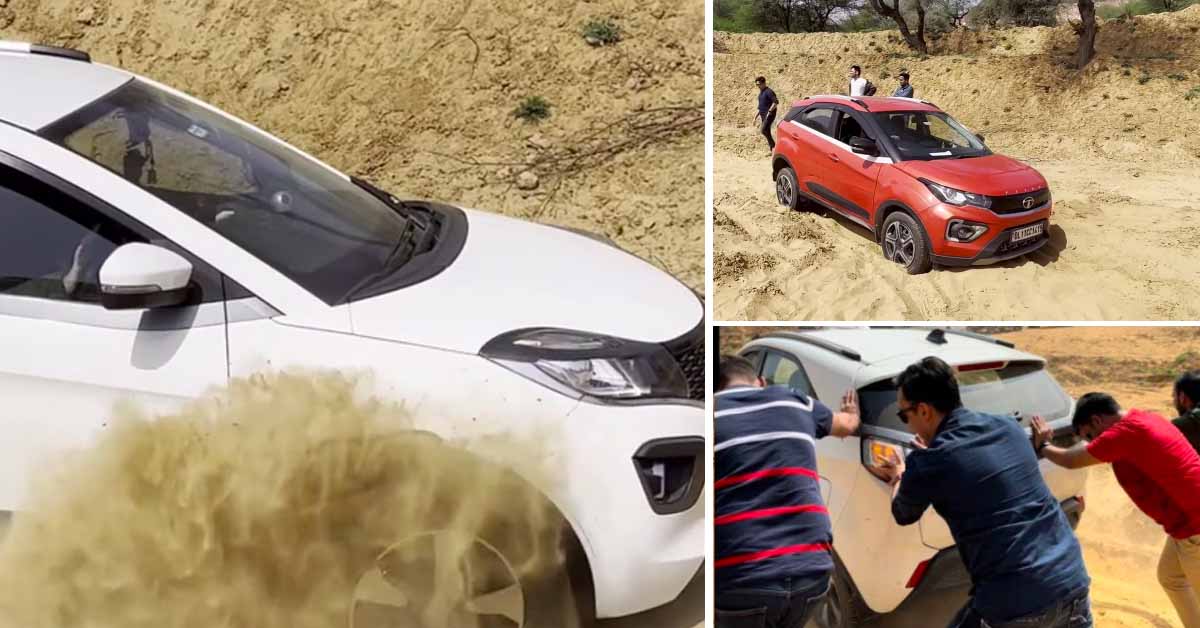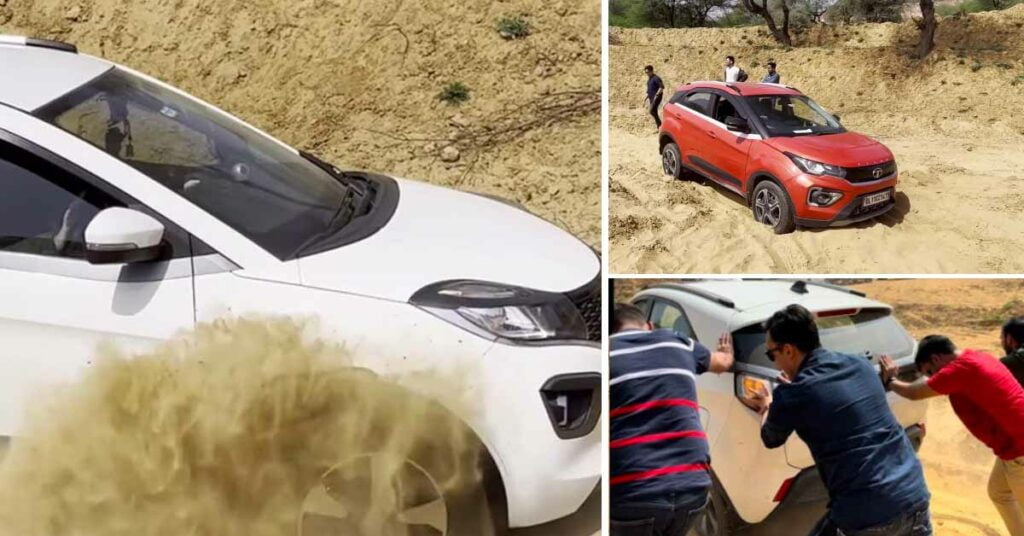 You may also like: WATCH Tata Nexon, Honda City & Others in Dangerous Water Crossing
While we understand the thrill and fun associated with something like this, it must be understood that the Nexon is not designed for off-roading. It lacks the 4×4 drive system and that makes all the difference in most scenarios. If one thinks that it is quite a strong and rugged SUV and decides to take it off-roading, it may result in something like this where you might end up getting stuck. So, it is not advisable to go too far off the road in a Nexon. Let us know how did you like the video of Tata Nexon struggling in the sand.
Join us for FREE NEWS Updates on our Whatsapp Community or our official telegram channel.