Tata has officially launched the Tata Safari Storme it showcased at the 2012 Auto Expo held in New Delhi. For sure the car is impressive enough, but will it be able to give the Scorpio a run for its money? Let us find this out with a detailed comparison of Tata Safari Storme VS Mahindra Scorpio.
Exterior Comparison
The Storme is a comprehensively revised Safari with numerous improvements which one cannot overlook. The styling is refreshing and the Safari Storme does have a road presence of its own. Some of the noticeable changes on the exterior are new headlamps with swept back design, chrome strip just above the new grille, redesigned front and rear bumpers, absence of the tailgate mounted spare wheel, a restyled rear with new tail lamps, new dual exhaust etc. All in all Tata has sincerely reworked the Safari and has made it much better.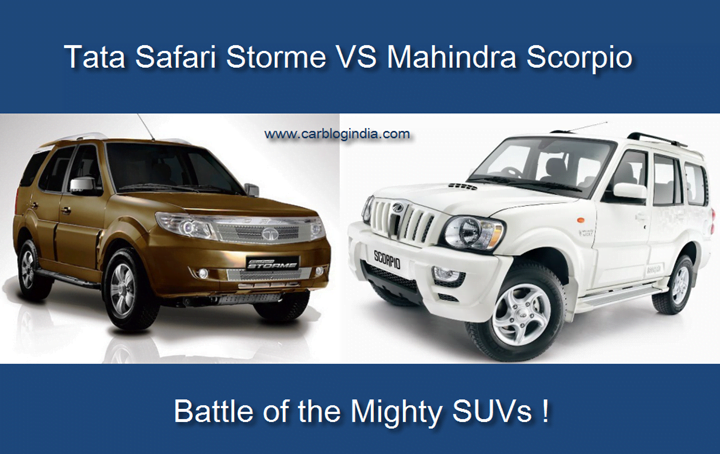 The Mahindra Scorpio was updated a while back and it still looks very rugged and masculine. The sporty front with a hood scoop does impart a stunning look. Both the cars are quite distinguished in a way that Scorpio is a very sporty machine while the Storme has a touch of elegance.
Tata Safari Storme Dimensions
Length: 4655 mm
Height: 1922 mm
Width: 1965 mm
Wheelbase: 2650 mm
Mahindra Scorpio Dimensions
Length: 4430 mm
Width: 1817 mm
Height: 1975 mm
Wheelbase: 2680 mm
As we can see here, the Storm is significantly longer and wider. In terms of wheelbase and overall height, the Scorpio is better.
Interiors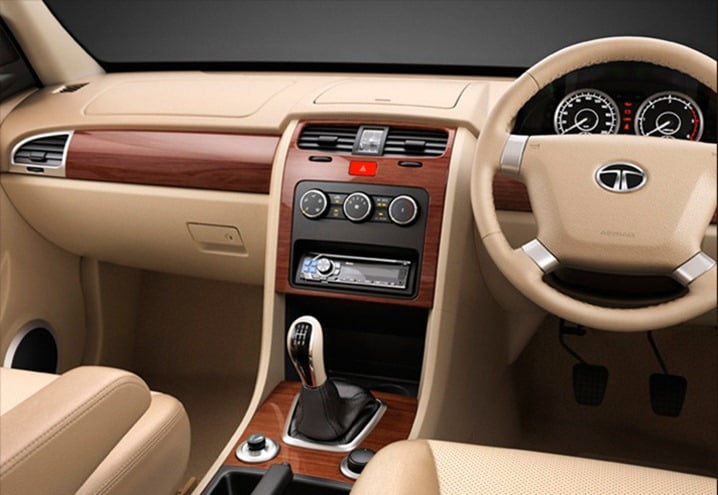 The interior styling of the Safari Storme is light years better than the Scorpio. It feels so very modern and pleasant on the inside. Feature wise the Storme has a better set of gadgetries at this moment. The list includes Electrically adjustable ORVMs, Ventilated Disk brakes on all wheels , ABS and EBD, Improved steering system , Better frame construction crumple zones for crash protection, Side intrusion beams on all doors , Collapsible steering column , Dual airbags, Inertial switch and engine immobilizer, Keyless entry and power folding outside rear view mirrors, Chrome outside door handles, Best in class space, Wooden panels on interiors, Rear AC Vents, Chrome inside door handles, Dual Exhaust for sporty look, Rear parking assist with display on the inside rear view mirror etc.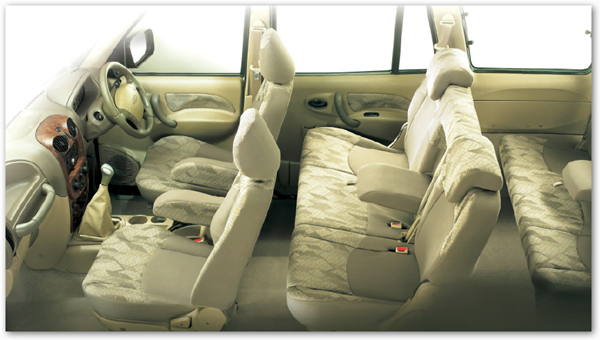 The Scorpio being an old model, is not much inspiring on the inside. The central console including the whole dashboard is quite ordinary with nothing to explore. Some of the highlighting features include dual airbags, ABS, Bluetooth enabled for your phone, tyre-tronics for latest updates on tyre pressure and temperature, speed alert, intelli-park, cruise control, rain and light sensors for wipers and headlamps, automatic transmission etc.
Engine
2012 Tata Safari Storme Engine Specifications
2.2 Litre 16 valve CRDI Diesel engine
Peak power of 138 BHP @ 4000 RPM
Peak torque of 320 Nm @ 1700-2700 RPM
The engine has a variable geometry turbocharger for better performance
5 speed manual transmission system with a 4X4 all wheel drive system which can be electronically be shifted on-the-fly even while the SUV is moving
ARAI certified mileage of 14 KMPL (2WD) and 13.2 KMPL (4WD)
Power to weight ratio of 65.8 BHP per 1000 kg
Mahindra Scorpio Engine Specifications
2.2 Liter mHawk Turbocharged CRDe diesel engine
Max power of 120 BHP @ 4000 RPM
Max Torque of 290 Nm @ 1800-2800 RPM
5 Speed Manual/ 6 Speed Automatic
4 Wheel Drive and 2 Wheel Drive Options
ARAI certified mileage of 12.05 KMPL
Power to weight ratio of 45 BHP per 1000 kg.
Comparing the two on the grounds of engine performance, the Storme certainly is better. It offers better overall power and torque and even has a marginally better fuel efficiency. Moreover the on-the-fly switchable all wheel drive system is a highlight and Scorpio does not come with any such system.
Performance & Handling
The new Storme has a switchable drive train and also has improved handling characteristics. The Scorpio isn't a bad performer but by comparison with Storme, it does feel slightly less confident. If you look at the power to weight ratio of the two, again the Storme is better than the Scorpio.
Price and Value For Money
Tata Safari Storme is priced between Rs. 9.95 lakhs and Rs.13.66 lakhs. The Scorpio is priced between Rs. 7.79 lakhs and Rs. 12.63 lakhs. The Safari Storme on-the-fly all wheel drive system is only available in the top end variant which is priced at 13.66 lakhs. The Scorpio on the other hand is available with 4WD in more than one variants: LX and VLX. Moreover the Scorpio also comes with an automatic transmission in the top end VLX variant.
Conclusion– Tata Safari Storme Vs Mahindra Scorpio
The Safari is no doubt a better car but when it comes to pricing it is a bit on the pricier side. The Scorpio comes with less features but at the same time is available in a number variants to choose from. If one is planning to buy a spacious SUV and does not want to spend much then you do get plenty of options in the Scorpio range. Also you can afford a 4WD drive Scorpio at a relatively less price.
Safari is a feature rich car but there are no entry level variants in the Storme for price conscious buyers. So clearly if you want to own a simple SUV and can compromise on less features, Scorpio is meant for you. But if you do want some good features and the exclusive switchable all wheel drive feature then Storme is the car for you.
Also read- Renault Duster Vs Mahindra Scorpio