Tata is in the SUV arena with the thoroughly updated Tata Safari Storme and the initial reviews are decent enough. Despite being a good car, it wouldn't be easy for the car to generate appreciable amount of revenues as there are already a couple of value for money cars in the market. In our last post, we compared the Storme with the Scorpio and now its time to compare it with a tougher contender, the XUV500. Here is a detailed comparison of 2012 Tata Safari Storme VS Mahindra XUV500.
Exteriors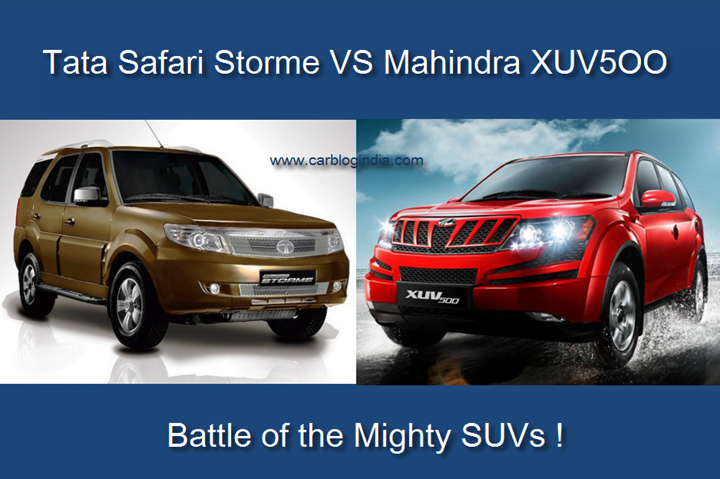 The Storme has been given a thorough update on the front and rear. Some of the highlights include an all new grille, new headlamps, new bumpers,  new tail lamps, etc. However, the side profile majorly remains the same. All in all Tata has made a good effort but compared to the XUV500, it looks less appealing.
The XUV500 has a relatively aggressive styling. The headlamps, wheel arches, stance, and everything looks so bold. Moreover it has that feel of a premium SUV which the Storme certainly lacks.
Tata Safari Storme Dimensions
Length: 4655 mm
Height: 1922 mm
Width: 1965 mm
Wheelbase: 2650 mm
Mahindra XUV500 Dimensions
Length = 4585 mm
Width = 1890 mm
Height = 1785 mm
Wheelbase = 2700 mm
Proportion wise the Storme definitely is bigger and that too by a significant margin. It is taller, wider as well as longer but in spite of that the wheelbase of Storme is 50 mm shorter than the wheelbase of XUV500.
Interiors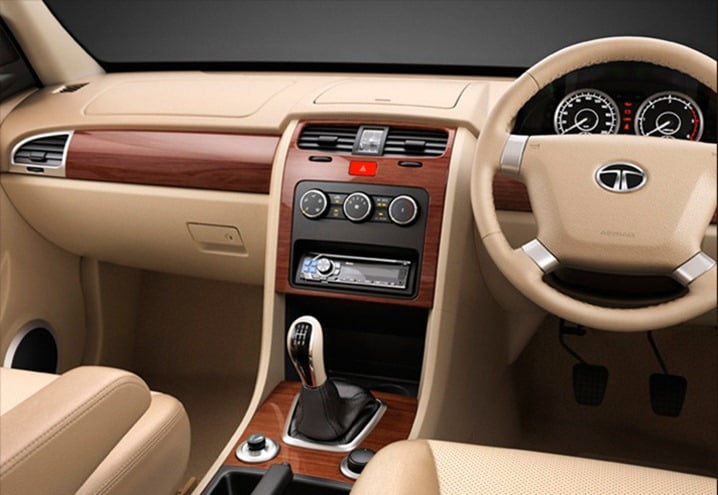 The interior styling of the Safari Storme is has also been updated and it now feels so very modern and pleasant. The list of feature on the Storme includes Electrically adjustable ORVMs, Ventilated Disk brakes on all wheels , ABS and EBD, Improved steering system , Better frame construction crumple zones for crash protection, Side intrusion beams on all doors , Collapsible steering column , Dual airbags, Inertial switch and engine immobilizer, Keyless entry and power folding outside rear view mirrors, Chrome outside door handles, Best in class space, Wooden panels on interiors, Rear AC Vents, Chrome inside door handles, Dual Exhaust for sporty look, Rear parking assist with display on the inside rear view mirror etc.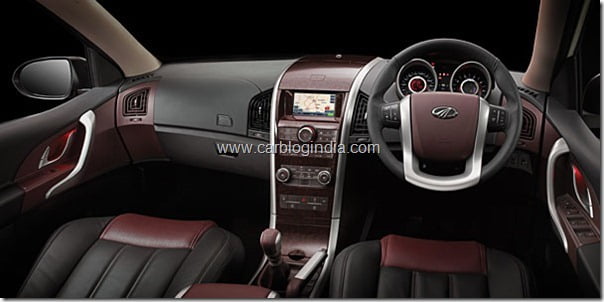 Image – Mahindra XUV interiors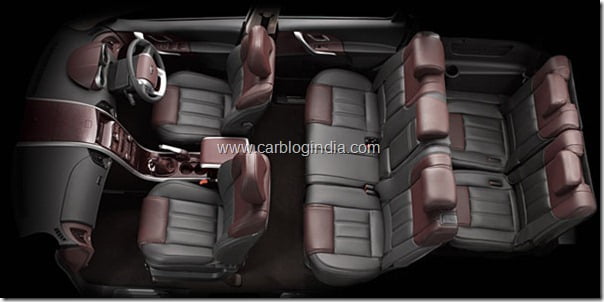 Image – Mahindra XUV interiors
The XUV was launched last year but it still feels new. The styling is definitely better than other Mahindra products but when compared to the Storme, it seems at par. Both the cars' interiors will impress you in their own way. Coming to the features now, it comes with leather upholstery, two tone colour theme on the dashboard and door trims, Laptop storage compartment in the glove box, conversation mirror and sunglass holder, voice command activated control, a 6 inch touchscreen infotainment system with GPS navigation and iPod connectivity, 6 airbags, steering mounted buttons for audio control and Cruise Control, ABS with EBD, ESP with rollover mitigation, Hill Hold and Hill Descent control, foldable 2nd and 3rd row seats, premium leather upholstery, tilt and telescopic steering column etc.
Engine
2012 Tata Safari Storme Engine Specifications

2.2 Litre 16 valve CRDI Diesel engine
Peak power of 138 BHP @ 4000 RPM
Peak torque of 320 Nm @ 1700-2700 RPM
The engine has a variable geometry turbocharger for better performance
5 speed manual transmission system with a 4X4 all wheel drive system which can be electronically be shifted on-the-fly even while the SUV is moving
ARAI certified mileage of 14 KMPL (2WD) and 13.2 KMPL (4WD)
Mahindra XUV Diesel Engine Specifications
2.2 Litre mHawk Diesel Engine
Transverse CRDI Diesel Engine
Variable Geometry Turbocharger
Max power of 140 BHP @ 3750 RPM
Max Torque of 330 Nm @ 1600 to 2800 RPM
6 Speed Synchromesh Cable Shift manual transmission
4 Wheel Drive and 2 Wheel Drive Options
ARAI Certified mileage of 15.1 KMPL
Both the cars equip a 2.2 litre diesel engine but there is a slight difference between the power and torque figures of the two, with the XUV being ahead. Mileage wise again the XUV is better but there is a mere difference of 1 to 2 KMPL. What is interesting here is the On-the-Fly switchable all wheel drive system which is exclusive to Storme.
Performance & Handling
Now coming to the performance, the Storme arrives with improved handling and more power but it still is somewhat lagging. The XUV rides really well and is a feels more confident.
Price And Value For Money
Tata Safari Storme is priced between Rs. 9.95 lakhs and Rs.13.66 lakhs. The XUV is priced between Rs. 11.70 lakhs and Rs. 14.27 lakhs. Pricing wise it is quite evident that the Storme will target those buyers as well who do not want to spend more than Rs. 10 lakh on a full fledged SUV, while on the other hand the XUV base starts at 11.70 lakh INR.
Verdict– Tata Safari Storme Vs Mahindra XUV500
The Safari Storme is available at a relatively less price and has a good set of features. The XUV is a bit pricier but at the same time comes with a handful of exclusive features for the passenger cabin. Performance wise both the cars will be at par but I really feel the on-the-fly switchable all wheel drive system present in the Storme will be the highlight as it will let you switch to two wheel drive on the go and thus save fuel. So both have their strong and weak points.
Before you make your final booking  for any of the two, I would suggest you to test drive both the vehicles.