A price rise is often inevitable due to a rise in input costs but the Mahindra XUV700 is getting costlier at a faster rate than Tata Safari!
Recently, we told you how the Mahindra XUV700 has got costlier by up to a whopping Rs 1.15 lakh since its launch in October 2021. So far, the SUV has received two price hikes, which has resulted into the SUV getting costlier at a rate of Rs 28,750. While this has certainly not dampened the craze people have for the new SUV, it has certainly made the pricing of the new flagship a bit less lucrative. On the other hand, even the arch rival Tata Safari has got costlier, though, not by such a huge margin. Tata Motors hiked the prices of the automatic versions in December 2021 and within a month, the car has got another price revision. Effective January 19, 2022, an average increase of 0.9% will be implemented. Also, certain models will be made cheaper by Rs 10,000.
Also read: Mahindra XUV700 Waiting Period Now Extends to September 2023!
While a clearer picture will be available only after the company reveals the updated prices of all its models, it can be clearly seen here that in the worst case scenario, the Safari will become costlier by no more than Rs 27,861. This is based on a calculated guess taking into account the price hike of 0.9% along with the previous maximum price hike of Rs 7,000. Also, last time around, as the biggest increase in price was witnessed in the XTA+ model, there are good chances that the top-end Gold and ADV models would get costlier by a smaller amount than the one mentioned above. As we said, a clearer picture will be made available only once the full prices are out but what's for sure is that the XUV700 is getting costlier a lot faster than the Safari.
Also read: India's 1st Mahindra XUV700 CNG is Here- Gets 2 CNG Cylinders!
The Tata Safari is powered by a Fiat-sourced 2.0-litre KRYOTEC turbo-diesel engine that outputs a maximum power of 170PS and a peak torque of 350Nm. Transmission options include a 6-speed manual and a 6-speed automatic. The SUV is offered only in a FWD configuration. Meanwhile, the Mahindra XUV700 is available with a 2.0-liter turbocharged petrol motor that outputs a maximum power of 200 PS and a peak torque of 380 Nm. On the other hand, the Diesel engine produces a maximum power of 155 PS along with a peak torque of 360 Nm in the lower variant and 185 PS/ 420 Nm (450 Nm in automatic variant) in the higher variants. Both the petrol and diesel engine variants come with 6-speed manual and automatic transmission choices. Also, the diesel model is on sale with a 4WD option.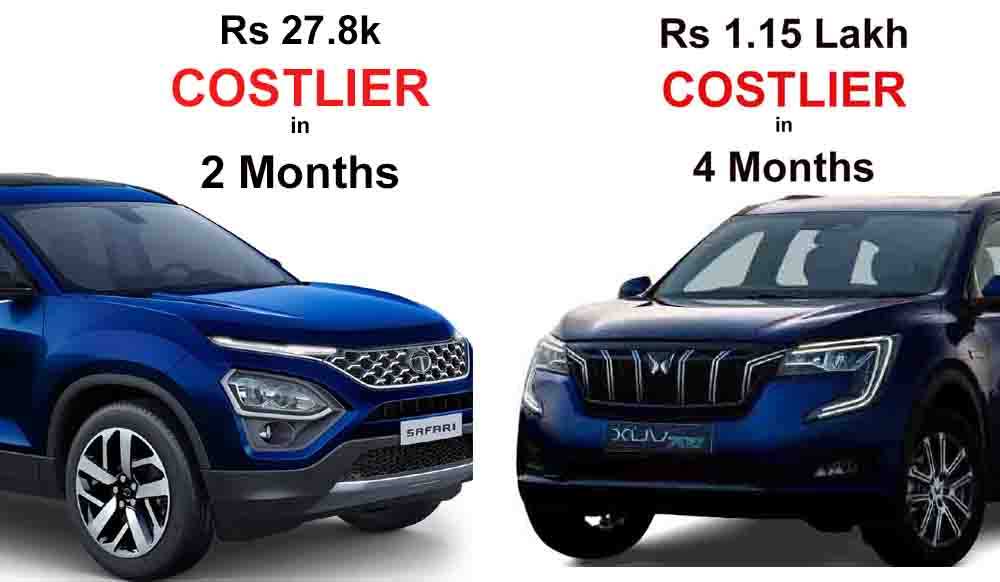 So far, it looks like the Mahindra XUV700 is enjoying an upper hand over the Tata Safari in terms of popularity. However, with a huge waiting period and a substantial increase in price, it could lose some of its edge over its immediate adversary. That said, only time will tell if this would happen.
Also read: Mahindra XUV700 Petrol AT Mileage Tested – Result Will Surprise You!
Join us for FREE NEWS Updates on our Whatsapp Community or our official telegram channel.