Here is another example of the strong build quality of Tata Tiago which rolled over a couple of times after losing control at a speed of 100 km/hr.
Tata Tiago is the safest hatchback that you can buy under a budget of Rs 5 Lakhs. It has scored a 4-star safety rating in overall in the global NCAP crash tests. Its pillars and crumple zones have a strong build quality and here is an example, where the hatch went through a high speed accident keeping everyone inside the car safe.
The owner was travelling with three passengers in his Tata Tiago at a speed of around 100 km/hr. However, suddenly, due to an unknown right curve, the car steered out of control. The driver could not control it and eventually, it started rolling over. The Tiago was rolling over till 80 metres long before it came to a halt.
Also Read: See How A Dashcam Saved The Day For The Driver Of This Tata Altroz
All the pillars along with roof have been seriously damaged. The roof has literally come down from the left passenger side. The doors have also received significant damage but have still limited the safety of the passengers. The driver side alloy wheel and axle have broken off completely. One alloy wheel has come out and is nowhere even near the car.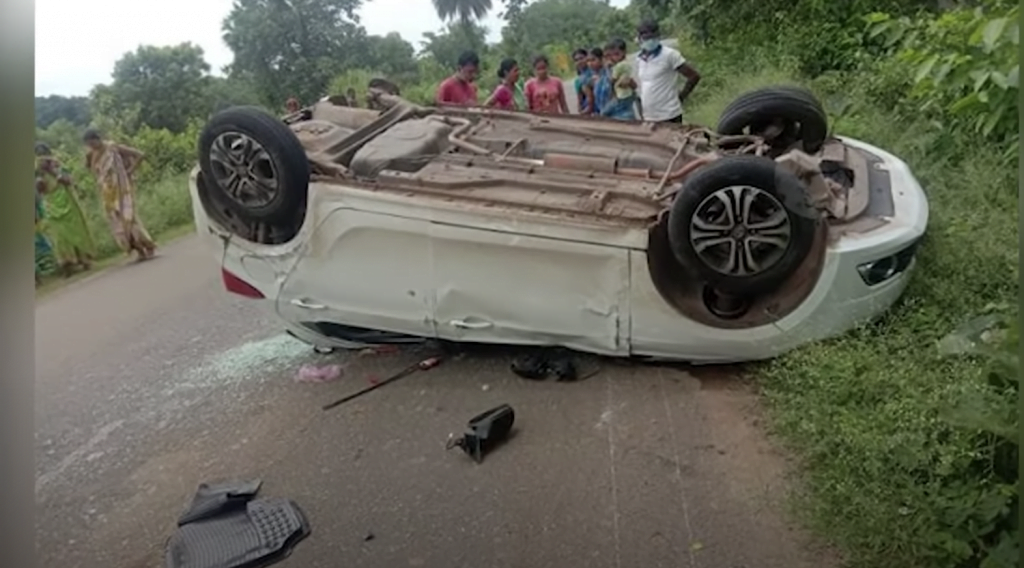 Surprisingly, the bumpers, headlamp and front grille are intact and have received no damage. The passengers inside have walked away without any major injuries, just some cuts and bruises. Tiago comes with dual airbags as standard fitment but you can see, they have not been deployed here. The reason is the impact has not been on the front side, where the sensors are located.
The car it seems is the recently launched Tiago facelift. In the first month of this year, Tata launched the facelifted hatchback with cosmetic upgrades like new alloys, refreshed bumpers, a new grille and revised headlamp design. This looks like the top-end variant which also gets rear parking camera, 7-inch touchscreen infotainment system and much more.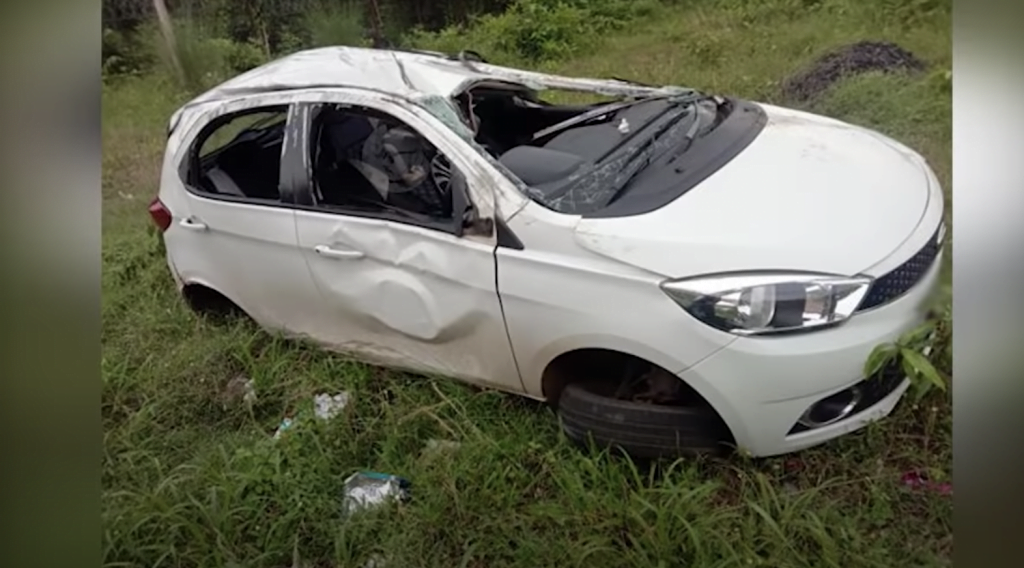 Also Read: BMW Z4 Crashes Into Tata Tiago – The Results Will Leave You Impressed!
Tiago is now a petrol-only hatchback, ditching its diesel engine to the BS6 norms. The 1.2 Litre three-cylinder petrol engine produces 86 PS and 113 Nm of peak torque, paired with a 5-speed MT or a 5-speed AMT. Prices start off at Rs 4.6 Lakhs up to Rs 6.6 Lakhs (ex-showroom Delhi).