Check out this modified Maruti 800 which gets an electric powertrain and produces up to 378 Nm of peak torque! Its still more than many diesel SUVs.
While people are still not sure whether to go for an electric car, but just the idea of it, fancies a lot. One of the main issues that people fear before buying an EV is the battery not getting over in the middle of the road. Then there's also the improper housing system in a lot of cities, which does not allow a systematic charging solution. Said that, an EV is very practical and actually cost efficient for your daily travelling.
Here's a modified electric Maruti 800 which has been grabbing a lot of attention. Engineer Hemank Dabhade, who is based in Pune, has worked on this with Northway Motorsport. This modified car gets a custom engineered electric motor which can offer a range of upto 150 kilometres. It gets 16 batteries in total, each of 200 amp. The owner has explained the whole process in the video above.
Also Read: Here's A Chevrolet Beat That Has Been Converted Into An Electric Vehicle
So, the rear two seats have been chopped off and there's a flat bed now. Under the bed, there are 7 batteries and in the bonnet, you can find rest of the 9 batteries. The electric motor will now send power to the rear wheels instead, making it a RWD car. So, here we have a Maruti 800 which can drift properly, and not just the handbrake turns. The motor can produce up to 378 Nm of peak torque, paired with a single-speed transmission.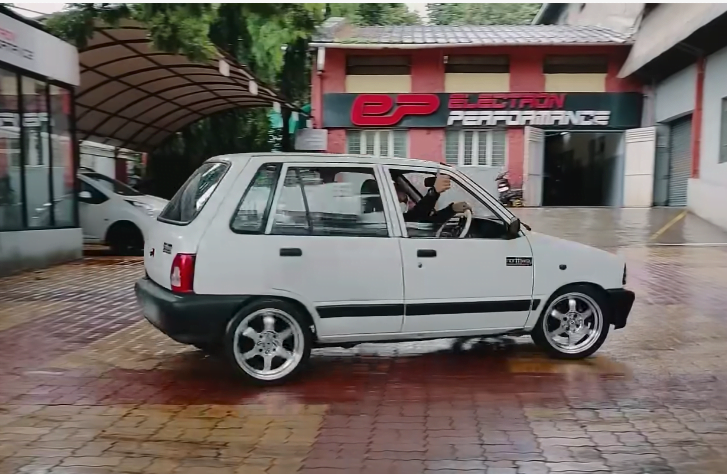 Now, the owner is planning to install an AC compressor as well, but it is still in consideration. Normal seats have been replaced by bucket seats and there's a proper racing-spec steering wheel installed as well. The owner along with Northway Motorsport has also developed an in-house touchscreen infotainment which will also show the driving range, battery status and all the information.
The owner does not intend to sell it but just wants to show the potential of EVs. Earlier, the owner also made a Chevrolet Beat EV that actually came with a diesel engine. Now the car is complete and ready to go on the roads. Towards the end of the video, you can see the owner trying to drift with his Maruti 800 EV. Despite being one of the most affordable cars in India some years ago, it still has the hearts of many Indians.