This guy plays GTA V with Indian cars like Maruti Dzire, Mahindra Scorpio, XUV500 and Toyota Fortuner. Here is one such race between them.
We have seen many customized mods for different games that we play on our desktop. This Youtuber is playing GTA V with an Indian mod which includes all the cars that we see on our daily roads. Its not just cars but he also has a Honda Activa in the game. Check out on of the videos ahead.
So, here, you can see a race happening between Maruti Dzire, Mahindra Scorpio and Mahindra XUV500. For those who have played GTA V, they will know all the three characters. The video looks so real and detailed with amazing graphics quality. There are many more videos like this where the Youtuber shows different Indian cars and bikes.
Also Read: Did You Know Maruti Suzuki Offers Two Accessory Packages on the Vitara Brezza?
So, in this race, you can see that XUV500 takes the quickest lead while other two are seconds close. In one frame, you can see the interior of Maruti Dzire and how it looks exactly the same as on the real car. For some time XUV500 manages to keep a lead but is soon overtaken by Maruti Dzire and then by Mahindra Scorpio.
This race was computerized and did not go according to the actual specifications. If you keep this race in real-world conditions, Maruti Dzire has no chance of being near to both of them. XUV500 and Scorpio offer a lot more power and torque than the small sedan. However, Dzire could go with an early headstart since it is a petrol car.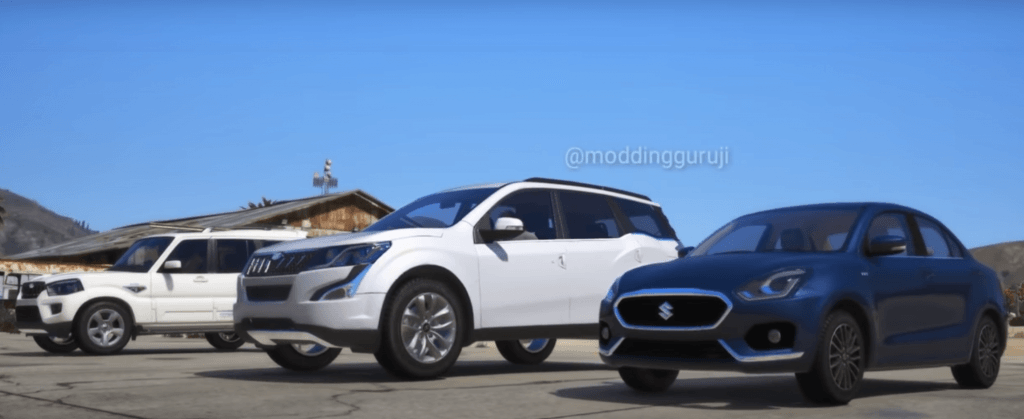 The new generation Scorpio and XUV500 are currently under development. Both of them are slated to be launched in the coming months, Scorpio coming in first. Along with a new platform, XUV500 and Scorpio will get a completely new design, new petrol and diesel engines, different gearbox options and tons of features upgrade.
Also Read: Maruti Swift Vs Hyundai i20 – See Who Wins This Drag Race!
Very soon, Mahindra is going to launch the new generation Thar in India. Reports suggest that the launch could happen by next month itself. Even it will get a new platform and a completely revised shape. The new Thar will come in hard top and soft top versions with the options of a petrol as well as a diesel engine.