Yesterday we reported how popular Etios is becoming in the luxury cab segment. Today we have another regarding regarding Toyota Etios according to which, Toyota is planning to start the exports of the car to a new market. Toyota is all set to export the its Etios to South Africa from May 21, 2012. Last year the manufacturer unveiled the South Africa specific models at the Johannesburg International Motor Show and now the time has come to launch the Etios brand in the same market. Obviously when a car heads to a new market it is definite to come across the current domestic market rulers and face competition. For the Etios, the competition is going to be extremely tough as it would have to go against Volkswagen Polo and Volkswagen Polo Sedan, two cars ruling the South African market for over five years.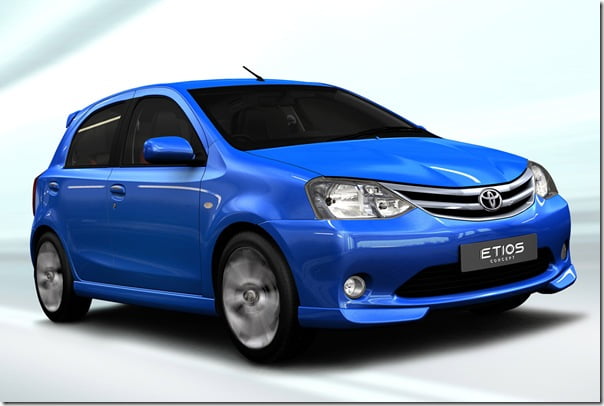 image – Toyota Etios Liva
The European market is already suffering from a financial crisis which made Peugeot-Citroen back out from India which is a matter of concern for Toyota SA too as it does not want it's sales to get impacted. This is the sole reason why the company is planning to enter A and B segments first, which constitutes mainly of inexpensive cars and therefore Etios, with its low price, could attract new buyers.
The Etios would be a tough competitor in the new market as it targets buyers who have a lower budget but high demands. It will feature the same 1.5 litre MPFI petrol engine and will offer most of the features that are available in the Indian version. It will be offered in two variants – Xi and XS, with both of them featuring body coloured bumpers and 14-inch alloy wheels.
check out more-