With customer focus rapidly shifting towards SUVs and crossovers, MPVs have been fast losing popularity. However, there is one product that has not only been able to weather the storm, but has shined through it. We're talking about the Toyota Innova. Launched in 2005 as a replacement for the highly successful Qualis, the Innova, despite a shaky start, soon began climbing up the charts, and it hasn't looked back since. In fact, towards the fag end of the older Innova's stint, it was still clocking numbers most of its rivals can only dream of. The Innova was then replaced with the Innova Crysta last year. The new version of the Innova has already found many takers and has been rather quick with establishing itself in the market. We spent a few days with one to find out just how it has so easily managed to cement itself as one the most trusted names in India.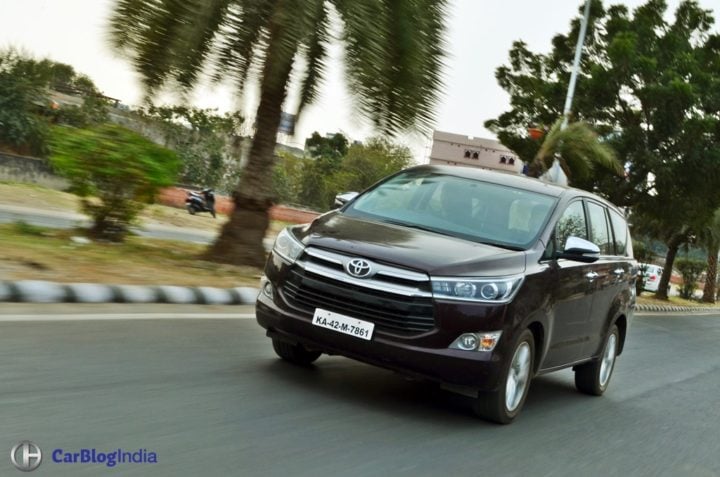 Looks
The first thing you notice about the Innova Crysta is its size. In its latest avatar, the Innova has grown considerably. It is 150 mm longer, 65 mm wider and 35 mm taller than its predecessor. All this means the Innova Crysta can be quite a handful in cramped city streets. While its silhouette is unmistakably MPV-ish, the Crysta manages to look a lot more interesting than some of the other MPVs in the market. The nose. with the gaping grille and sleek swept back headlamps, looks fairly aggressive. The sleek headlamps come with LED pilot lamps and projector units, top.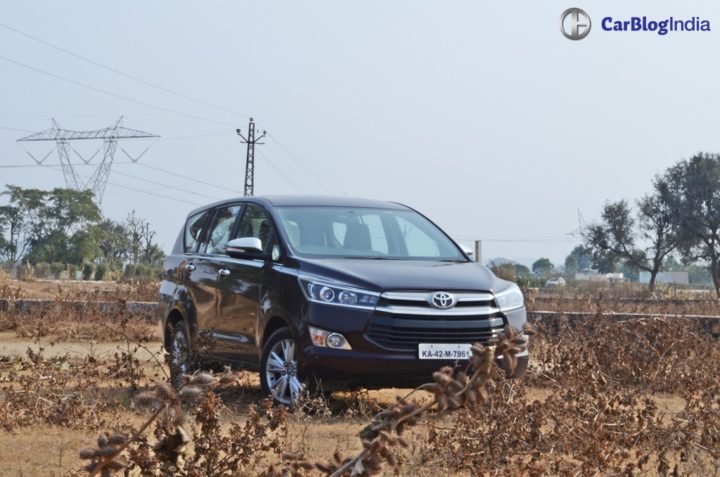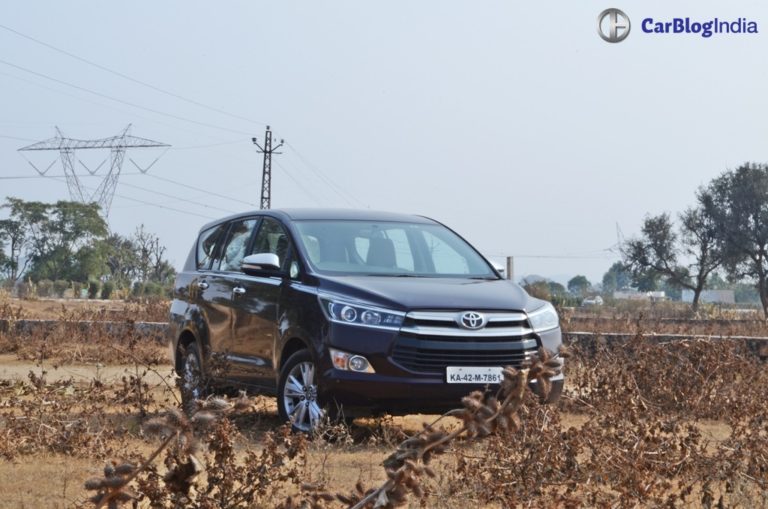 As you move along the side and towards the rear, the styling of the Innova transitions from interesting to bland. It features slightly odd L-shape tail lamps with a conventional bulb setup. Thankfully, the usage of chrome has been kept in check. For those of you who like all the bling, you can always opt for various options from the long accessories list. Still, as far as MPVs go, the Innova Crysta is a fairly attractive one.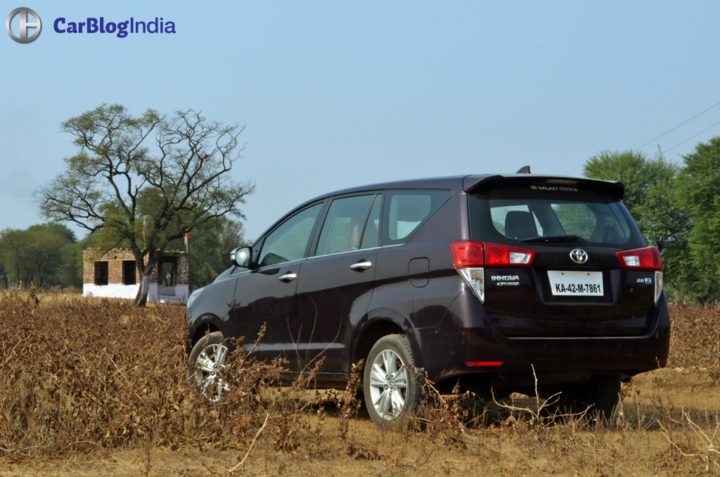 Interior and Features
The interior of the Innova has improved a great deal. There's ample usage of leather all around and the general levels of fit and finish are high. The styling of the dashboard is modern with some really nice elements. Most notably, the asymmetric design and the tasteful use of wood trim and leather. Toyota gives you the option of a 6 or 7 seat config. The third row is pretty spacious to seat two adults.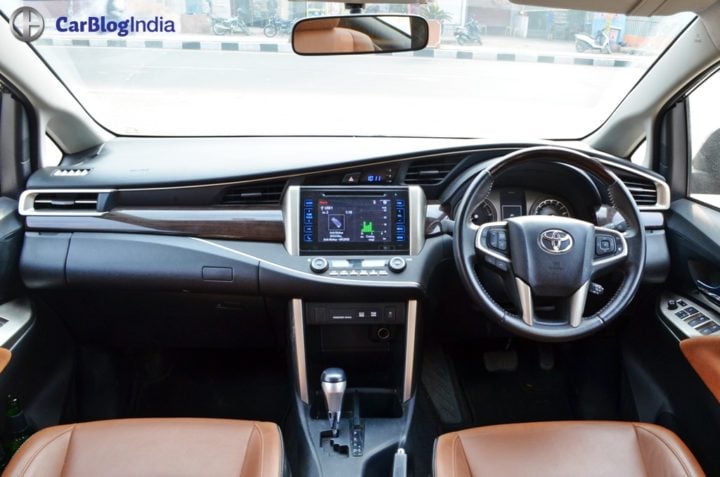 Another issue Toyota has addressed with the new generation Crysta is the lack of features. The new one, especially in the top spec Z trim we have here, comes with a long list of equipment. There are individual aircon controls for the second and third-row seats, seven airbags, cruise control, touchscreen and the works. Maybe, an auto shut function for the big heavy fifth door would have made the deal even sweeter.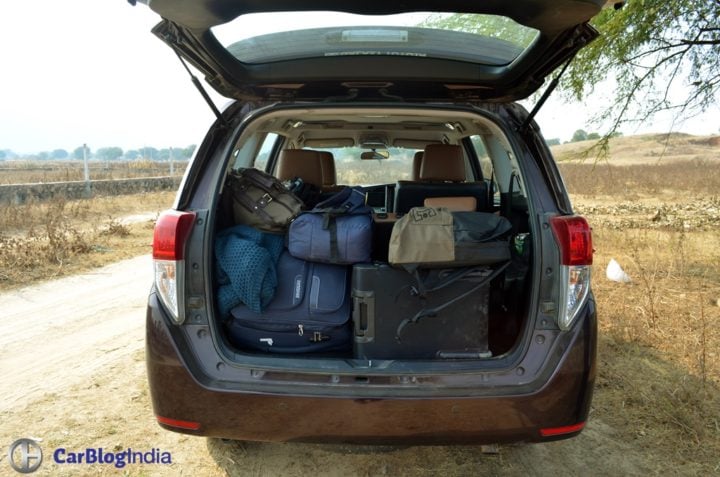 What's Under the Hood?
Under the hood, the new Innova gets a significant upgrade. There are now three engine options on offer – 2.7 L petrol, 2.4 L diesel and 2.8 L diesel. The latter is reserved only for the Diesel automatic variants and is the one we tested. It puts out 174 BHP and 370 Nm, which is a big jump over its predecessor. Despite the gains in power, the fuel efficiency has gone up. Toyota is claiming 14.27 KMPL overall for the 2.8 Auto, which is impressive. Performance from the 2.8 Diesel didn't give us too much to complain about. It has got ample grunt to propel itself to triple digit speeds effortlessly. The 6-speed automatic torque converter transferring power to the rear wheels carries out its job well. It isn't particularly quick in shifting gears, but it's accurate enough to ensure the driving experience does not suffer. While there are no paddle shifters on offer, the transmission offers a Sport mode that lets you shift gears manually.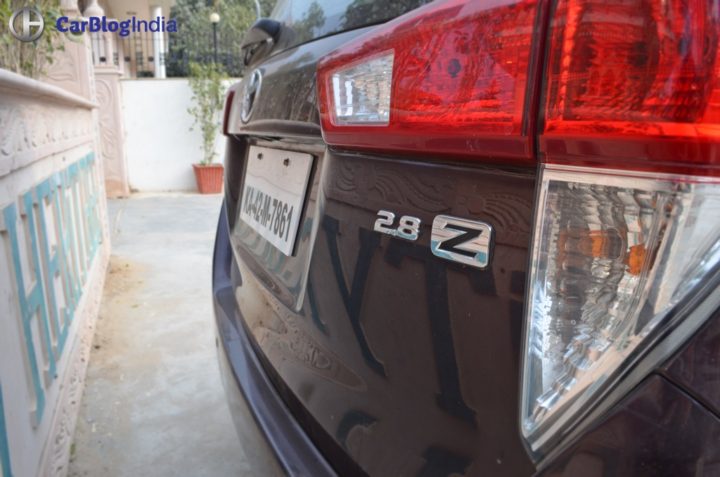 There are two driving modes, apart from the standard one, to chose from – Power and Eco. They alter the car's characteristics exactly the way their respective names suggest. In power mode, the throttle response gets sharper and the Innova seems more eager to gather speed. The Eco mode retards throttle response in favour of better fuel efficiency. However, it still feels adequately powerful. For the most part, the NVH levels have been very well contained, but the engine does get noisy as the revs build up.
Ride and Handling
Over the years, the Toyota Innova has gained a reputation of being a comfortable long distance cruiser. And we're happy to report the new one does complete justice to that. While it continues with a ladder on frame chassis, engineers over at Toyota have made vast improvements to it. High speed ride quality is brilliant and the MPV feels very composed even at 140-150 KMPH. Low speed ride is a bit jittery and sharper bumps make things slightly uncomfortable.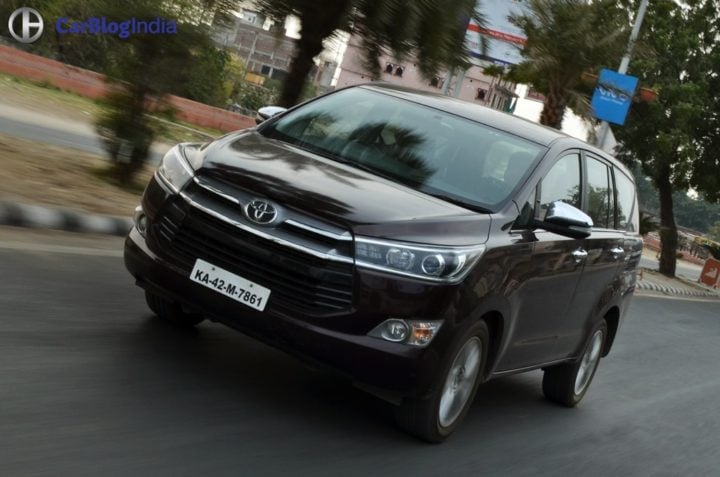 At low speeds, the Innova's steering feels heavy making piloting the big car a tad tedious; all the more reason to hand it over to you chauffeur and enjoy the comfort of the back seat. It is a tall car and there is a fair bit of body roll. So, while the Innova does feel great at high speeds in a straight line, it's best to slow down on winding roads unless you want the rear seat occupants to feel queasy. While our test car came with 17 inch rims, Toyota has now ditched them in favour of 16 inchers which would further improve ride quality over our roads.
Final Word
The Innova Crysta has many talents. It's a great people mover that can take 6-7 people around in good comfort. It can swallow a great deal of luggage with the third row folded down, even more so with the second row folded away. It also makes a lot of sense for those looking to be chauffeured around. There are, however, a few issues. For starters, it is too big, which coupled with the heavy steering, means parking and piloting the car in congested areas can be quite a difficult task. We would also count the high pricing as a a bit of a dampener. But considering it sells about 5,000-6,000 units a month, the steep pricing clearly hasn't kept Indian car buyers from putting their money down on the Innova Crysta. It is easy to see why the Innova has been giving sleepless nights to not just its direct rivals, but to even many D-Segment sedans. There's just no doubting the fact that the Innova Crysta has redefined the premium MPV segment of India.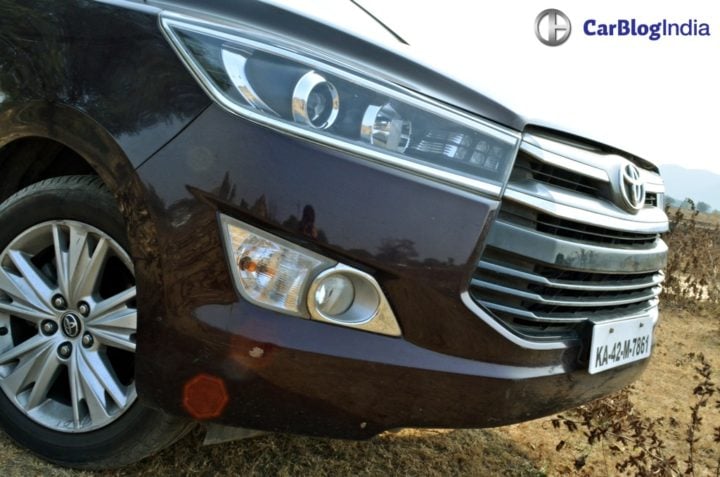 Toyota Innova Crysta Test Drive Review – Specifications
Diesel
| | |
| --- | --- |
| Engine Type/ Displacement | 2.4-litre Diesel/2.8-litre Diesel |
| Power | 150 PS/174 PS |
| Torque | 343/360 Nm |
| Top Speed | -NA- |
| Acceleration (0-100 km/h) | -NA- |
| Transmission (Gearbox) | 5-speed MT, 6-speed AT |
| Mileage | 15.10 kpl/14.29 kpl |
Petrol
| | |
| --- | --- |
| Engine Type/ Displacement | 2.7-litre Dual VVT-i Petrol |
| Power | 166 PS at 5,200 rpm |
| Torque | 245 Nm at 4,000 rpm |
| Top Speed | -NA- |
| Acceleration (0-100 km/h) | -NA- |
| Transmission (Gearbox) | 5-speed MT/6-speed AT |
| Mileage | 9.89 – 10.83 km/l |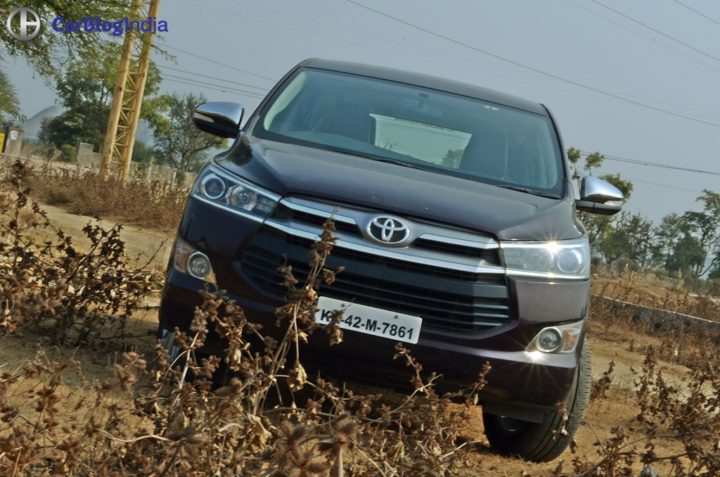 Dimensions
| | |
| --- | --- |
| Length | 4735 mm |
| Width | 1830 mm |
| Height | 1795 mm |
| Wheelbase | 2750 mm |
| Fuel Tank Capacity | 55 litres |
| Turning Radius | 5.4 m |
| Weight | 1805 – 1870 kg |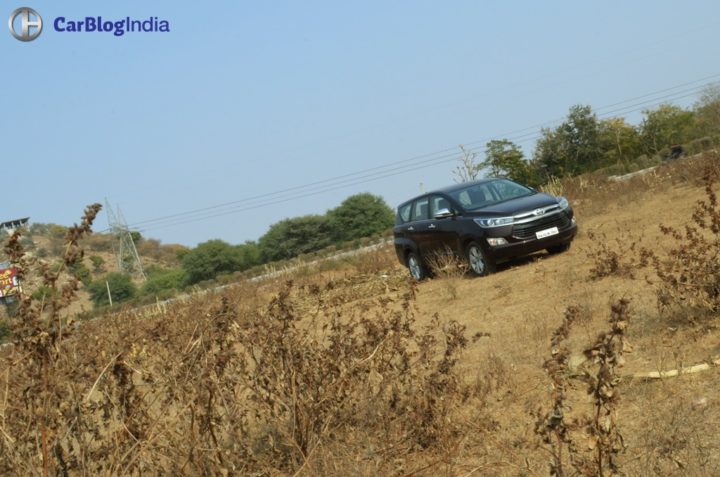 Author- Dhruv Saxena.
Join our official telegram channel for free latest updates and follow us on Google News here.