You might have seen some bizarre practices in our country but this one takes the concept of bizarre practices to a whole new level.
We came across a YouTube video clip where a Toyota Innova was wrapped in cow dung. Yes, you heard that right. Indians hold strong sentiments regarding cows and their urine and dung. In rural parts of the country, cow dung is an essential source of fuel. In addition to that, it is used as an insulator that is applied to the walls of the house to keep the summer sun away. As weird as it may sound, that is a tradition being followed in Indian villages. It also acts as a mosquito repellent. But why has someone wrapped his car in cow dung?
You may also like: Next-Gen Toyota Innova Crysta – Is This It?
You may also like: Toyota Innova Crysta Rear-Ends Ford Freestyle, Left Disfigured
Toyota Innova Cow Dung
Well, the thermal insulation properties of the cow dung could really prove to be handly in the scorching summer sun. Temperatures in certain parts of the country regularly hover around 50 degrees in peak winters. Not all parts of the country have AC or even fans. In villages, people stay indoors as the cow dung layer on the walls of the houses prevents heat from getting into the homes. This Innova owner did this based on that principle. As per his theory, the layer of cow dung on a car will prevent the sun from heating the cabin. Now, whether this works or not is a different scenario altogether. We can only hope that the owner managed to dump the foul smell for all the road users, as well as for the occupants.
You may also like: Toyota Innova Crysta vs Mahindra Scorpio – Tug of War
Toyota Innova
The current-gen Toyota Innova Crysta is offered with 2.7-litre petrol and a 2.4-litre diesel mill. The former develops 166 PS and 245 Nm of peak torque, while the latter shreds out 150 PS of power and 360 Nm of torque. Transmission duties are done by a 5-speed MT or 6-speed automatic transmission. The Toyota Innova Crysta ranges between Rs 17.86 lakh and Rs 25.68 lakh, ex-showroom. The soon-to-be-introduced updated version might feature some sort of electrification to make the powertrain hybrid. That would invariably push the cost higher.
You may also like: DC Senator Launched- A Toyota Innova Crysta Plusher Than Merc S-Class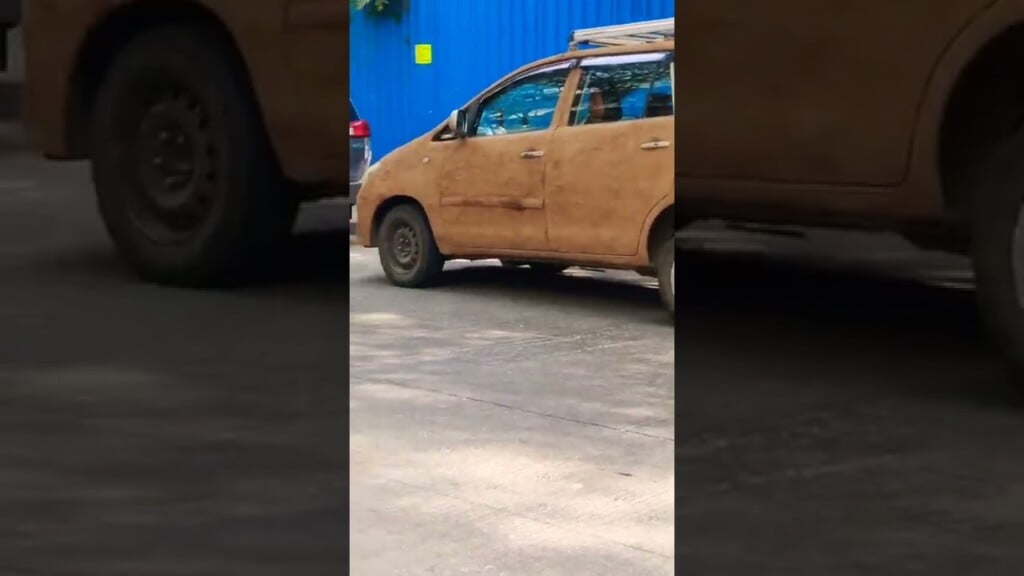 This is not the first such case that has been reported. Believe it or not, there have been quite a few such cases in the past. We would love to know your thoughts regarding this weird instance of a Toyota Innova owner deciding to wrap his MPV in cow dung as a preventive measure from the harsh summer sun.
Join our official telegram channel for free latest updates and follow us on Google News here.