Ford fans are understandably disappointed after knowing that strong products like the Freestyle will no more be manufactured in India.
This instance of a Toyota Innova Crysta hitting a Ford Freestyle makes us miss the crossover hatchback. Freestyle was an SUVish version of the Figo that was quite a popular hatchback in our market back in the day. However, Ford decided to pull the plug on its manufacturing operations in India back in late 2021. Shared on Facebook, this case of the Freestyle and Innova Crysta being involved in a precarious situation hints at just how strong the former was.
You may also like: Ford Freestyle Owner Makes Car a BIG Part of Pre-Wedding Celebration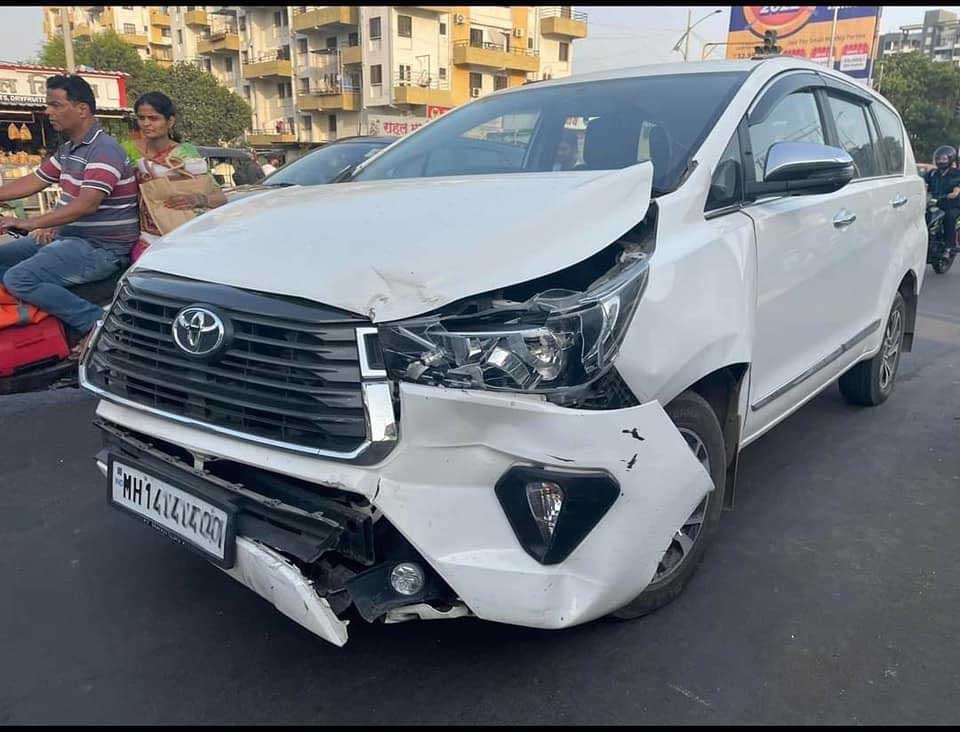 You may also like: Will You Buy DISCONTINUED Ford Freestyle With Rs 1.40 Lakh Discount?
Toyota Innova Crysta Tests Build Quality of Ford Freestyle
While the details of this incident are not available, the images we have here certainly have a lot to tell. It looks like the Innova hit the Freestyle from behind. The Freestyle has 'L' inscribed on it suggesting that someone could be learning to drive at the time of the mishap. It is possible that the driver would have applied brakes suddenly due to some event on the road ahead and the driver of the MPV was not able to react quickly enough. Whatever the case may be, the results are quite shocking.
You may also like: Ford Freestyle Completely Crushed Between Buses Keeps Occupant Safe
The damage to the front end of the Toyota Innova Crysta is quite severe. The bonnet has come off from the top, the massive grille has been displaced, the left headlight is broken, the bumper has been deformed, the skid plate area has come out of the MPV, the radiator grille section seems to be affected too, the fender has lost its shape and is popping out of the side. On the other hand, the damages to the compact sedan are a bare minimum. The tail section of the Freestyle sports a broken taillight and minor scratches to the bumper and the area above the rear wheel.
You may also like: Judge's Toyota Innova Crysta Tests Build Quality of Merc E-Class
Such impressive performance of the Ford Freestyle makes us miss this robust crossover a lot. The Toyota Innova Crysta is undoubtedly a big and strong MPV and to sustain its crown is definitely mean feat. But it looks like it found more than a match in this mishap with the discontinued crossover hatch. What are your thoughts regarding this display of strength by the Ford model?
Join our official telegram channel for free latest updates and follow us on Google News here.