It looks like prominent politicians and celebrities have a way of getting their hands on the rarest of rare luxury vehicles irrespective of their availability, or lack thereof, in the market.
The connection between Indian politicians and celebrities with the Toyota Land Cruiser goes way back. The mighty Land Cruiser is the preferred choice of opulence ride for influential people. Signifying the popularity of the 2022 Toyota Land Cruiser LC300 is its waiting period that runs up to 4 years on its home turf, Japan. The official Japanese website apologized to the aspiring customers regarding the long waiting times for the deliveries citing the semiconductor shortage as the main reason. But somehow, an Indian politician has managed to get one.
You may also like: This Toyota Land Cruiser Was a Humble Isuzu MU-X in Past Life
You may also like: Is Toyota Hilux Better Off Road Than Costlier Land Cruiser Prado?
Indian Politician Buys Toyota Land Cruiser LC300
The video clip has been uploaded on YouTube which shows the beast of an SUV on the streets of Coimbatore and Chennai. This is the same exotic SUV that commands waiting times of 4 years in Japan. This also means that the chances of it launching in many international markets are slim. What's even more impressive is the fact that the number plate of the SUV reads '999999' brazenly screaming the VIP stature. According to the information in the video, this SUV was spotted somewhere on the roads of Coimbatore and Chennai, evidently creating a frenzy among the onlookers. Its imposing road present and rare appearance made it stand out.
You may also like: WATCH Mercedes AMG G63 vs Toyota Land Cruiser in Off-Road Race
In the international market, this 2022 version of the Land Cruiser LC300 comes with a 3.5-litre twin-turbo V6 oil burner that outputs a colossal 403 hp and 650 Nm of peak power and torque respectively. This engine is mated to a 10-speed torque converter automatic gearbox enabling it a quick 0-100 kmph of just 6.7 secs despite its huge weight. The LC300 is based on Toyota's flagship and most advanced TNGA platform that is lightweight and agile.
You may also like: Toyota Fortuner Mathematically Proven to Cost Rs 1 Cr by 2045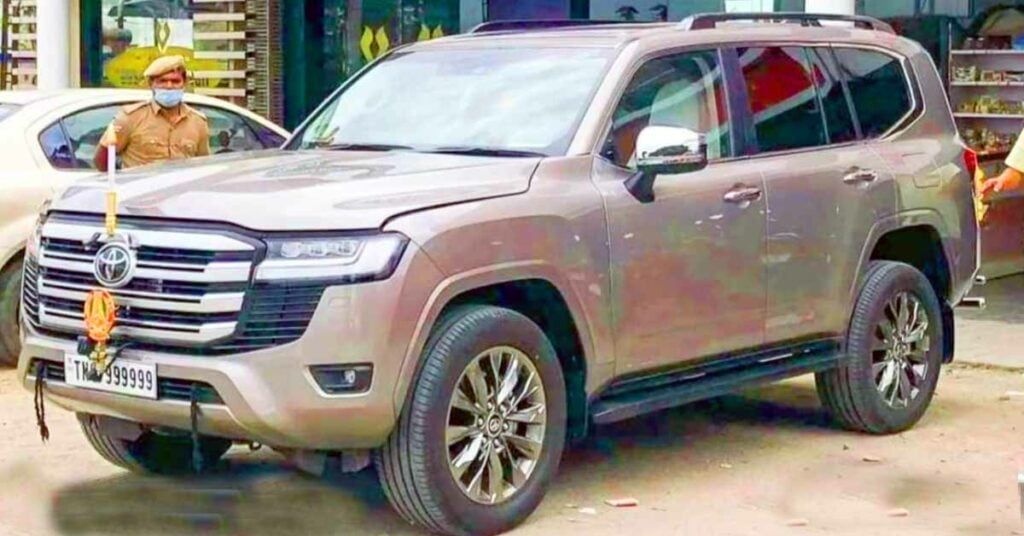 This again goes to show how influential these politicians are. Nevertheless, we are just excited to experience this rare luxury iconic SUV on our roads. We shall wait to see when Toyota is able to mass-deliver the LC300 to our shores. What do you think about possibly the first-ever Toyota Land Cruiser of an Indian politician?
Join our official telegram channel for free latest updates and follow us on Google News here.