Automobile tips could help you overcome minor problems that you might face on a daily basis. This is one such scenario that one experiences every day during summer.
This video reveals a trick that one could use while parking your car in direct sunlight. In most parts of our country, the temperatures are generally hot for the better part of the year. Particularly during the peak summer months, the heatwave could be quite nasty not only for the humans but also for the vehicles. You might have experienced cracked windshields when you had parked your car in direct sunlight. This is a common phenomenon and this video could help you get rid of that problem.
You may also like: Should I Switch Off The AC Before Starting or Stopping The Car?
You may also like: 4 Most Important Tips For First Time Car Buyers
Trick When Parking Your Car In Sunlight
The temperatures are beginning to rise in most parts of the country. Due to the lack of adequate parking indoors, people are forced to park their cars under the direct sunlight in open parking. As a result, it gets boiling inside the cabin of the car. When you arrive, you are barely able to hold the steering wheel of the car. The glass causes the hot gases to get trapped inside the cabin demonstrating the greenhouse effect. Most people prefer to keep the windows slightly open to ensure proper airflow. That is a great way to ensure that heat is not trapped inside the cabin of the car. But some people don't do that out of security concerns.
You may also like: 6 Most Important Tyre Maintenance Tips Before Long Rides
For all those, there is another method to beat the summer heat. You might have seen the switch in the climate control settings where one could choose between the airflow from inside the car or outside. This is used for air circulation. If you select the option of air circulation from outside the car, a flap under the dashboard opens up. You have to select this option when turning OFF the car. This will allow air to enter the cabin and maintain a normal temperature inside the cabin. It won't cool down the car completely but will prevent the build-up of hot gases inside the car. You could use this clever trick to beat the summer heat, to some extent.
You may also like: 7 Things to Check When Filling Petrol/Diesel in Your Vehicle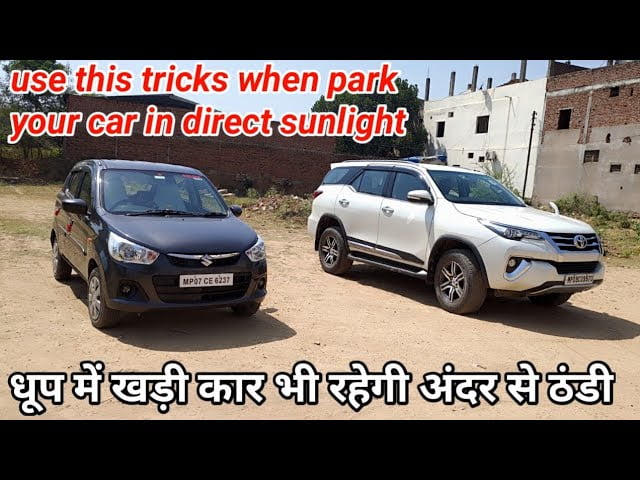 We suggest you perform this on your car and share your feedback and experience of whether or not you felt any difference.
Join us for FREE NEWS Updates on our Whatsapp Community or our official telegram channel.