Anand Mahindra is quite a celebrity on Twitter with over 9 million followers.
This tweet by Anand Mahindra will give you yet another reason to admire him. His tweets and interactions with his followers on the internet have always been quite motivational. He is known for being a humble and humorous guy who loves to stay in touch with the customers of Mahindra products. In addition to that, he also shares his unfiltered opinions about the latest happenings around the world. Netizens enjoy his tweets a lot and this tweet highlights the reason why.
You may also like: Anand Mahindra Reacts to Kid Who Didn't Sleep All Night Waiting for Delivery of Scorpio N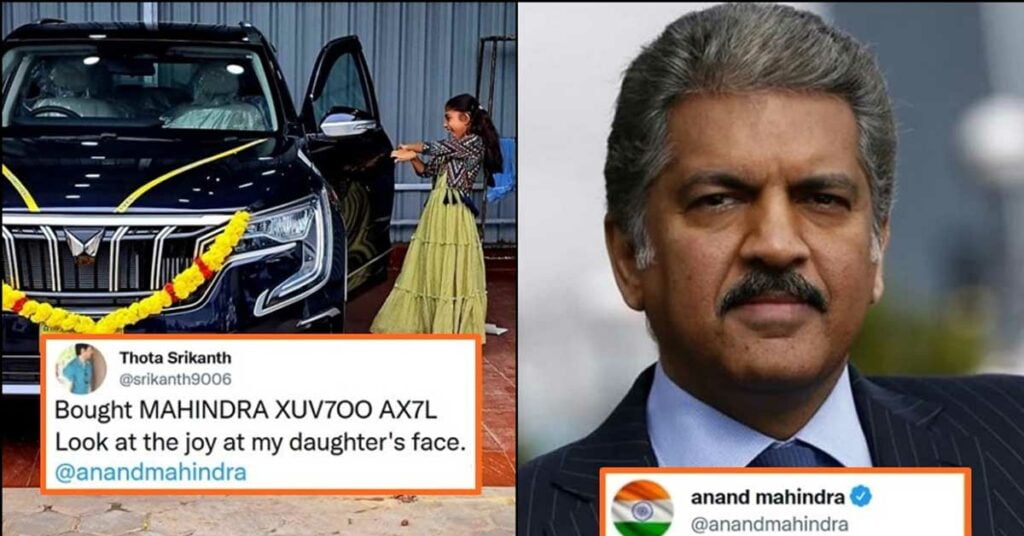 You may also like: Statistics Say Black Cars 47% More Likely to Have Accidents, Anand Mahindra Says 'Kuch Bhi'
Tweet From Anand Mahindra
A Twitter user Thota Srikanth tweeted after taking the delivery of Mahindra XUV700 AX7L, "Bought MAHINDRA XUV7OO AX7L If a business does well, the stock eventually follows. -WARREN BUFFETT M&M mktcap @ 160000cr. long way to go Look at the joy on my daughter's face….. @anandmahindra". He is clearly loving the experience of the XUV700 which is why he is praising the company and justifying it with the stock price of Mahindra and Mahindra. With this tweet, he shared a photo of her daughter right next to the SUV. She looks excited, to say the least.
You may also like: Anand Mahindra Reacts to Raveena Tandon's Wish to Buy Thar
In response to this tweet, Anand Mahindra said, "Please tell your daughter she just made my day!" Needless to say, this sweet tweet has gone viral. People are really appreciating his honesty and the pure love and enthusiasm he has for life. In various other instances, he has been spotted doing charitable deeds or praising someone for his/her ingenuity. Apart from that, he loves to hear from Mahindra SUV owners about their experiences.
You may also like: Anand Mahindra Reacts to Meme on Tesla ft Pankaj Tripathi
Mahindra XUV700
The Mahindra XUV700 comes with a 2.0-litre turbocharged petrol unit that churns out a maximum power of 200 PS and a peak torque of 380 Nm. Meanwhile, the diesel engine is available in multiple states of tune. The lower versions get 155 PS and 360 Nm, while the higher-positioned models benefit from 185 PS and 420 Nm (450 Nm in the automatic variant). Both the petrol and diesel engine variants will be available with 6-speed manual and automatic transmission choices. The prices range between Rs 13.45 lakh and Rs 24.95 lakh, ex-showroom.
Join our official telegram channel for free latest updates and follow us on Google News here.