4 US Diplomats are in love with the auto rickshaws of New Delhi.
They were impressed by the Tuk-Tuks when they first saw them in Pakistan.
They ended up buying the autos for their daily commute.
In a positively bizarre piece of news, four US diplomats decided to buy auto rickshaws in India to use for their daily commute. Yes, you heard that right! The Indian tuk-tuks are world-famous. In fact, these are the most common means of transport in big cities not just in India but in the entire South-East Asian region. However, this concept is not prevalent in western countries which explains their obsession and attraction toward them. Let us take a look at this news in depth.
You may also like: Video of Man Riding a Bicycle with 9 Children is Breaking the Internet
Four U.S. diplomats in New Delhi switched cars for tuk tuks as they feel driving it empowers them and gives them an opportunity to connect with the people pic.twitter.com/rHysDM5grk

— Reuters (@Reuters) November 23, 2022
You may also like: India's First Auto Rickshaw with a Sunroof Seen in Chennai
4 US Diplomats Buy Auto Rickshaws
The four diplomats that are in the Indian capital these days include Ann L Mason, Ruth Holmberg, Shareen J Kitterman, and Jennifer Bywaters. One of them was in Pakistan prior to this Indian trip where they were transported around in heavy vehicles for security reasons. At the time, she used to see the tuk-tuks outside and be fascinated by the manoeuvrability and freedom they offered. Therefore, as soon as she landed in India, the first thing she did was buy an auto.
You may also like: Swiss and Canadian Teams Create World Record in Autorickshaws – Reach World's Highest Motorable Road
Her colleagues had a similar obsession with the tuk-tuks which is what made them buy these autos which they drive themselves. Weirdly enough, they take it around for their official trips around the city. Just like some other autos, they have all customized their tuk-tuks as per their needs. Hence, they have graphics on the body, tiger curtains, pink paint and more. They confirmed that it was a bit difficult to learn to drive these at first. But the locals helped them a lot which is what the aim of diplomacy is.
You may also like: Impatient Royal Enfield Rider Cuts Through Traffic, Gets Stuck Between Truck and Autorickshaw
They love to explore the city in autos as they are able to access those parts of the city, which might be difficult to reach in big cars. Also, it helps them connect with the locals more genuinely. They think that this is real diplomacy and it doesn't just happen at a high level between governments. What are your thoughts on this unique information?
You may also like: Vijay Deverakonda Ditches Luxury Car for Auto-Rickshaw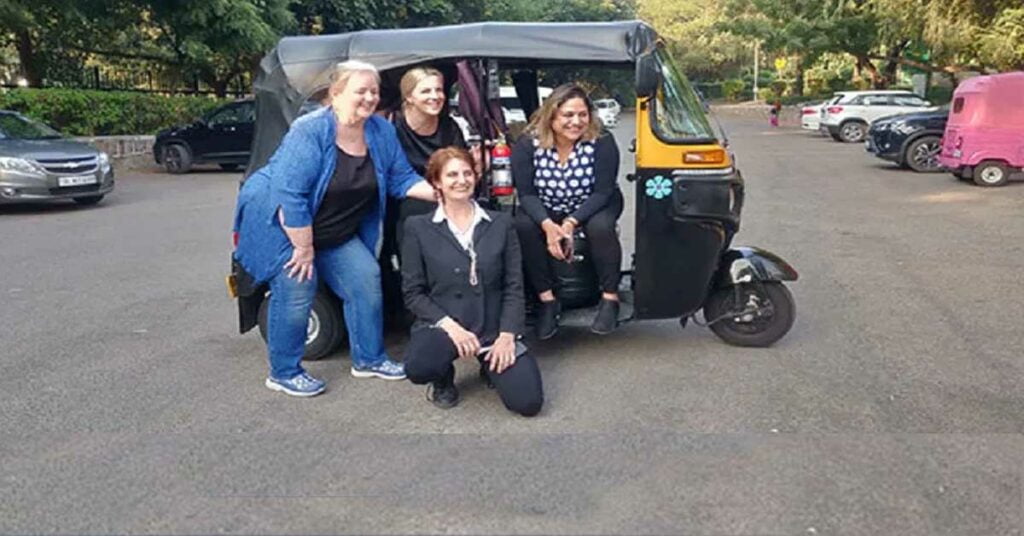 Disclaimer- The embedded videos/ external content is/are being used as a convenience and for informational purposes only; they do not constitute an endorsement or approval by Car Blog India of any of the products, services, and /or opinions of the corporation or organization or individual. Car Blog India bears no responsibility for the accuracy, legality, and/or content of the external site or for that of subsequent external videos/ external content. Contact the external publisher for answers to questions regarding its content.
Join our official telegram channel for free latest updates and follow us on Google News here.