At the 2012 Auto Expo Volkswagen proudly showcased the Volkswagen XL1 Hybrid Concept which is the world's most fuel efficient car delivering 111 KMPL. At the expo the car was equally attractive as any other model from the this German's line-up. It is a plug-in hybrid and incorporates technologies like the TDI diesel engine and DSG automatic transmission.
Uncountable hours have went in to the design of the car as well and the end result is a beautifully sleek looking car that can even give the most efficient motorcycles a run for their money.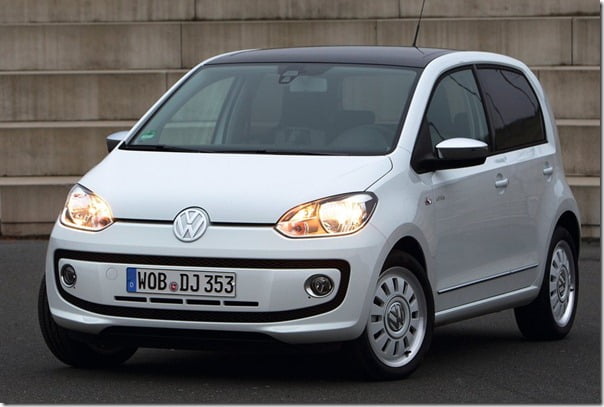 image – Volkswagen Up Small Car
Now we also know that Volkswagen, at least for now, is counting upon its latest small car Volkswagen Up. In fact the company is so confident about Up to be a hit that they have also unveiled a four-door version of it and are working on a diesel hybrid version of the same. Obviously hybrids are finding their place in the market now but what interests us about the Up diesel hybrid is the fact that in all probability it will be powered by the 800 CC 47 BHP engine that powers the XL1 Concept.
image – Volkswagen XL1 Concept
Impressively the car will manage to deliver 95 MPG(approximately 40 KMPL) of fuel economy and the credit is to be given to the combination of a 47 BHP diesel motor and a 26 BHP electric motor, that work together in achieving appreciable performance and breathtaking mileage. Unlike other hybrids which sport CVT(continuously variable transmission) the Up hybrid will come with a 7 speed dual-clutch arrangement.
check out more-