VW Polo is a premium hatchback that is quite popular among car enthusiasts.
Due to issues, it is stuck at a dealership as they refuse to fix the car under warranty.
The dealership gave an estimate of Rs 2.7 lakh which was later reduced to Rs 1.2 lakh after court intervention.
An actor protests against the dealership as his VW Polo is parked at the service centre for 16 months. Volkswagen has been infamous for overtly expensive maintenance of cars since its operations in India commenced. it is only recently after it developed the MQB A0 IN platform and increased localisation that these costs have come down considerably. But here is one case where it becomes prominent just how absurd the costs related to repairing its older vehicles were.
You may also like: India's Last VW Polo Finds Home- MPI Comfortline with Legend Badging
You may also like: EPIC FAIL- VW Polo Trying Reverse Drift Collides Into Maruti Swift
VW Polo of an Actor Stuck at a Dealership
The video has been uploaded by asianetnews on YouTube. It shows the actor, Kiran Aravindakshan holding a placard outside the Volkswagen Service Centre in Kochi, Kerala. He bought the Polo 1.5 TDI in 2019 and drove it for around 58,000 km in 2 years. This proves that he must be an avid automobile enthusiast. However, in August 2021, his Polo stopped working for some reason. Having arranged the RSA, he transported it to EVM Kochi authorized service centre in Kerala. After inspecting the premium hatchback, it was discovered that it had water in the fuel tank.
You may also like: Tata Safari (NCAP- NA) Tests Build Quality of VW Polo (NCAP- 4 Star)
Moreover, the service centre gave an estimate of Rs 2.7 lakh to fix this issue. But the actor thought that it would be fixed under warranty. Kiran had taken a 2-year extended warranty in addition to the manufacturer's 4-year warranty. Shockingly, the service centre refused to fix the car under warranty. This irked Kiran and rightly so. He approached the consumer court seeking intervention. The court ordered to send the sample for testing to ascertain whether there was water content in the diesel or not. Interestingly, there was no water found in the report.
You may also like: 2022 VW Polo Life – Watch First Walkaround Review in 4K
VW claimed that the Government report was not admissible for warranty. They urged that the sample must be sent to a test laboratory in Pune. However, the actor has been left without his car for all these months. Finally, he had to protest outside the dealership holding his placard that says, 'Give Warranty & Stop Looting'. Let us see what happens next in this unique case.
You may also like: Elephant Gets 'Cosy' With VW Polo (4-Star NCAP), All Occupants Safe!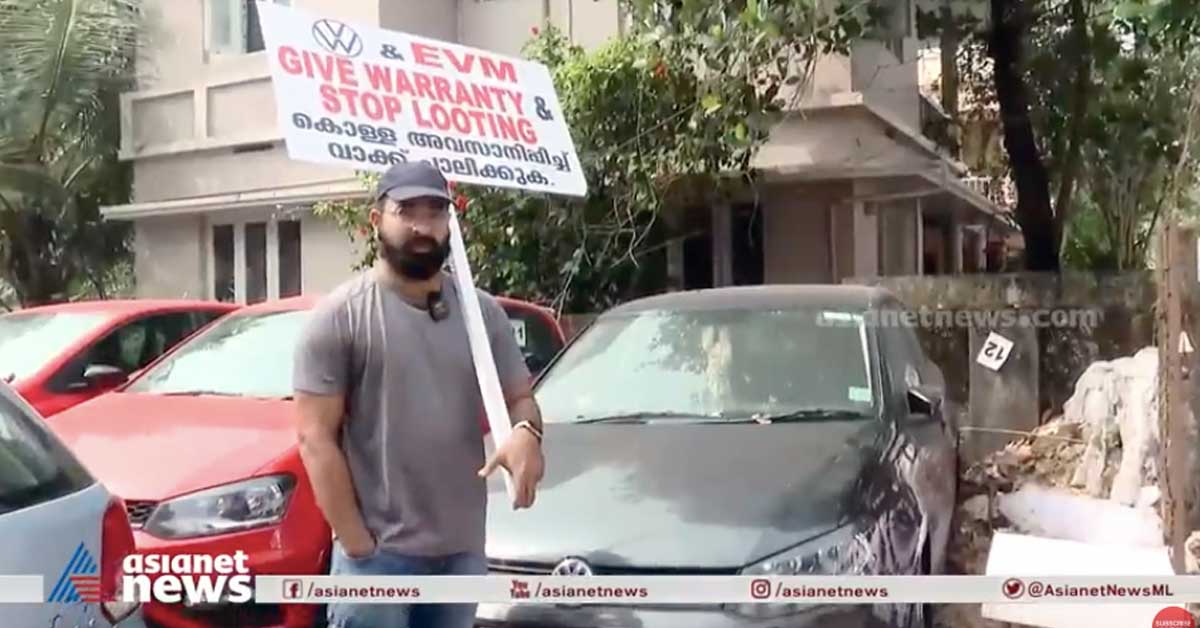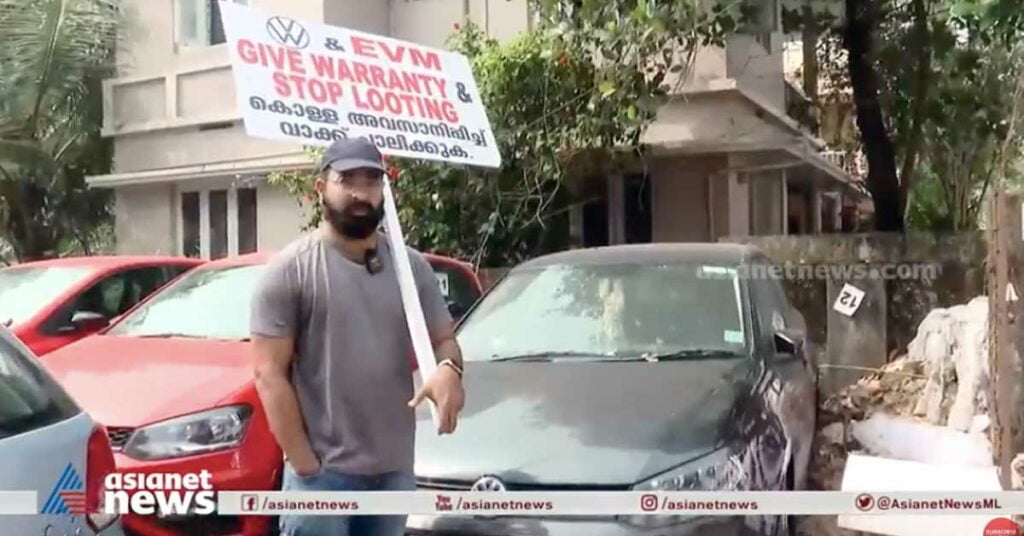 Disclaimer- The embedded videos/ external content is/are being used as a convenience and for informational purposes only; they do not constitute an endorsement or approval by Car Blog India of any of the products, services, and /or opinions of the corporation or organization or individual. Car Blog India bears no responsibility for the accuracy, legality, and/or content of the external site or for that of subsequent external videos/ external content. Contact the external publisher for answers to questions regarding its content.