Although these two bikes belong to the 125 cc segment, are these so similar in terms of performance? This drag race is a great way to find out.
Here is a cool drag race between KTM Duke 125 and TVS Raider 125. The video has been uploaded by a YouTuber. Both these bikes are positioned in the 125 cc segment but vary massively in terms of price and equipment. While the Duke 125 costs Rs 1.70 lakh, the Raider 125 retails for Rs 86,000, ex-showroom. The Duke costs twice as much as the Raider. Let us see if this difference in price is as evident on the road as it is on the paper.
Also read: Here Are The Top Speed and Acceleration Tests of The New KTM RC200!
Duke 125 & Raider 125 – Drag Race
The YouTuber starts the race with the Raider 125 and his friend takes the Duke 125. We must urge you to not perform such activities on the road yourself because of health and safety. These are professionals and perform these races with safety considerations. Back to the race. The Raider takes the lead at the launch by virtue of being a bit lighter. However, it isn't long before the Duke takes control and zips past the Raider. Thereafter, the Duke remains ahead throughout the course. of the drag race. The result in the second attempt is the same. To make the results more accurate and consistent, the duo swaps the bikes. However, what remains the same are the results.
Also read: Watch 125cc TVS Raider Giving 153cc Yamaha FZ16 a Run For Its Money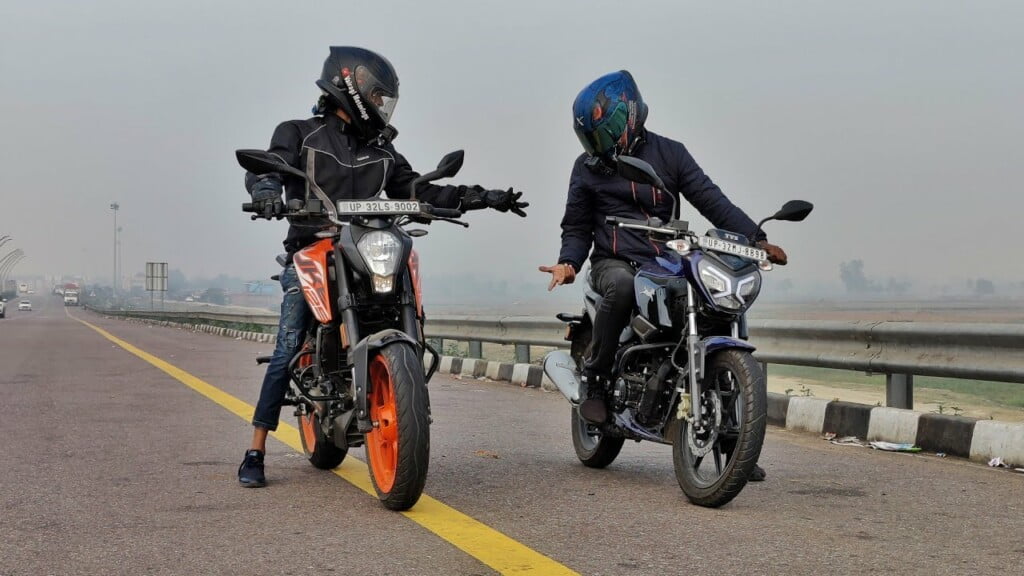 It becomes clear why the Duke 125 is priced at twice the amount as the Raider 125. While the initial push of the Raider is much better, the mid and high-end power delivery of the Duke is much superior. The difference in the power of both these bikes is unequivocally clear from this drag race. The Raider makes a decent 11.38 PS and 11.2 Nm, while the Duke delivers a much healthier 14.5 PS and 12 Nm of peak power and torque. These bump in power results in quicker acceleration to reach the top speed while racing of around 114 km/h. This is still a healthy and strong performance from 125 cc bikes. This drag race is the answer to why the Duke 125 is so popular among enthusiasts in comparison to the Raider 125.
Also read: New 2022 KTM RC200 & RC125 LEAK Online – Look Sharp and Sassy
Join our official telegram channel for free latest updates and follow us on Google News here.