Tata Motors is very particular about the build quality of all its products. This instance involving Tata Harrier and Tiago gives us a glimpse of just that.
Watch the impact of a 'meeting' between a Tata Harrier and a Tiago. Harrier is a bulky mid-size SUV that has not been tested at the GNCAP yet. However, from many instances that we have seen, it looks like it would bring a respectable score at the GNCAP. On the other hand, the Tiago is a hatchback that has a 4-star safety rating at the GNCAP. That is one of the most prominent reasons for its success in the Indian market. Let us see what happens when these two brush against one another on the road.
You may also like: Tata Harrier Cocoons Occupants as Metal Sheet Falls on SUV
You may also like: Rs 80 Lakh BMW Z4 Rams into Humble Tata Tiago
Watch Tata Harrier Meet Tiago
This video has been uploaded by Prateek Singh on his YouTube channel where he keeps posting such videos to showcase the performance of popular cars in unfortunate scenarios. In this video, a Harrier is seen involved in a bit of a mix up with a Tiago. The visuals are from a busy road with heavy traffic. While the details of this event are not available, it looks like the Harrier might have applied the brakes suddenly. The Tiago was behind the SUV and the driver was not able to react quickly. As a result, it bumped into the tail-end of the Harrier with quite some force.
The bumper of the Harrier is visibly scratched although there is not much damage to it. Also, the other parts of the SUV look intact and unaffected by this impact. On the other hand, the front end of the Tiago has sustained heavy damage. The bonnet hood is clearly crumpled, the front grille is impacted, the headlights are broken, the bumper is deformed and the radiator grille has been damaged. This clearly indicates the strength of the Harrier which is significantly more expensive than the Tiago. The airbags in the Tiago got deployed due to frontal impact and hopefully, there were no injuries to the passengers.
You may also like: Tata Harrier Pickup Concept Is a PROPER Xenon Replacement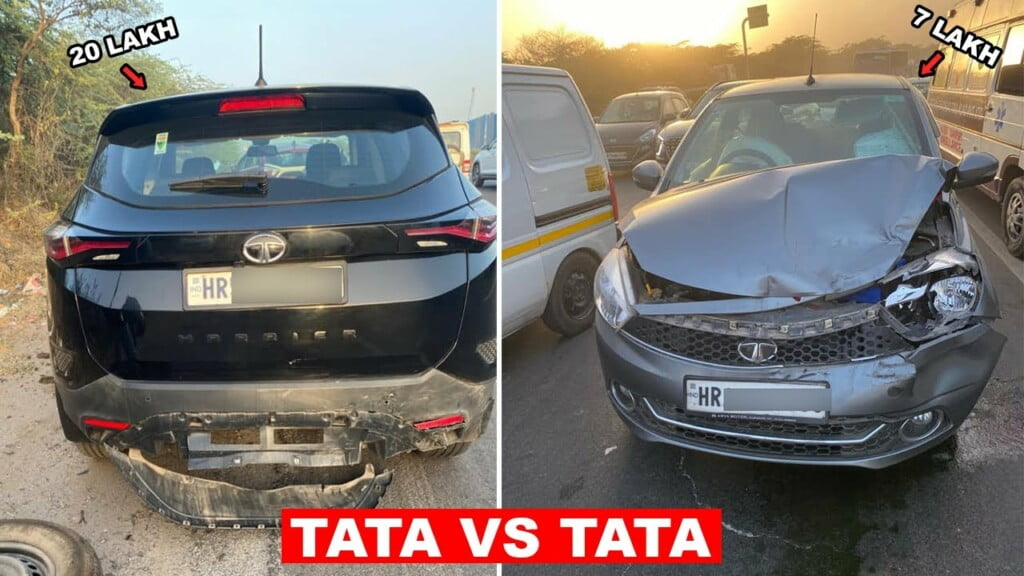 We would like to advise all our readers to not overspeed on the roads. Also, make sure that you follow the traffic regulations. That is the only way how safety could prevail and unfortunate incidents could be avoided.
Join our official telegram channel for free latest updates and follow us on Google News here.