While performing Tug of War between two powerful bikes, there are times when things could really go wrong. Check out this video to know what not to do in such situations.
This video captures a tug of war between a Bajaj Pulsar 220 and Yamaha R15. The Pulsar is one of the most popular bikes in the country. It has a version in most common segments which are all crowd favourites. The recently launch Pulsars carry on the brand image further. On the other hand, people who want a more performance-oriented bike opt for something like a Yamaha R15. It is one of the most sporty bikes at this price point. This competition has been arranged by a YouTuber who likes both these bikes. Let us take a look at who would win this war.
Also read: India's FIRST-EVER Modified Yamaha R15 V4 – This is IT
Pulsar vs R15 Tug War
The bikes are parked in a field that is made up of dirt. These are not the ideal conditions to perform tug of war because of lack of traction. And that is exactly what ends up happening. In the first attempt, both the riders apply a lot of force and power. But the result remains a dead tie. No bike was able to pull the other cleanly. The tyres were buried deep in the ground. They did the race a second time. For the most part, there was no clear winner. However, due to the driver's method, the Pulsar stalled midway and the R15 was able to pull it away. The same thing happened in yet another attempt. Then the YouTuber decided to shift onto the tarmac. There, the tyre spin was controlled because there was enough traction.
Also read: World's 1st Full System Exhaust on Yamaha R15M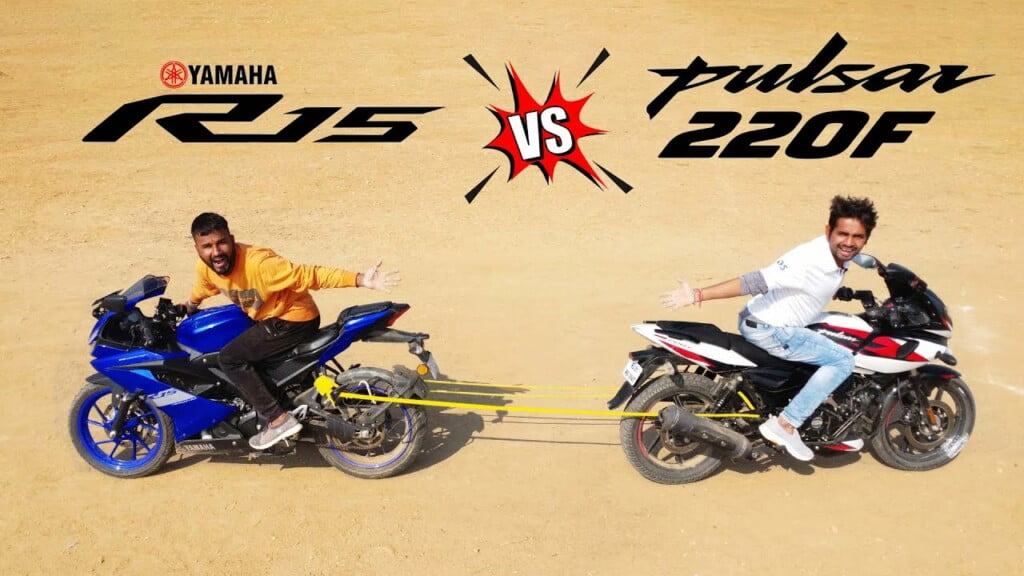 Here comes the interesting part. After accelerating both the bikes for so long without letting either one move, the clutch plates of both the bike got damaged. Now, this is something that all of you must be aware of. Such stunts could cause permanent damage to the components of an automobile. That is the reason why we urge you to not perform such stunts on your own. These have an everlasting impact because automobiles are not meant to be driven like this. We hope that you will take a huge lesson from this video and not try something like this with your own vehicle.
Also read: Bajaj Pulsar 400 Comes Back Into Limelight Through New Rendering!
Join us for FREE NEWS Updates on our Whatsapp Community or our official telegram channel.