Younger bikers have a way of wanting to make everything unique about their motorcycles. However, making modifications to automobiles is not as straightforward as it may appear.
A Yamaha R15 V3 owner upsized its tyre and we tell you why you should always avoid it. Upsizing tyres on motorbikes is not uncommon but there are consequences of doing that. Most people don't know this and they think that just because the bigger or broader tyres look aesthetically pleasing and sporty, they should do it. But that is a wrong notion to have as the bike companies tune the engine of bikes according to the stock size of tyres and a bunch of other factors.
You may also like: Yamaha R15X Rendered – Honda CB200X Rival
You may also like: World's First Yamaha R15 Based on Old Bajaj Discover – VIDEO
Why Avoid Large Tyre On Yamaha R15 or Any Other Mainstream Bike?
The YouTuber is seen explaining to his viewers that he is replacing the existing 140 mm R17 tyre on his Yamaha R15 V3 with 180 mm R17. For that, he has brought a new tyre from a superbike and is getting it installed on his bike at a local tyre shop. Now, there are so many reasons not to do it. The first one is that you are adding unnecessary weight to the bike. The R15 V3 is not a superbike with a large engine. Hence, even a small addition to the weight will cause the engine to work overtime. In addition to that, the fuel economy will suffer a lot.
You may also like: Bajaj Pulsar F250 vs Yamaha R15M Drag Race – Guess Who Wins
To push more weight, the engine requires more power and more fuel. This causes the mileage of the bike to drop drastically. Also, other engine parameters are calibrated according to the size of the tyre. These would also change because the tyre is now much broader. In terms of actual driving, the handling of the bike around the corner will take a hit. In this video, the comment section is full of such opinions from people who understand the negative impact of upsizing the tyre so much. The YouTuber didn't even change the rim and somehow fitted it to the existing one. This could also be dangerous and it is not designed for the broader tyre.
You may also like: Yamaha R 500 Makes For Perfect KTM RC390 Upgrade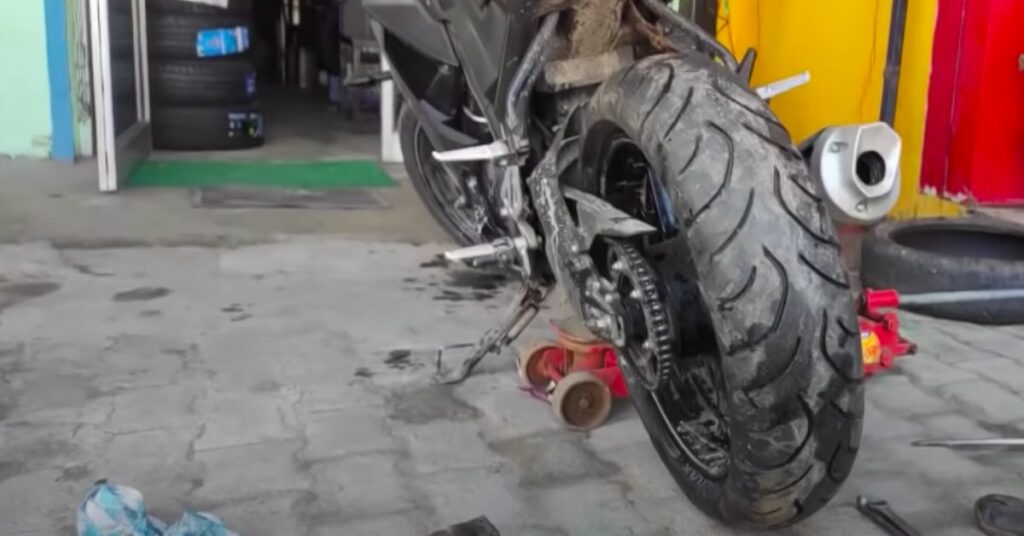 We would also like to advise our readers to not do such modifications to your bikes or cars. Almost all modifications to automobiles are illegal in India anyway. So, it is better to use the bikes as they are because the companies have designed them to be a perfect combination of performance, emissions and mileage. Altering bike components will invariably have an adverse effect on these aspects.
Join our official telegram channel for free latest updates and follow us on Google News here.