Check out our Yamaha R15 V3 Review. We have talked about its looks, top speed, acceleration, features and all the other aspects. 
A proud grin came under my helmet as I stretched out the legs of Yamaha R15 V3. As I revved up the engine, my smile grew wider. Such is the charm of this mean machine. So, we got to test the Yamaha R15 V3 for a couple of days. It is one mean monster, ready to show off its juicy engine. Despite being a mere 155cc bike, it does not feel like one. Without bragging more about the bike here, check out our review of Yamaha R15 V3. I have written everything you need to know about the looks, performance and ergonomics of the bike.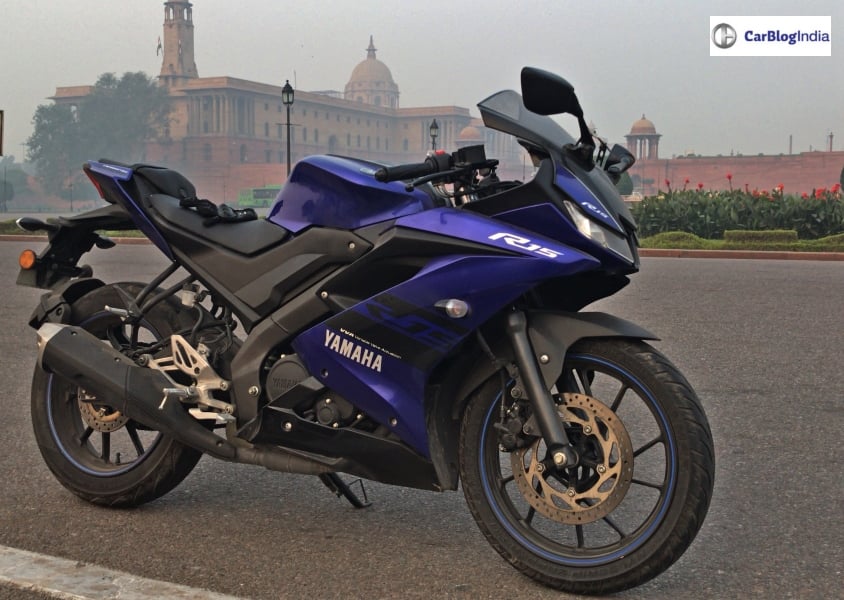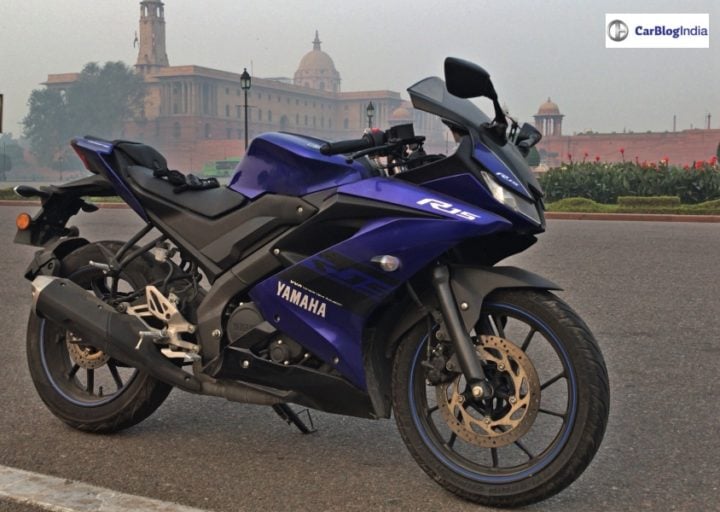 Yamaha R15 V3 Review – Design and Styling
R15s have always looked sporty and mean all the time. Well, the R15 V3 just got better. To start off, it now looks similar to its elder siblings, R3 and R1. The V3 gets sharper, bolder and more muscular than the previous generation. The split LED headlamps with the air-intake between them gives an aggressive stance by just looking them from the front. The fuel tank is more sculpted and over the body, what you will find is just muscle creases. The dual-tone Black and Blue colour truly fit in with its sporty behaviour.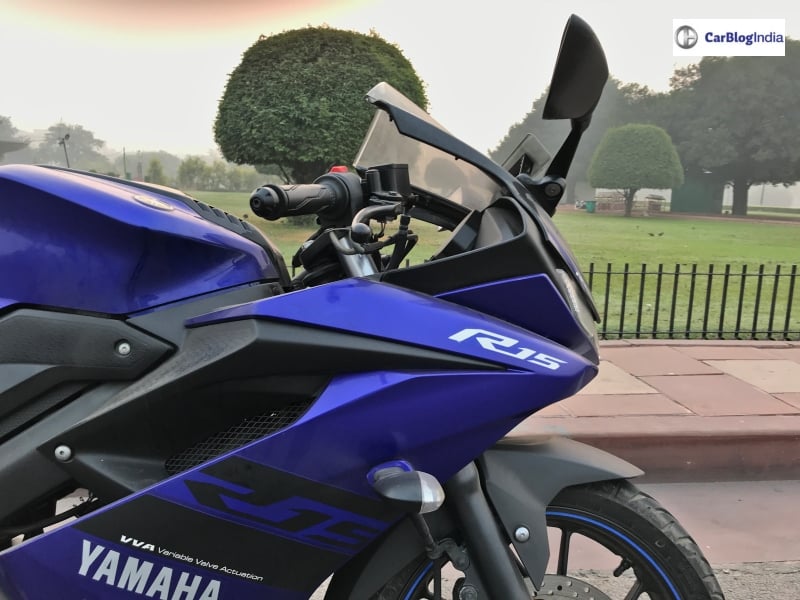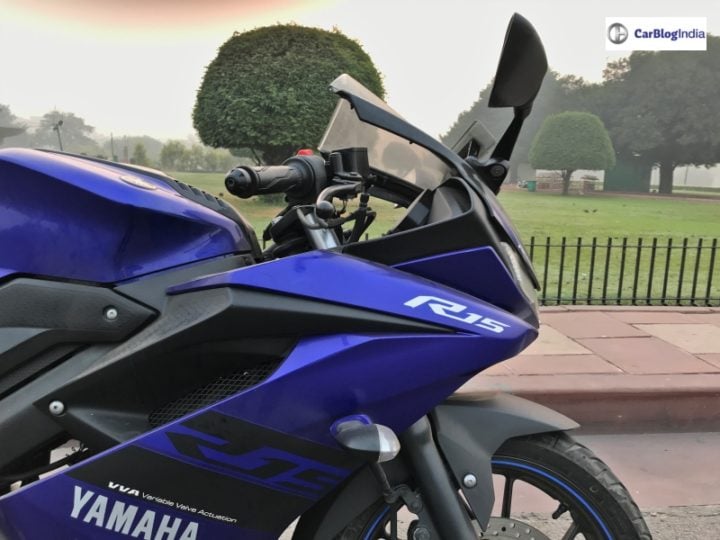 What makes it look more race-track material are the clip-on handlebars. Speaking of which, the quality of the switches is pretty good and feels premium. The indicators are placed below the rake, which you can see sometimes. So for that, it should have come with auto-cancelling indicators.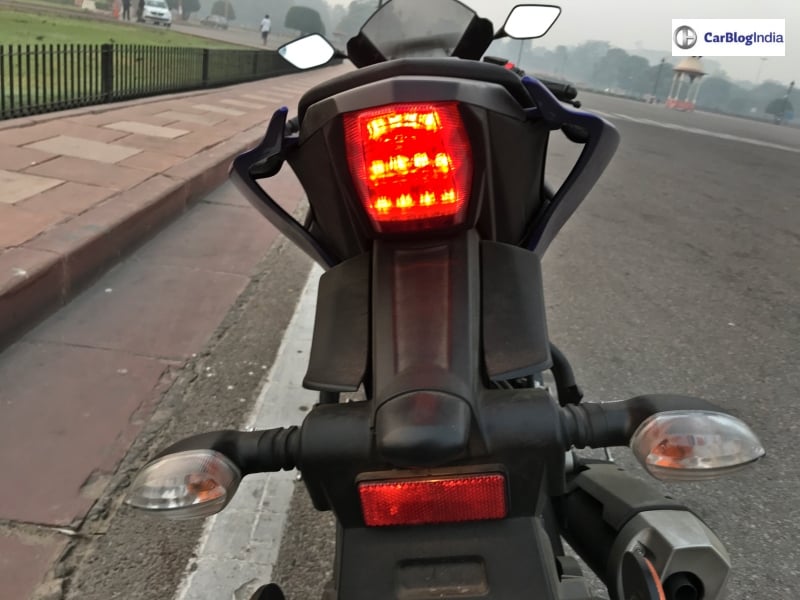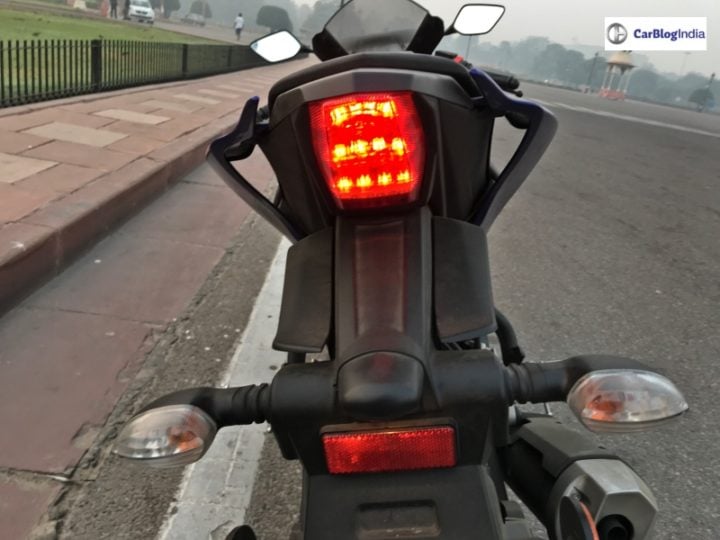 The high split seat reminds that despite being a 155cc bike, it is a true sports bike. To be frank, I like the alloy wheels in this more than the V2 but not better than V1.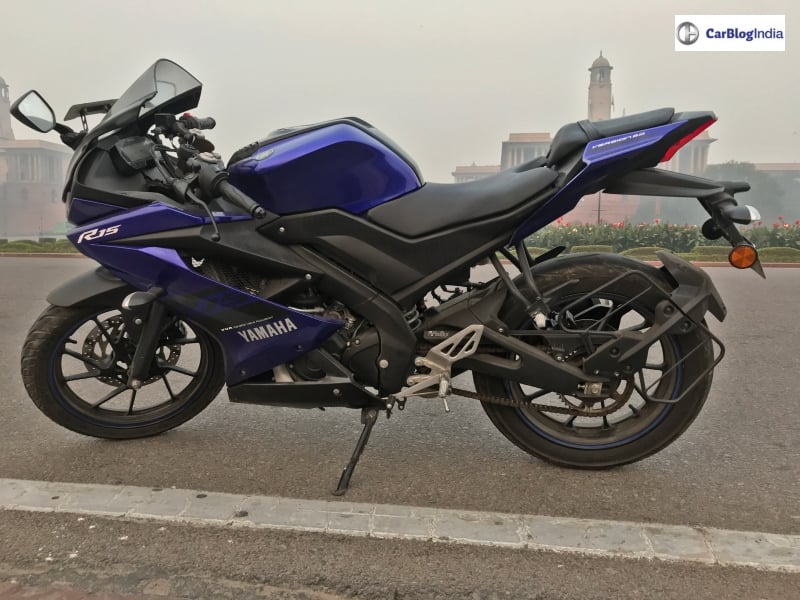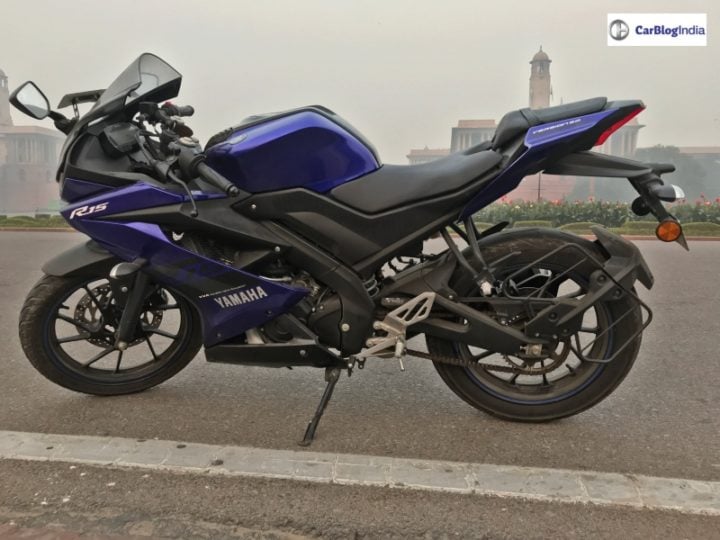 To sum it all, the Yamaha R15 V3 is one such bike that whenever you see one, you can't take eyes off it. Without any loud decals and graphics over the body, it still looks the sportiest of the lot. The sexy, smouldering look just does not fade away easily in your mind.
Yamaha R15 V3 Review – Acceleration and top speed
I have ridden the R15 V2 a couple of times and for sure, the power and acceleration have increased. The power delivery of V3 is straight up by 2.5 BHP from the V2. Thanks to the VVA system, the torque delivery is quicker and spread out than before. The VVA system basically helps in pumping out more torque at the lower range as well as higher ends. The VVA system kicks in from 7,400 RPM and it gets even more interesting.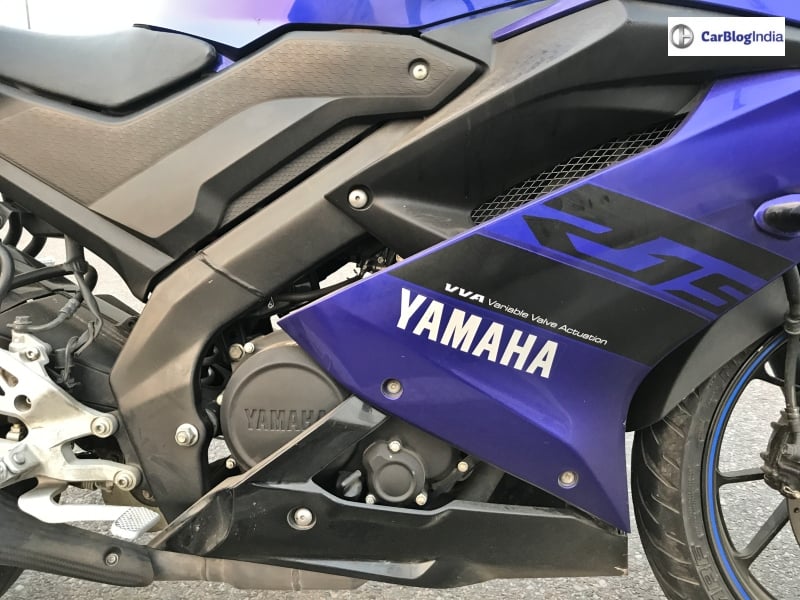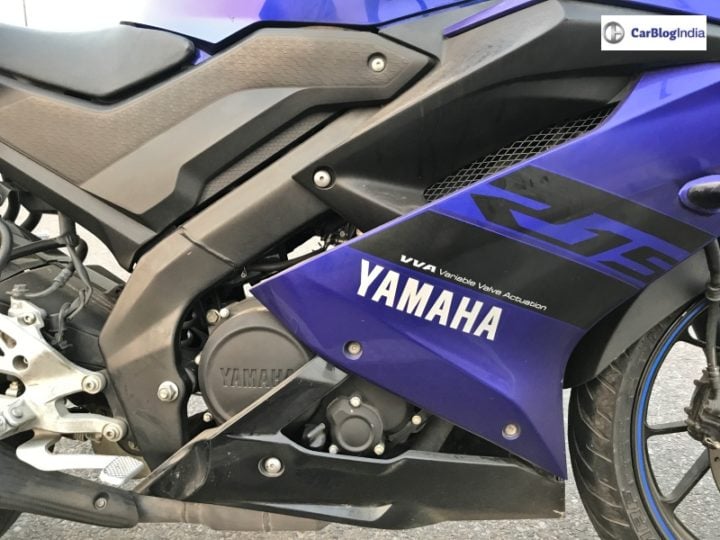 The Variable Valve Actuation (VVA) is a system which gives a quicker throttle response and provides a linear and increased torque in low-end as well as high-end.
As the bike starts off at 5000 RPM (for example), with the VVA kicking in, you feel the engine dolling out oodles of torque and power as well. With every gear up, the engine gets more and more eager to accelerate and shows its prowess.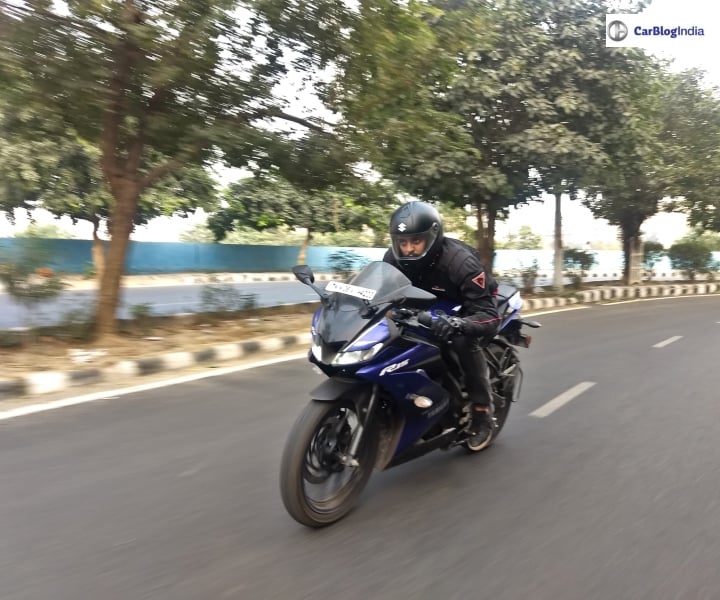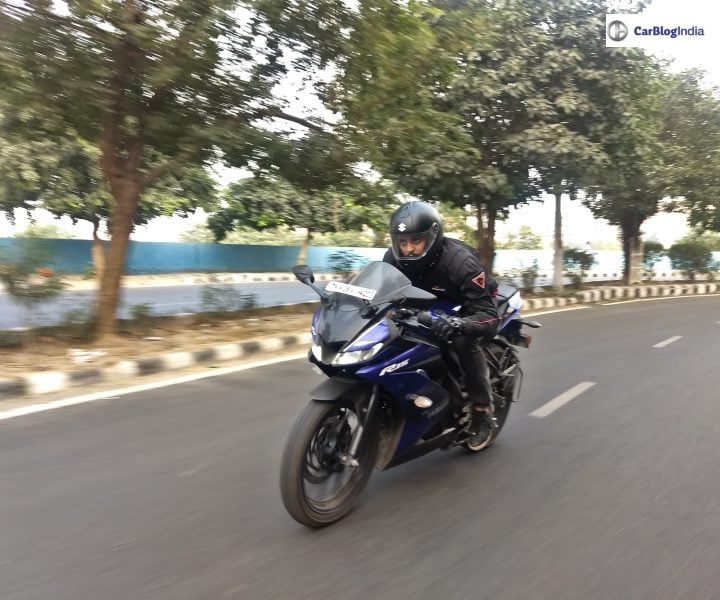 Many of you might have a perception that since its just a 155cc bike, it might offer an average performance just like the other 150cc bikes. The answer is NO! It classifies as an everyday sportsbike and can easily touch triple digit speeds in no time.
In this, the lower, mid as well as high range, everything is perfect. At least better than the V2, which was a bit too jerky and gave unsatisfied city performance.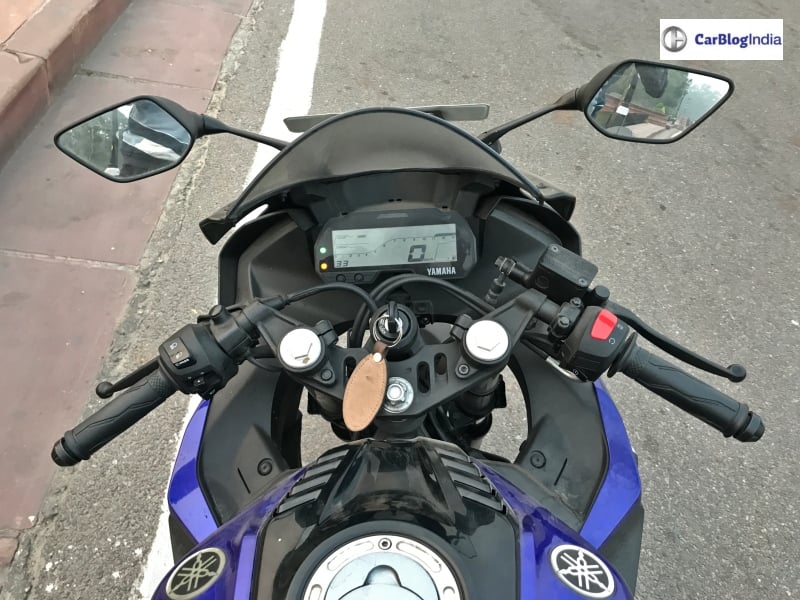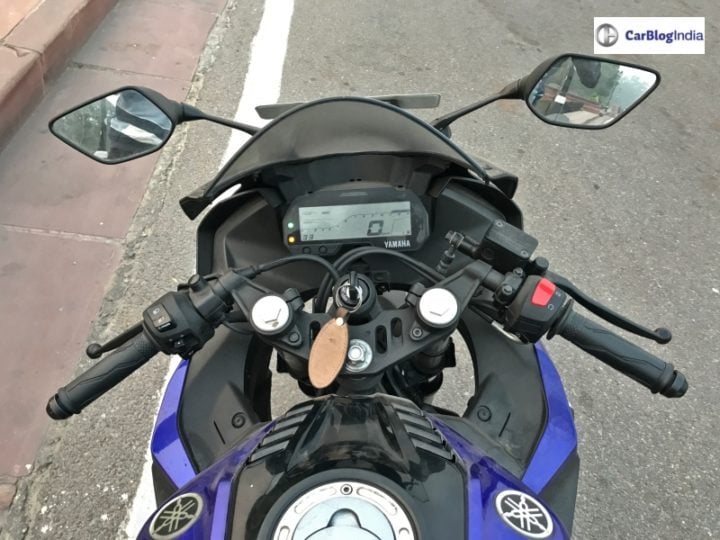 Even at 4th gear, you can easily cross the 90 km/hr mark and it shows no signs of retreat. For full power, you gotta keep it full throttle and then the fun starts. The slip and assist clutch makes the gear shifting easy and light. The Yamaha R15 V3 gets a quick gear-shifting ratio, which makes the revving up feel like an adrenaline rush and not as a compulsion. This clutch is beneficial for long touring as well as the city's stop and go traffic.
The R15 sprinted from 0-100 km/hr mark in almost 10.5 seconds. The sprint is quicker than some 200cc bikes. For a 155cc bike, the figure is just too perfect. As I shifted up to 6th gear at the limit of 10000 RPM, I could achieve a top speed of around 133 km/hr.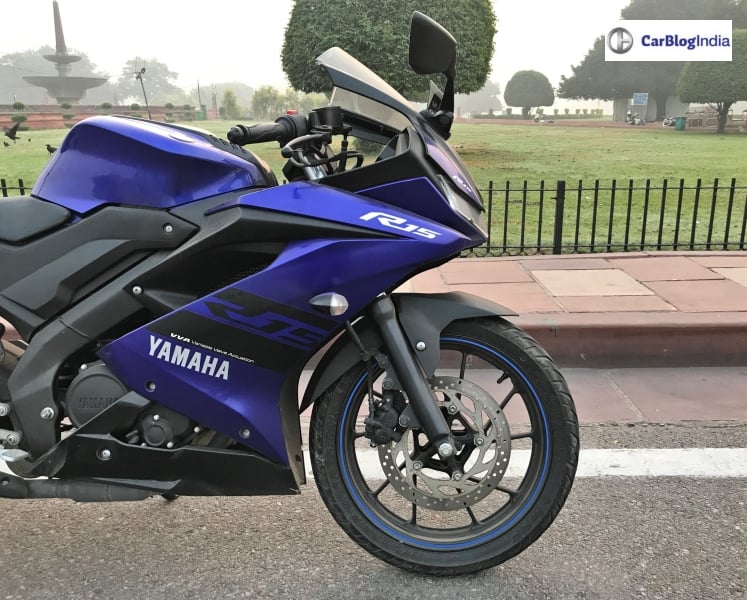 The R15 gets a 155cc liquid cooled engine that churns out 19.3 horses at 10000 RPM and 15 Nm of peak torque. The figures have increased a bit over the last generation. It pairs up with a 6-speed gearbox with slip and assist clutch. The gearbox is one of the best ones I have seen, primarily because of the quick shifting.
Yamaha R15 V3 Review – Ride and handling
The Yamaha R15 V3 gets an increased seat height of 15 mm and lower placed handlebars. As a result, it offers a more dedicated riding position, making it easier on the aggressive turns.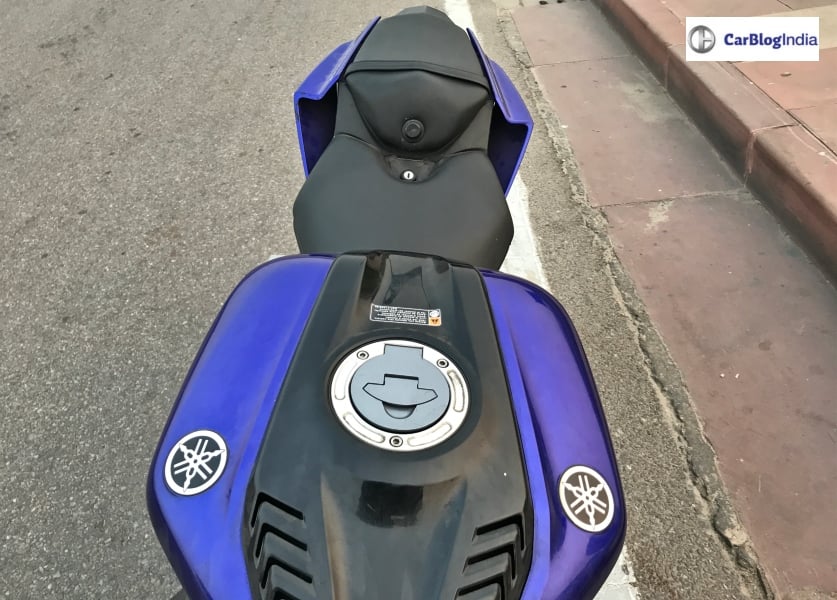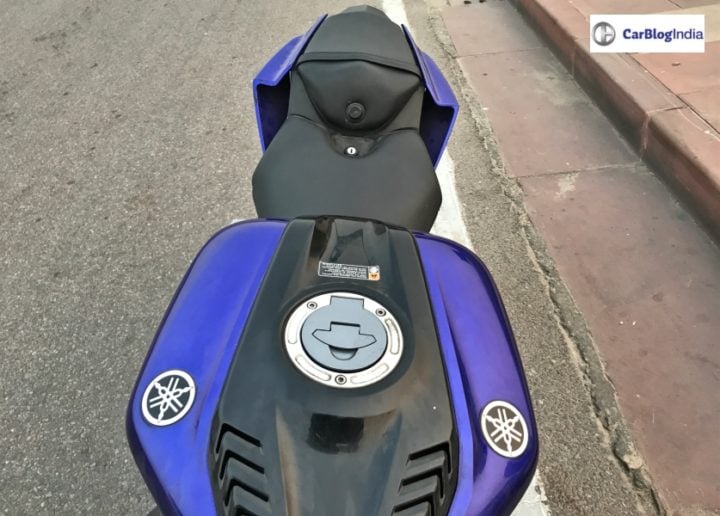 While cornering the bikes, it felt extremely easy to manoeuvre. Its nimble handling makes the bike easier to zip through the traffic as well as cornering the turns.
At cruising speeds of 110-120 km/hr, the vibrations were obviously high but exciting. It did not wobble at all, as it weighs 139 kgs. The weight has also increased by 3 kgs over the V2.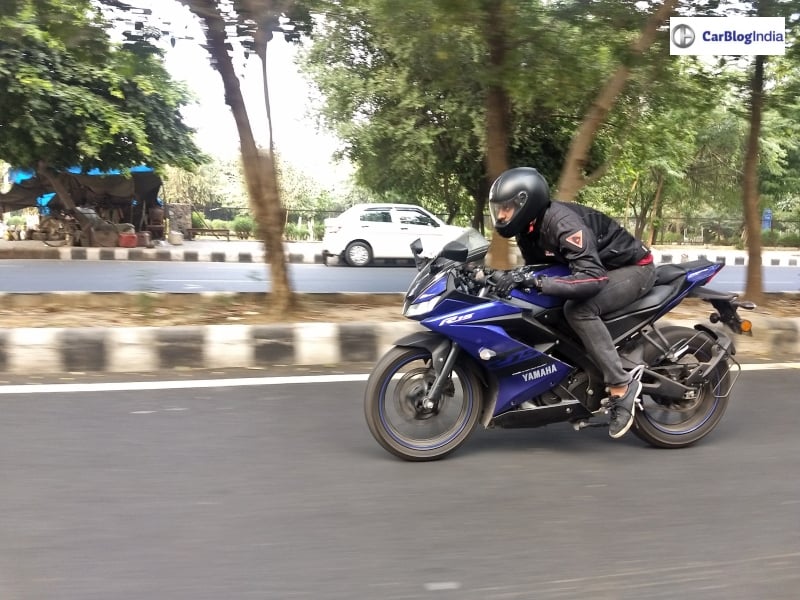 Since it does not offer radial tyres at the front as well as the rear, you take time to trust this bike. (You can opt for Metzeler radials at the rear as an accessory). The rear tyre is wider than the previous generations and provides decent grip over the road.  As I rode it every day, the confidence increased and slowly I began to trust the bike. But it still did not gain my full trust.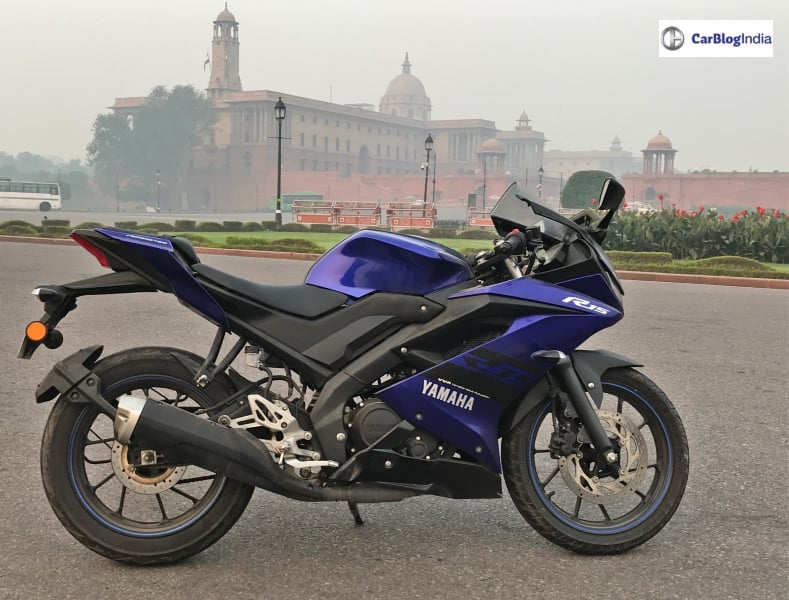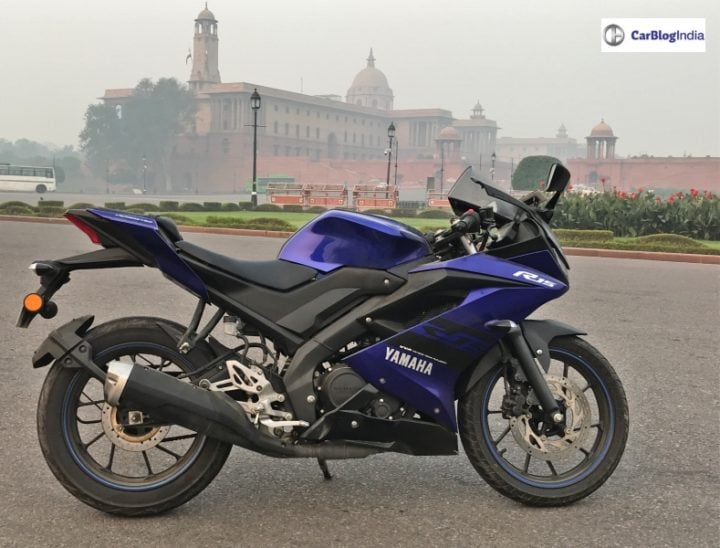 Yamaha R15 V3 uses the same Deltabox frame but with a wider swingarm. The bike uses conventional 41mm telescopic forks (missing out on USDs) and Swing arm link suspension in the rear. Despite using conventional forks, the jerks felt were minimal and it seemed to soak every pothole or uneven road.
Yamaha R15 V3 Review – Braking
The V3 offers a BYBRE hydraulic disc brake in the front and Nisin callipers at the rear. BYBRE is basically an Indian version of the Brembo brakes. As per my knowledge, the Nisin brakes are a bit better than the BYBRE ones.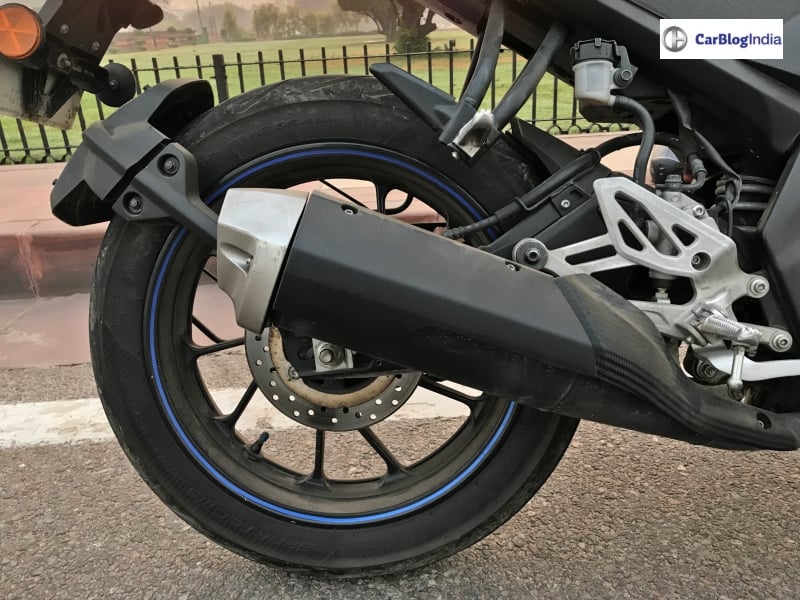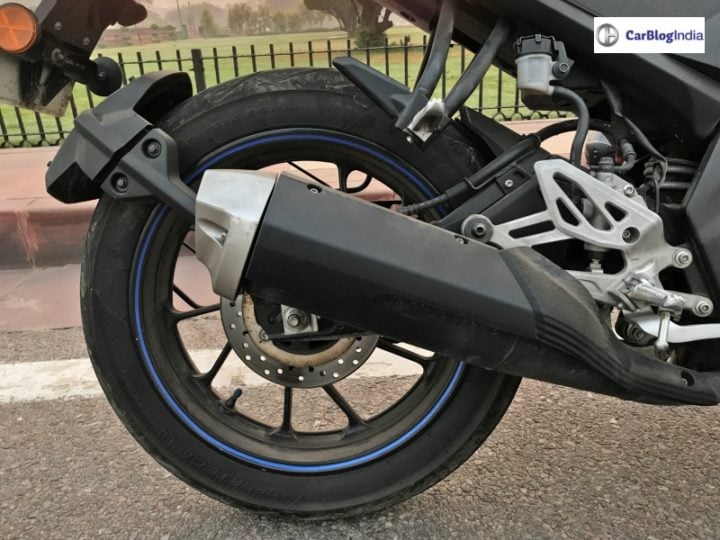 Leaving this, the R15 still does not offer ABS. This is the reason why it did not gain my full trust.  For a bike having such immense power, it becomes a bit difficult to control sudden braking. Nonetheless, the brakes were good enough but at certain times, though the rear tyre would skid off. With government's new safety norms, it will be offered with ABS after April 2020. That would just literally complete the bike.
Due to absence of ABS, it took a couple of tests for a proper braking result. In the braking test from 100-0 km/hr, it took me around 4.5 seconds to come to a standstill. See, not that bad.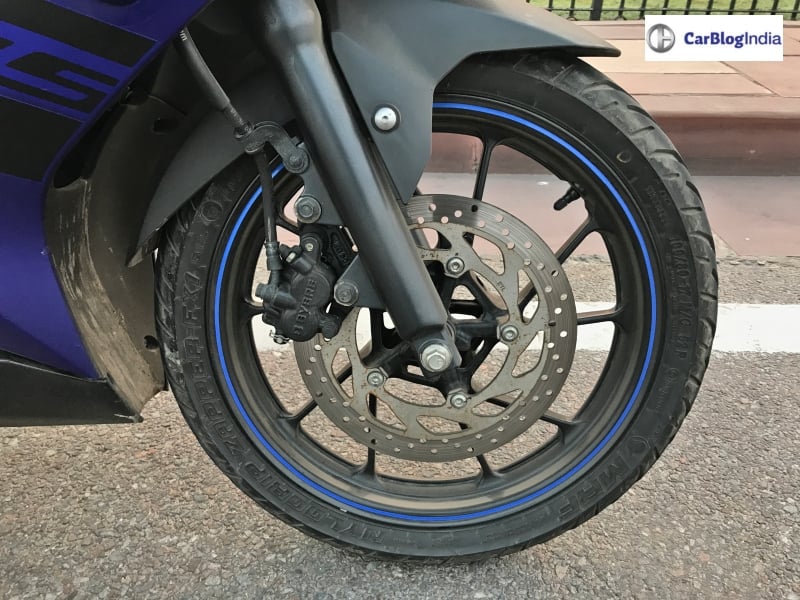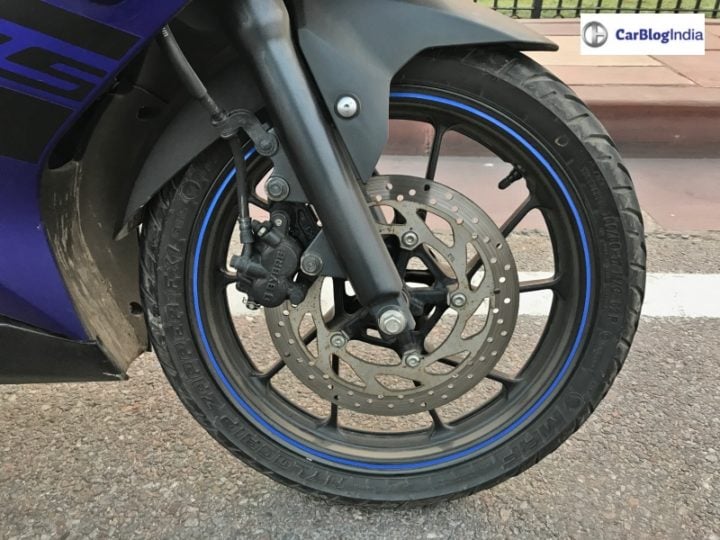 Yamaha R15 V3 Review – Comfort
With the lowered clip-on bars, the bike offers a more dedicated riding position. I covered around 150 kms on a single run and my back wasn't aching a bit. But the wrists were gone and that's when I realized I have to start going to the gym again. The seat was pretty comfortable and can easily take you for longer rides. However, if you want to make it a daily commuter, you need to get a habit of that dedicated position. As mentioned earlier, the increased seat height does not make it much of a problem.
Let me clear this very clear, it is not meant for PILLION RIDERS. Well, you can surely accommodate them, but they would probably scream at you for taking the bike to high speeds. The bike has no pillion grab rails. So either the pillion rider leans completely on you or sits uptight, praying that the rider does not accelerate or brake suddenly. Saying that the young college goers would love to have their girlfriends behind (Just kidding, Yamaha!)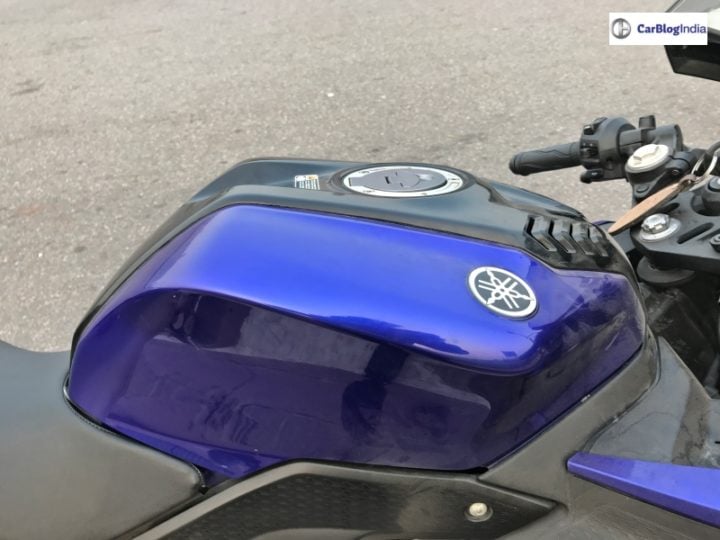 Yamaha R15 V3 Review – Mileage
Most of you would expect that since its a sports bike it will have a lesser mileage figure. Oh boy, you have it all wrong. Despite my hard acceleration and braking, it delivered a whopping mileage of 43 kmpl in the city. I could not have much highway cruising, but with whatever I did, it delivered around 51 kmpl on the highway. Right on the odometer, it is showing an average mileage of 50 kmpl. Great performance doubled up with fuel efficiency. What else do you need?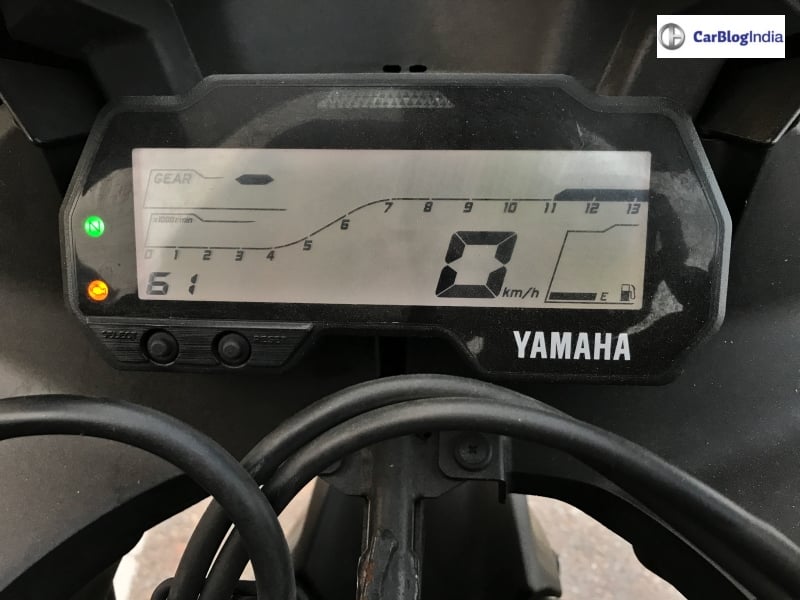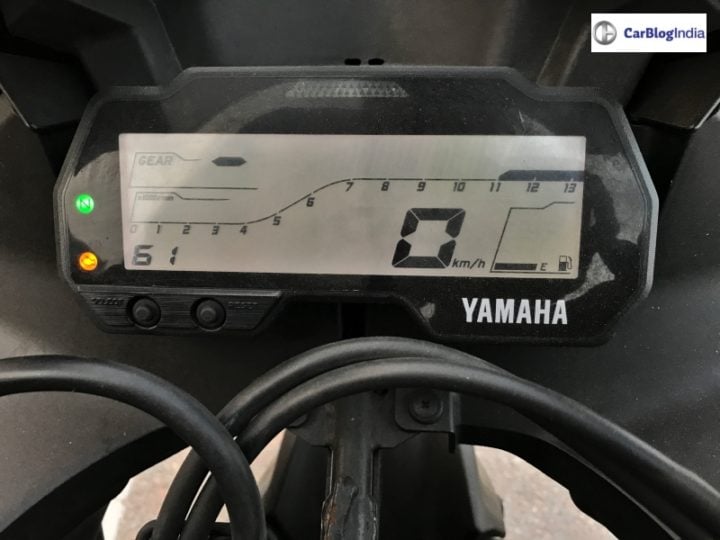 Yamaha R15 V3 Review – Features
Now, the features onboard include twin-LED headlamps, clip-on handlebars, LED tail lamp, assist and slipper clutch, the VVA technology and a fully digital instrument cluster. The digital cluster shows RPM, speedometer, 2 trip meters, fuel gauge, Odometer, gear position, instant fuel consumption, average fuel indicator, average speed and a clock. It does miss out on lap timing and riding range, which could have come in handy. The average fuel indicator shows litre per 100 kms, which you can convert to kmpl. The digital cluster starts with a 'Hi Buddy' message and ends with a 'See You' message. Once you cross the 7400 RPM, it also shows the VVA sign.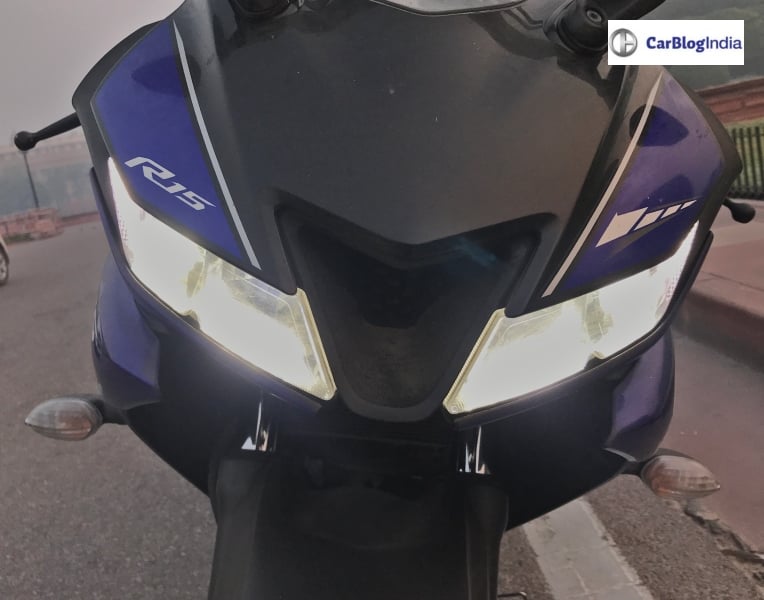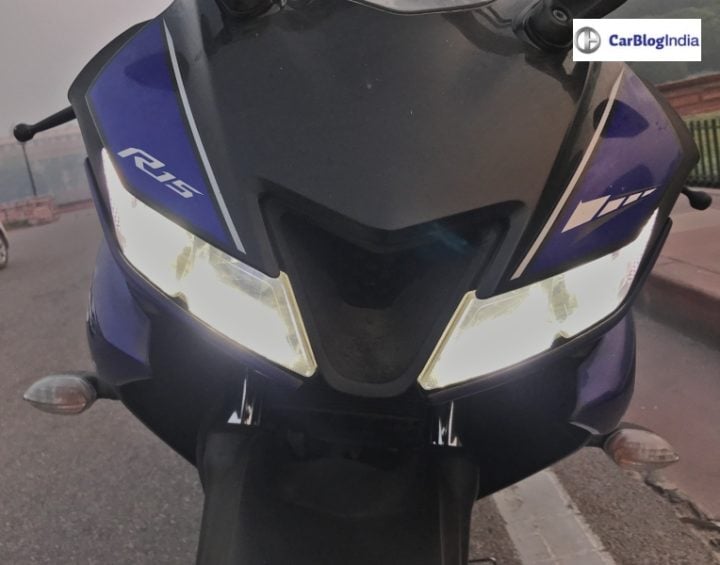 The twin-LED lamps offer decent visibility at the darkest of hours. It also offers a USB charger as an additional accessory. The remaining feature is ABS as of now.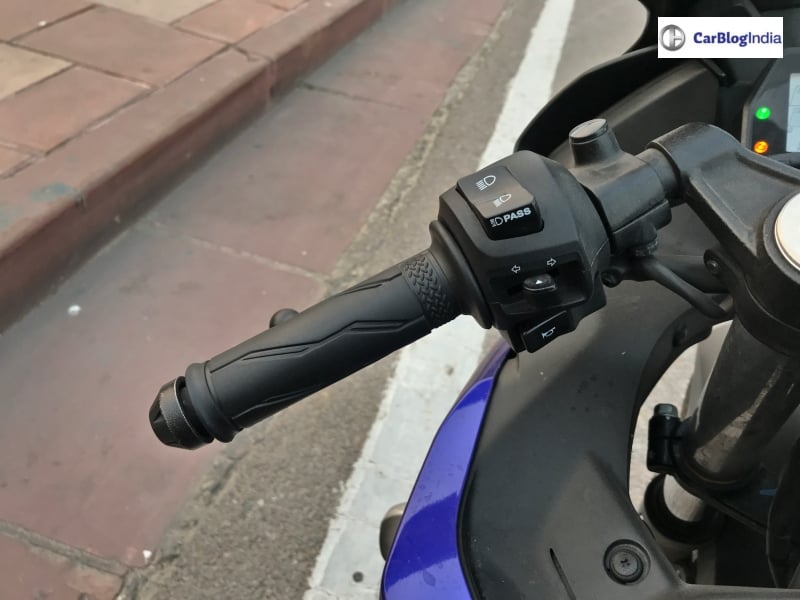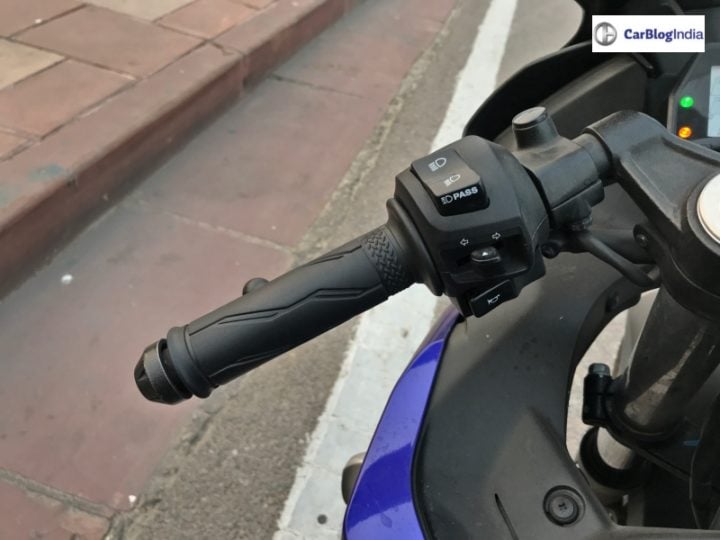 The bike as such has no direct competition. No 150cc bike is powerful enough to match up to the might of R15. However, indirectly, it falls in the range of Pulsar RS200, Apache RTR 200 4V and Pulsar NS 200. Earlier, there was the CBR 150, but it was recently stopped. RS200 is the nearest full fairing sports bike in this price league.
Verdict – Whether you should buy it or not?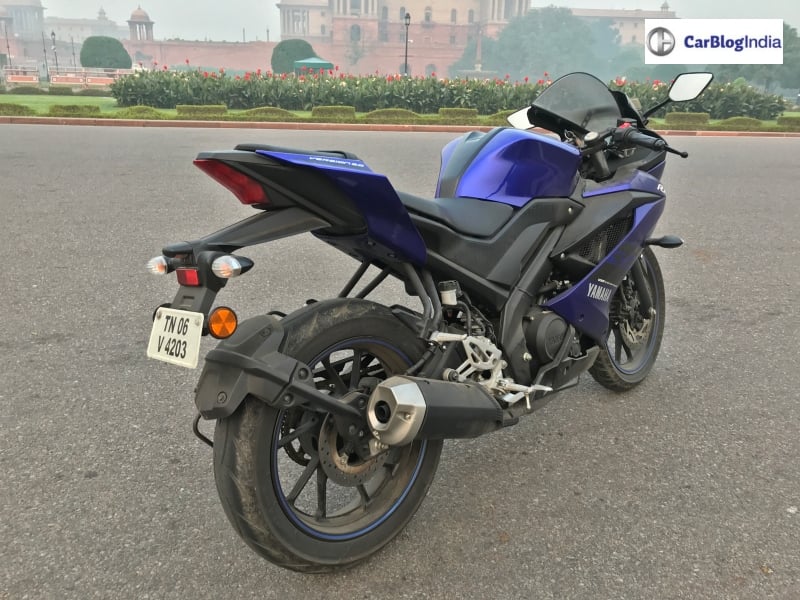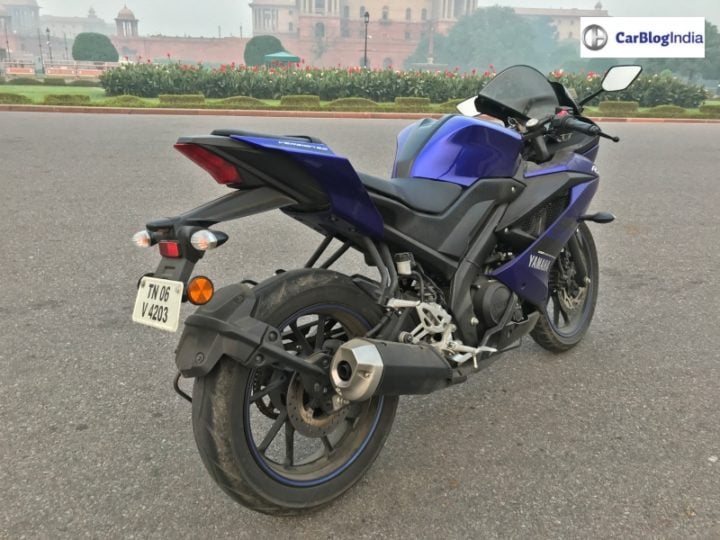 You can try and try but will fail to register a dislike for this mean machine. It has great road presence, great performance, excellent riding manners and of course, an aggressive and hot bod. Barring ABS, I could not find any fault in the bike. It just completes as an all-rounder. The Yamaha R15 V3 qualifies as a daily commuter as well as a race-track ready machine. Not every bike can earn this title. At a price of Rs 1.25 Lakhs (ex-showroom Delhi), it is the cheapest full-faired performance bike in India. It comes at an affordable price and is great on the pocket too. For young riders out there, here is your affordable everyday performance bike. 
Join us for FREE NEWS Updates on our Whatsapp Community or our official telegram channel.