It's not been pretty long since the bike maker Yamaha had unveiled the YZF R25 Concept bike during Tokyo Motor in November 2013. The glimpse of the bike had indicated that a new sports-bike was in the making. However, the company had not splurged many details since then. Now some new spy-shots published by a Japanese 2-wheeler magazine 'Young Machine' seem to confirm a few things about the Yamaha R25 production spec version.
In these images, you can see a swanky sports-bike which is flashing Yamaha's signature red, white and black colour along with Yamaha kit. Its twin-headlights which were not present in the concept model can also be seen in the pictures.
Updated on 19th January 2014
Yamaha has teased what appears to be the production variant of the Yamaha YZF-R25 in a new campaign, called the 'Revstation'. A video (embedded below) and a teaser website with a countdown clock to the event (which will be held on the 25th of March 2014) point to the upcoming launch. One frame of the teaser video showcases the blueprint of a bike which looks pretty close to the images which were leaked around January 2014 (read previous update).
Video: Revstation Teaser
Updated on 7th January 2014
Referring to the Tokyo Motor Show 2013, we all know that the 250cc Yamaha R25 production spec will borrow its look and feel from the ongoing successful YZR M1 MotoGP bike. The new bike will have a newly developed 250cc fuel injected 4 stroke, inline 2-cylinder liquid cooled  engine which derives power using a six speed transmission system. Details about maximum power output and torque are yet to be announced by the company but expect both the power output to be around 30BHP.
The dimensions of the concept bike were found to be 2,000 mm in length, 720 mm in width and 1,140 mm in height. We do not see this changing much during the production phase and bike will carry over most of its design philosophy from the concept.  The company plans to position the new bike as an entry level quarter litre bike- "superbike you can ride everyday".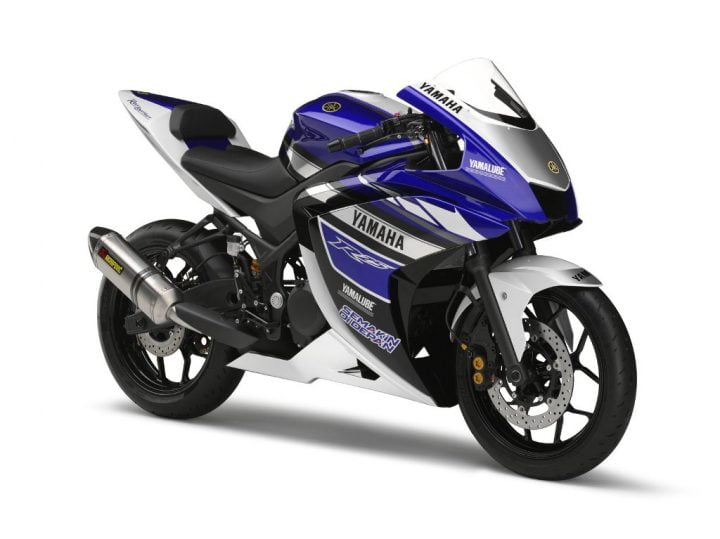 We may see the bike initially being launched in the home country, Europe and selected parts of Asia with India surely being one of the markets that gets the bike in the first wave. So far, Yamaha has missed out on the entry level 250 cc bikes and many analysts suggest that this could be too late to enter the segment. We'll keep you updated on developments on the Yamaha R25 production spec bike.