A few young bikers on our roads exemplify the forbidden traffic etiquette like this case where they are seen drinking while riding the bike.
A video has emerged where young bikers are visible drinking while riding their Bajaj Platina. Now, we don't need to tell you how moronic and dangerous that could be. People flouting traffic regulations has, unfortunately, gained us the title of having some of the most dangerous roads to drive in the world. As a matter of fact, this is precisely the reason why so many lives are lost on our roads annually. Read the details of this idiotic act here.
You may also like: Mahindra Thar Mowing Down Pedestrian Shows What's Wrong with Our Drivers
You may also like: Girl Dancing on Royal Enfield is More Stupid Than Skilful – Here's Why
Young Bikers Drinking While Riding
The video has been shared by a regular reader of Car Blog India. In the video, two young riders are seen travelling on the bike without the helmets. That, in itself, is questionable and should not be done. In addition to that, there are holding drinks in their hands. Now, this is risking things too much and taking things too far. The video is shot in slow motion. As they take sips of their drinks, the pillion rider somehow loses balance. The driver is also seen performing a stunt after taking a sip as if they were flying with their arms wide open. As they let go of their hands, the pillion rider starts to fall off the motorcycle.
You may also like: Part 2 of Bajaj Pulsar 220 Ghost Rider Stunt Is Stupidity at its Worst
He tries hard to grab onto the bike or the driver but ends up falling on the side of the road. The driver tried hard to balance the bike because of all the distractions at the rear. Eventually, he managed to stabilise the bike but the pillion rider is seen on the ground. This could have ended even more terribly. By the looks of it, the person might not have sustained too many injuries apart from a few bruises. Nevertheless, undertaking stupid acts like these on roads will only lead to such situations.
You may also like: These KTM and Royal Enfield Riders Are Pure CRINGE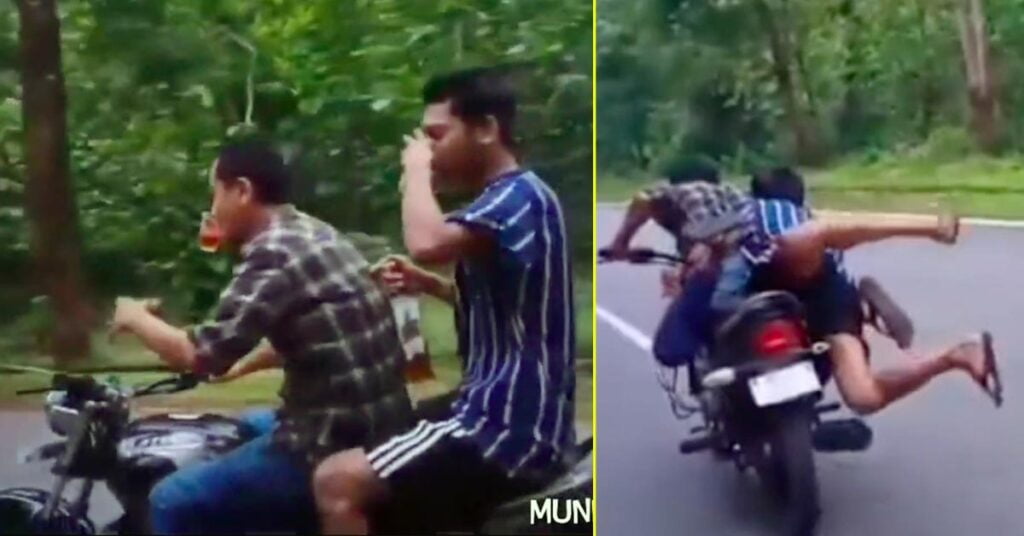 We would like to urge our readers to never do anything like it as it endangers your lives, as well as the lives of others. Make sure you follow the traffic regulations and prevent drunk driving and overspeeding at all costs. These two continue to be the most common reasons for road accidents.
Join our official telegram channel for free latest updates and follow us on Google News here.