Skoda has been able to transform itself as a brand in India after its India 2.0 initiative came into existence along with a ton of new products and Zac Hollis is the man behind it all.
In this heartfelt note by Zac Hollis, he explains why he engages with customers on social media platforms in India. For the uninitiated, Zac is the Head of Marketing, Service for Skoda in India. He is popular on social media because he directly interacts with people who have issues with Skoda products and his intervention often leads to the customer getting solutions sooner rather than later. Through this post, he explains the thought process and the reason behind Social Listening.
You may also like: India Now 3rd Biggest Market for Skoda, Zac Hollis Reacts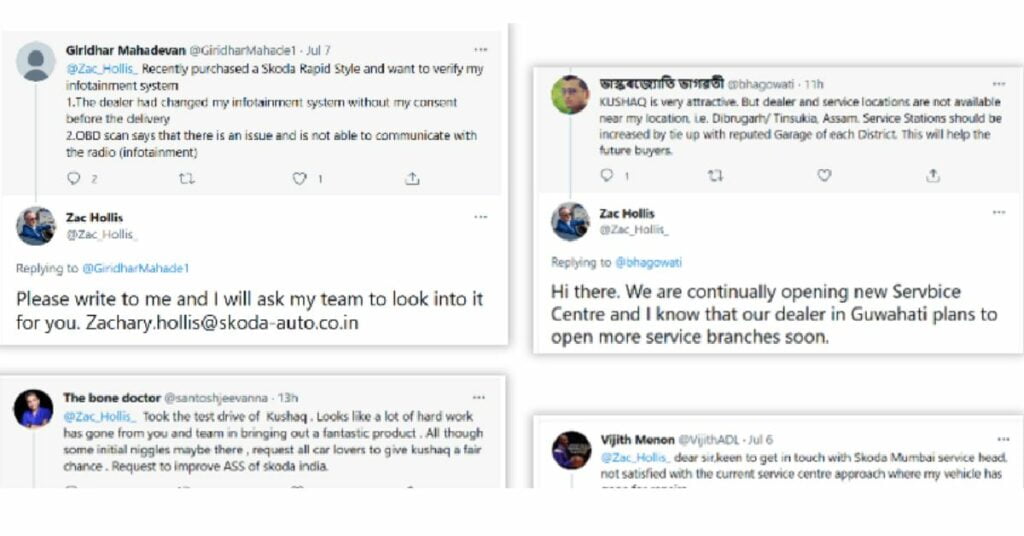 You may also like: Zac Hollis' Reply to Skoda Slavia Buyer Will Leave You Impressed
Why Does Zac Hollis Engage with Customers on Social Media?
He explains that every kind of information is available online today and people often look on the internet to know everything. Hence, it becomes critical to be present, as the Head of an organisation, in the space where the customers are. Secondly, if no one attends to these issues of the Skoda car owners, the image of the brand gets tarnished as people begin commenting without knowing everything. Even if the issue is minute, there could be a ton of negative commentary associated with it on the internet.
You may also like: Skoda Kushaq Owner Mighty Impressed With Aftersales, Thanks Zac Hollis
That is why he engages with the audience in order to control a lot of potential issues at an early stage. Additionally, this represents a positive image of the brand online. Customers feel that they have access to him giving them peace of mind even if there are some issues with the dealership. He mentions, that Indians value customer relationships a lot. Hence, it becomes essential that the face of the brand in India is readily available to listen to their concerns and ordeals.
You may also like: Zac Hollis Confirms Skoda Working on Solving Slavia's AC Issue
However, it must be mentioned here that Zac Hollis won't be holding his position in India for a long time as he already has decided to move on to his next endeavour. But we will definitely miss such an inspirational leader who put the customers' feedback on the top of his priority list and tried to help as many people as possible throughout his tenure here. What do you think about Zac Hollis and his customer experience-centric approach?
Join our official telegram channel for free latest updates and follow us on Google News here.