I want to start this blog with a topic that has been hovering in my mind for past few months since i have seen TATA Nano at Auto Expo 2008.
Main Differences Between Tata Nano and Maruti 800?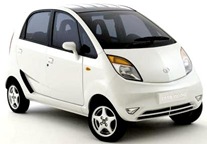 Advertisement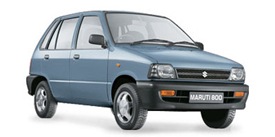 Price :
Tata Nano is going to be the cheapest car in the world. Expected to be around Rs. 1 Lakh ($2500), however after road-tax, registration, sales tax etc etc. For the base variant's, the on road price of Tata Nano is about  Rs. 1.3 Lakh ($3300).
Advertisement
Maruti 800 costs about Rs 1.95 ($ 4900), which is the cheapest available new car until Tata Nano is launched. Maruti Suzuki will most probably bring down the price further to attract the customers after the Tata Nano is launched.
Looks:
In Looks, Tata Nano clearly beats the Maruti 800, I have seen Tata Nano at Auto Expo 2008 in Delhi, and it looks stunning considering that its the cheapest car in the world. I hope the production models will have the same finish as was there on the display models at Auto Expo.
Maruti 800 has old style looks, Maruti will really need to give it a facelift to beat Tata Nano's looks. Also Maruti 800 is about 10% longer in exterior dimensions, which means Tata Nano will be easy to drive in congested traffic as its small in size from outside.
Power:
Now we are talking about something real, the power, Tata Nano churn out a Maximum power of 33 BHP as compared to Maruti 800 churns 37 BHP. But the catch is Tata Nano weighs only 580 Kg compared to Maruti 800's wight which is 660 Kg. So if we compare the power to weight ratio Tata Nano is at 0.057 BHP / Kg and Maruti 800 at 0.056 BHP / Kg. It means, the feel of power of Tata Nano will be almost equal to Maruti 800's feel, which is not bad at all for almost half the price

Noise and Harshness:
This is an area where Maruti 800 beats Tata Nano, according to auto experts and reviewers, Tata Nano becomes quite Noisy at speeds above 60 Km/hr. Reason is that the engine is rear mounted and noise insulation is not that high end. Second reason being the low capacity engine in Tata Nano (625 CC) compared to Maruti 800 (800 CC), the engine of Nano has to put in more effort for extracting out more power in lesser engine displacement.
Safety:
Safety is something on which I cant comment much, but Maruti 800 being a tried and tested car for long time, has a better good-will in its robustness and sturdiness. Maruti has front mounted engine and a safe and strong structure.
Tata Nano has rear mounted Engine and is yet to hit the market, so can't comment much right now on safety, but I hope that Tata's have designed it well keeping in mind all the crash Norms which cars have to fulfil.
Mileage or Fuel Efficiency:
Tata Nano beats Maruti 800 in Fuel efficiency, two reasons for this, it has less capacity engine which means that it runs at close to its higher engine speeds mostly ( which improves fuel efficiency) and second that it has been designed taking into consideration of Euro 5 norms, which means a really fuel efficient engine.
Comparing Maruti 800 Mileage of approx. 15 to 18 KM / litre and Tata Nano Mileage of approx. 20 Km/Litre, its a 20% saving in the fuel cost, which is considerable if you drive a lot.
Interior Space:
The interior space of Tata Nano and Maruti 800 is nearly same, Nano has about 20 % greater inner space compared to Maruti 800 as claimed by Tata.
Miscellaneous:
There may be some miscellaneous features which vary between Maruti 800 and Tata Nano, for example, adjustable seats, headrests, comfort feel, drive-ability etc.
All in all, I would say Tata Nano is really a common man's car who needs to commute without any luxury features.
On a Scale of 10, I would give:
Tata Nano a score of 8 out of 10
Maruti 800 a score of 7 out of 10
More details here: