Wrapping new vehicles in coating and protection films is gaining popularity in our market lately and there are some prominent players offering these services.
This blog discusses the latest 2023 price list of the 3M car care treatment and protection plans in depth. As aftermarket car body shops are gaining prominence lately, ceramic coatings, anti-rust coatings, PPFs (Paint Protection Films), etc have emerged as the best methods to enhance the life of your car's paint. Essentially, the coatings cover the body and protect the paint from deteriorating over the years. As a result, the shine and quality of the paint of your car will remain new even after years of ownership. That will help with the resale value and personal pleasure. Here are various plans and treatments along with their prices.
You may also like: LED vs HID Headlights in Cars – Which is Better?
3M Car Care Plans with Price
There are plans and packages covering the exterior of the vehicle, as well as interior deep cleaning. For the exterior, one could decide to protect the entire body of the car or just some parts like bumpers, fenders, door panels, bonnet, and roof separately. In this manner, one could act as per his/her budget.
Package
Price
3M PPF
Rs 1.25 Lakh (for mid sedan) or Rs 650 per sqft
3M VentureShield PPF
Rs 1.75 Lakh (for mid sedan) or Rs 1,000 per sqft
3M Shield Coating
Rs 50,000 (for 2 years)
3M Trizact Exterior Polishing & Restoration
Rs 8,000 – Rs 15,000
3M Anti-Rust Coating
Rs 4,000 – Rs 7,500
3M Contrast Roof Wrap
Rs 300 per sqft (for Matte Finish);
Rs 400 per sqft (for Gloss Finish)
3M Car Car Plans with Price
You may also like: How To Fix Car Door Rattles and Squeaks Permanently – VIDEO
3M Paint Protection Film (PPF) Price
As the name suggests, PPF is done on new cars to keep them brand new for a long period of time. Essentially, a transparent film is wrapped over the entire body or on some components (as per the customers' demands). This ensures that the minor scratches never reach the surface of the body and are absorbed by the film itself. That is why it is also said to possess self-healing properties since these scratches are corrected by the film itself. All areas of a car can be covered using this film which also helps in cleaning as the stains don't get stuck on it.
You may also like: White Fog Lights vs Yellow Fog Lights – Pros and Cons
Still, one needs to take care of things like not parking the car in direct sunlight during harsh summers. The 3M VentureShield PPF is the more premium version of the regular PPF. The film used to wrap the car is thicker but the prices are also around 50% higher. This PPF costs in the vicinity of Rs 1,000 per sqft compared to around Rs 650 per sqft for the normal PPF. The PPFs could last for many years if maintained properly.
You may also like: This is How a Tyre Puncture Repair Kit Works
3M Shield Coating
This is a chemical coating that is done on the surface of the car to protect the paint and lend hydrophobic properties to it. Note that this is not a thick film on the car but merely a chemical coating. As a result, it doesn't last as long as the PPF. For that reason, these are significantly cheaper than the PPF. The coating consists of a liquid polymer that bonds with the original paint of the car to protect against minor scratches, dust accumulation and swirl marks while retaining the shine of the original paint.
You may also like: How To Do Hill Start Without Handbrake
3M Trizact Exterior Polishing & Restoration
This is the practice used to make old cars look new. For people who have not taken care of the paint of their cars and the cars are many years old, getting the exterior polished and restored becomes critical. It contains chemical compounds that are used to apply on the body surface, tyres, glass, rubber and other parts. This ensures that old minor scratches are removed and the dull parts retain a new shine making the surface glossy. This is done by washing and using rubbing compound along with the 3M Trizact Polish.
| | | |
| --- | --- | --- |
| 3M Car Treatment Detailing Pack | Segment | Price |
| Car Wash (3M Foam Wash of Car Body) | Hatchback – Sedan | Rs 500 – Rs 700 |
| Car UV Protect | Hatchback, Sedan & SUV | Rs 1,500 – Rs 2,000 |
| 3M Paint Protection Sealant / Treatment Plans | Hatchback – High End Luxury Cars | Rs 6,000 – Rs 10,000 |
| Interior DryClean & Germclean | Hatchback – Luxury Cars | Rs 3,500 – Rs 9,000 |
| 3M Acoustic Solution for Noise and Vibration Dampening on Doors | All Cars | Rs 6,500 – Rs 7,500 |
| 3M Alloy Wheel Polish | All Cars | Rs 1,000 – Rs 1,500 |
| 3M AC Vent Cleaning | All 4 Front AC Vent Cleaning | Rs 1,000 |
| 3M Total Car Package for 1 Year | Power Shine and Germ Kleen Plus (1st Month), Advanced Paint Sealant Protection (5th Month), GermKleen (7th Month), UV Protect (11th Month). Bi-Monthly Advanced Car Wash – 6 Car Wash | Rs 15,000 – Rs 20,000 (Hatch & Sedan) |
| 3M Nomad Car Floor Mats | Custom Machine Designed for Each and Every Car, including Fitment. Prices vary based on Area Sq / feet | Rs 5,000 – Rs 10,000 |
3M Car Care Treatment Plans and Prices
You may also like: Nitrogen VS Air in Tires – Advantages and Disadvantages – VIDEO
3M Anti-Rust Coating
This is a unique treatment that is done to the underbody of a vehicle and not on the surface that is visible to the naked eye. In this method, rubberized paint is sprayed on the underbody by lifting the car in the air. It protects the underbelly components of the vehicles from road debris and rust over long periods of time. In fact, this coating comes with a 5-year warranty.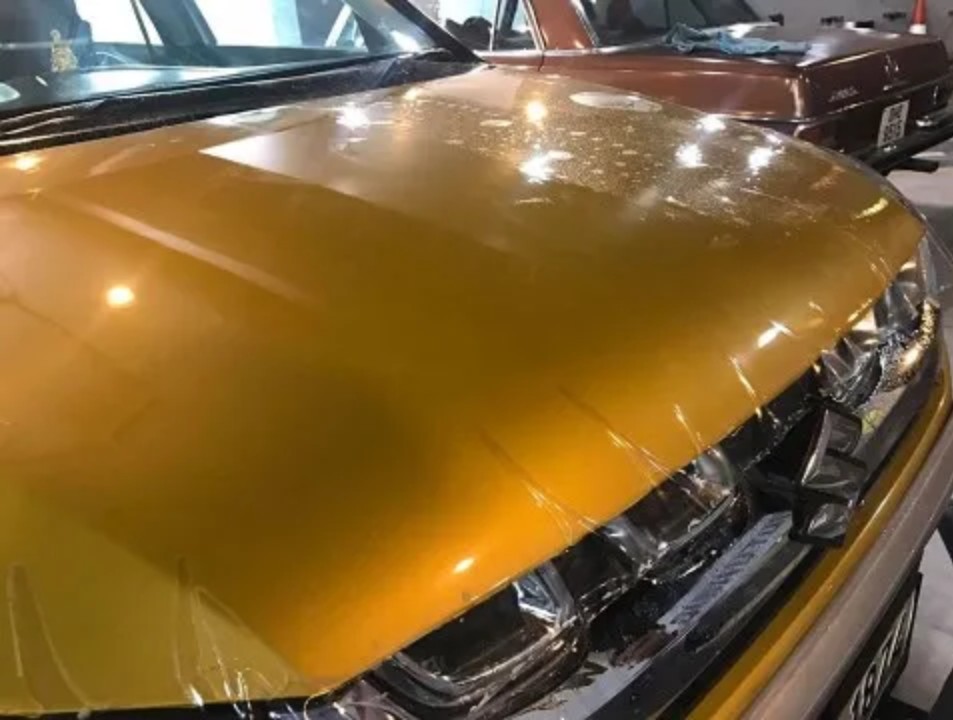 You may also like: How To Use Tire Load Index Chart While Purchasing New Car Tires
3M Contrast Roof Wrap Price
Finally, one could also get the roof of their vehicle wrapped. This is a trend that has gained prominence in the last few years. If the roof of the car is painted black, it contrasts with other paint colours oozing a sporty feel. One has the option of choosing between a Glossy or Matte finish depending on the taste. The prices range from Rs 300 per sqft to Rs 400 per sqft for Matte and Glossy respectively. This is the price list of the 3M car care treatment and protection plans.
Join us for FREE NEWS Updates on our Whatsapp Community or our official telegram channel.