Anand Mahindra is quite active on social media
In an inspiring viral tweet, he essentially offered a job to a man who made an electric Jeep at home
Anand Mahindra is an Indian billionaire and chairman of the Mahindra Group. He is extremely popular on social media, thanks to his viral tweets. Quite often, Mr. Mahindra can be seen promoting Mahindra products and praising exceptional Indians. He has even offered many rewards (including Mahindra cars) for special achievements. In a reply to one of his tweets, a man shared a video of his homemade electric Jeep and asked for a job. As expected, Anand Mahindra came back with an inspiring reply which has gone viral now.
You May Also Like: Anand Mahindra Reacts on Kid Admiring Her Dad's New XUV700 – Wins Hearts
You May Also Like: Anand Mahindra Reacts to Raveena Tandon's Wish to Buy Thar
Mahindra products are extremely popular in the Indian market. In recent years, the company has grown many folds and even the company chairman has become one of the most-admired personalities. Anand Mahindra is often interacting with people through Twitter. Alongside inspiring and catchy tweets, he never shies away from giving epic replies to engage with his followers. Netizens seem to love his sense of humor and classy comebacks. Additionally, the micro-blogging platform offers the easiest access to the famous businessman.
As you can see in the above tweet, A.Gowtham posted a video of his homemade electric Jeep online. He has managed to build an electric vehicle all by himself. When Mr. A.Gowtham saw Anand Mahindra reposting the video, he decided to reach out to the popular businessman and ask for a job. "Electric jeep we seperately control front wheel and back wheel . please offer me job sir" tweeted A.Gowtham. In an interesting turn of events, Mr. Mahindra replied back and seems to have accepted his request.
You May Also Like: Mahindra Scorpio N Used to Smuggle Rs 98 Lakh Cash in Spare Tyre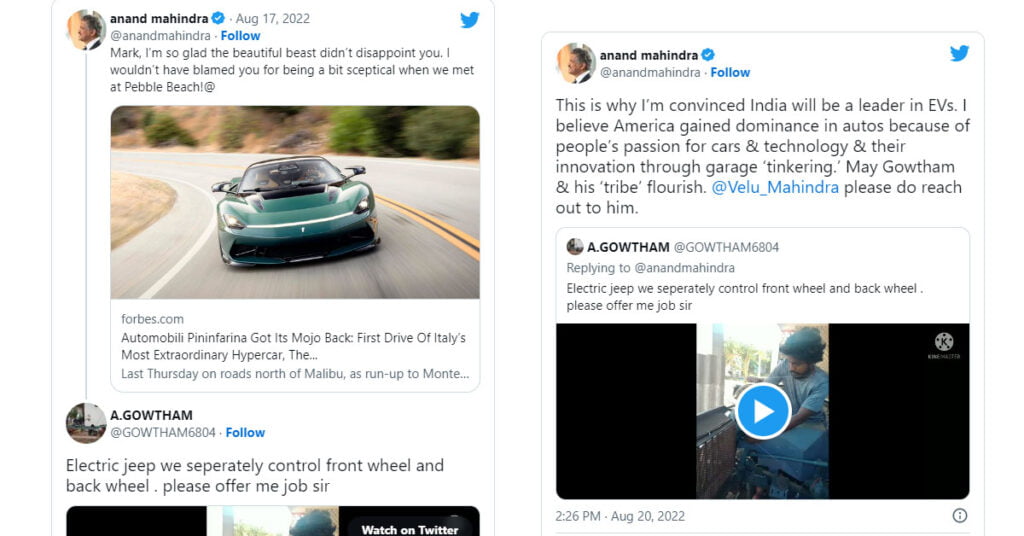 Anand Mahindra Accepts Man's Request
You May Also Like: Fan Wants Anand Mahindra to Drive Scorpio with Cowboy Hat, Morphs a Picture!
"This is why I'm convinced India will be a leader in EVs. I believe America gained dominance in autos because of people's passion for cars & technology & their innovation through garage 'tinkering.' May Gowtham & his 'tribe' flourish. @Velu_Mahindra please do reach out to him." replied Anand Mahindra. While it is always fun to see the Mahindra chairman shut down critics, this reply is quite inspiring. We hope someone got in touch with a budding talent like A.Gowtham and he secured a job.
Join our official telegram channel for free latest updates and follow us on Google News here.