The Audi e-Tron is the first luxury EV SUV to be launched in the country and it looks and feels mostly like a traditional Audi SUV, until the silence takes over of course.
Audi has finally unveiled the e-Tron EV SUV in India and it is expected to go on sale by the last quarter of this year. This is the first EV from any luxury manufacturer in India and while prices have not been announced yet, we expect it to be around Rs. 1.2 crores, on road. If, however, bu that time certain government subsidies become applicable, the price could drop to about Rs. 95 lakhs.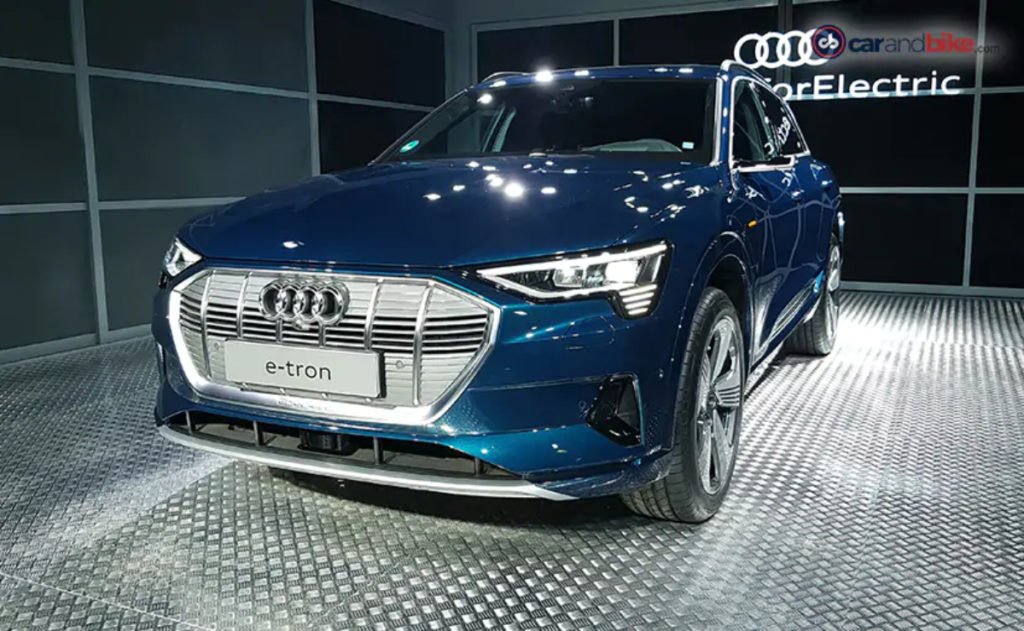 Talking about the design of this car, you wouldn't be able to tell immediately that this is an electrically powered car. Audi has intentionally made it look very similar to a traditional Audi SUV. In terms of dimensions, the e-Tron sits between the Q5 and the Q7. It is based on Volkswagen Group's MEB platfrom, a highly reworked version of the MLB platform. In terms of dimensions, the SUV is 4,901mm long, 2,192mm wide and 1,629mm in height.
There are of course certain subtle differences which give away that this is electrically powered. Like the wider front grille finished in silver that also house dynamic flaps for increased aero efficiency. The headlamps have a little different detailing than regular Audi SUVs and there are also triangular inserts on the front bumper.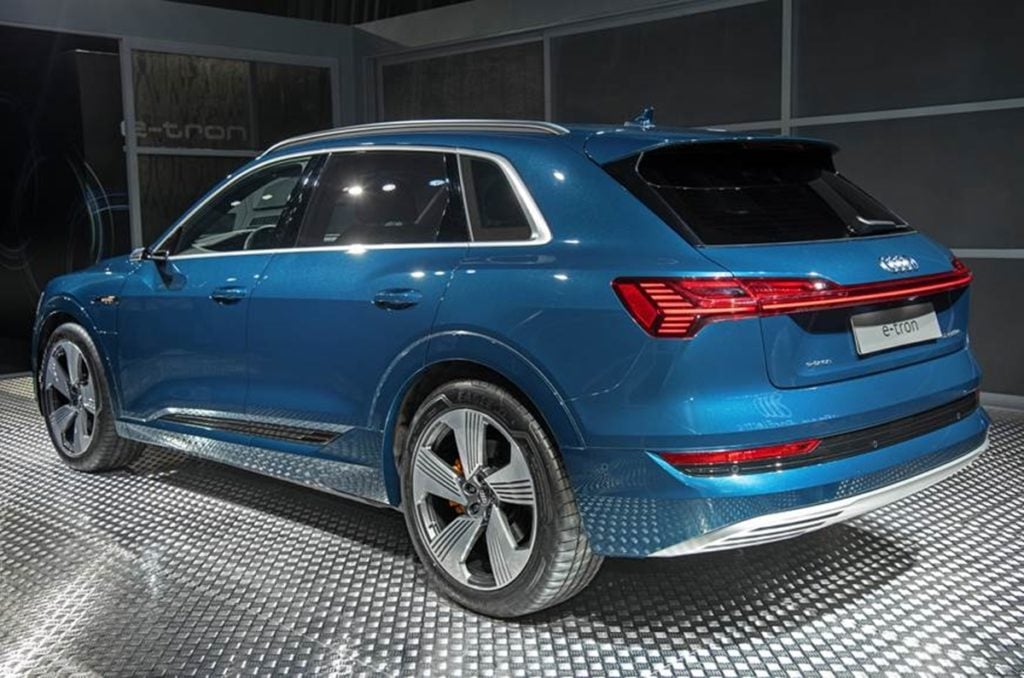 At the sides, the wing-mirrors have been replaced by cameras put on sleek bars jutting out of the car, which are said improve aero efficiency. There are large 20-inch contrasting grey wheels which again have been designed to aid efficiency. The side profile is largely similar to any Audi SUV. At the rear, there's a light bar running the width of the car and uniquely designed tail lamps for the e-Tron. It also has a drag co-efficient of just 0.27 Cd.
On the interiors too, the dashboard layout is again similar to the new age Audis with their dual screen set-up. The E-tron debuts the MMI2 interface for India and the screen is now more angled towards the driver than before. Also new is the floating gear-selector and capacitive buttons in place of physical ones. The dashboard itself is more layered now with its sharper elements, as seen with the AC vents. The virtual cockpit too has been updated for EV application.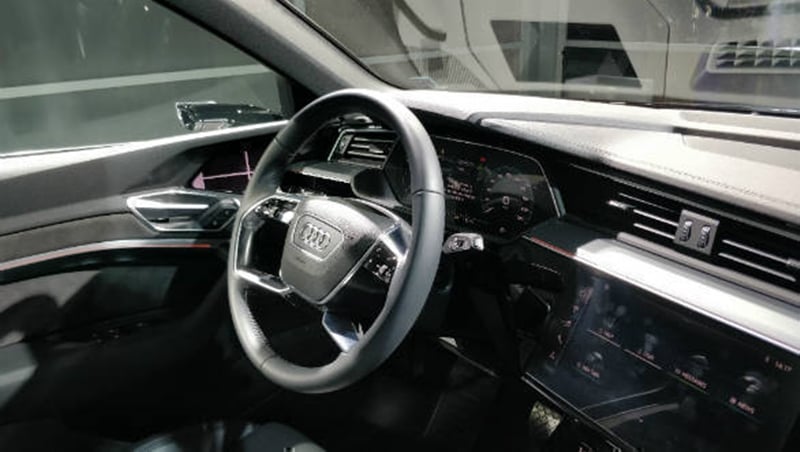 The Audi e-Tron has its batteries placed on the floor and it gets to make full use of its 2,928mm wheelbase. The dashboard too has been pushed forward to free up more interior space. It will of course be loaded to the brim and expect features like ambient lighting, four-zone climate control, wireless charging, navigation, a Bang and Olufsen sound system, adaptive air suspension, 360-degree cameras and a panoramic sunroof. The trick rear-view cameras will be an optional extra.
As for the powertrain, the Audi e-Tron uses a liquid-cooled 95 kWh lithium-ion battery between the two axles. This powers two electric motors, one on each axle, for a combined output of 265 kW and 561 Nm, with AWD system naturally. The e-Tron sprints from zero to 100 kmph in 6.6s and on to a 200 kmph top-speed. A boost function is available which increases outputs to 300 kW and 664 Nm, and drops the acceleration time to 5.7s. Three levels of recuperation are available, accessed via the paddle shifters, and these can recover upto 30 percent of the energy spent. Further, these also assist in deceleration.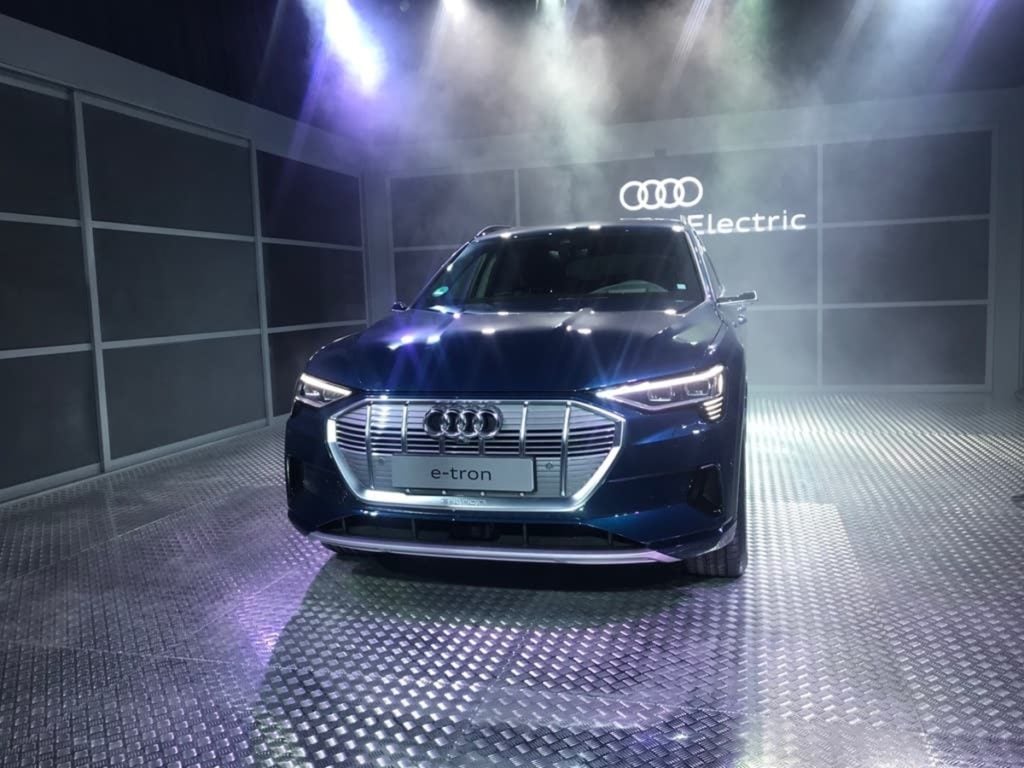 Also Read : Audi Q3 Sportback To Be Unveiled Globally In July, 2019
The Audi e-Tron gets a driving range of 400 kms. It also gets a special 'Range' mode which shuts down auxiliary energy-consuming functions to get the maximum range out of it. There are several ways to charge your e-Tron. You can use a regular 11 kWh hour AC charger which takes 8.5 hours. An optional 22 kWh fast charger will also be an option for customers, which tops up the car in 4.5 hours. Further, the e-tron can also be charged using a 150 kWh AC fast charger, which gives 80 percent range in 30 minutes. Audi India will set up the chargers in owners houses when they buy the e-tron.
Also Read : Audi Q7 Facelift Unveiled Globally; Expected India Launch In 2020
The Audi e-Tron will come into the country via the CBU route under the new rule that allows 2,500 units to be directly imported by a manufacturer. Audi expects to sell around 200 units of the e-tron in India and orders have already been placed. The e-Tron is the first of the many petrol, hybrid and electric cars that Audi has scheduled with a product offensive strategy.