Audi India has achieved an impressive growth of 33% in sales of Audi Luxury cars in India in the month of February 2012 with the sales of 660 cars compared to the sales of 450 cars in February 2011. This year, Audi has planned target to sell 8000 cars in year 2012 compared to 5511 cars sold in year 2011. India is an important market for Audi worldwide and having recorded 84 percent growth last year, India is the fastest growing luxury car brand for Audi globally. Audi continues to be the segment leader in the luxury SUV segment with the Audi Q7 and the Audi Q5. The Audi model range in India includes Audi A4, Audi A6, Audi A7 Sportback, Audi A8L, Audi Q5, Audi Q7, Audi RS5 Coupe, the super sports car Audi R8 and the Audi R8 Spyder available across India in Audi dealerships.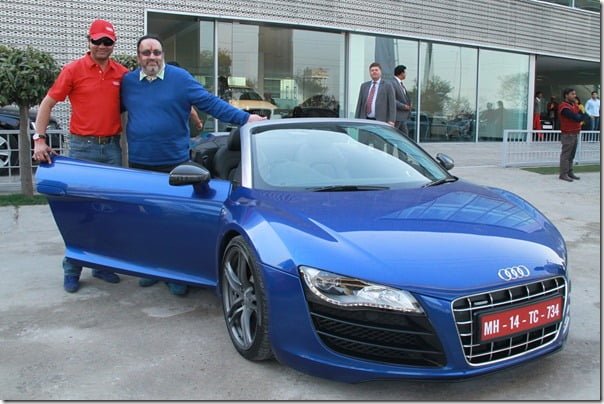 image – Audi R-Drive In Delhi
Commenting on the sales performance, Michael Perschke, Head, Audi India quoted:
"We are delighted with our outstanding sales performance in India in February 2012. We attribute this growth to the strong brand equity we have in the Indian market, thanks to our progressive product portfolio , world-class service standards paired with our increasing footprint through new dealer partners. Our commitment to the Indian market is reiterated by the forthcoming launch of Audi TT later this month. We also plan to expand our national footprint by covering markets like Nagpur, Coimbatore, Lucknow and Bhopal this year while further consolidating our presence in Mumbai and Delhi"
Globally, Audi achieved the No.2 position by selling 1,302,650 cars in 2011 – an impressive growth of 19. 2 percent (2010: 1,092,411). The company revenue increased at a much higher rate than sales, by 24.4 percent to € 44.1 (35.4) billion. With its rate of return ratios, the Audi Group is one of the most profitable companies in the automotive industry. The Audi Group improved its operating profit by over 60 percent to more than € 5.3 (3.3) billion.
check out more-
Join our official telegram channel for free latest updates and follow us on Google News here.