For many car makers in India, March 2012 is a milestone month in terms of sales. Large car makers like Maruti Suzuki, Hyundai, Honda SIEL cars India, Tata Motors etc. have all recorded record sales. Luxury car makers are also not far behind in this race, Audi India, one of the leading Luxury car makers in India, has posted its best ever monthly sales in India in March 2012 with the sales of over 1000 cars. This sales figure is about 47% higher than the sales of March 2011 which was 681 units. In year 2008, Audi India sold about 1050 cars annually, so this is a big leap forward for Audi India with sales increasing to almost 12 times in a span of about 4 years. Audi India recorded a strong first quarter with 2269 cars delivered in India between January to March 2012 – an impressive growth of 41 percent over the same period last year (1611 cars: Jan- Mar 2011).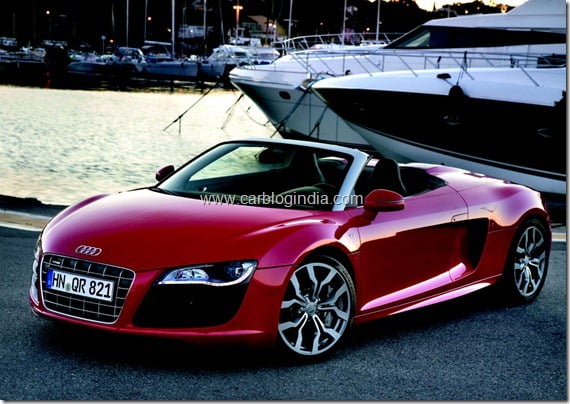 image – Audi R8 Sports cars
On this achievement, Michael Perschke, Head, Audi India quoted:
"Our impressive sales performance this quarter is testimony to the positive customer response to progressive design, world-class services and high qualitative network growth. We further strengthened our dealer network with the opening of a new Audi showroom in Nagpur recently and have planned for more developments on this front later this year. Our recently launched high performance sports Coupe Audi TT, has received an overwhelming response from customers across the country. Our business luxury limousine, Audi A6 and the Audi A4 have contributed greatly to this sales performance. This is the beginning of what we believe will be Audi's most successful year in India to date and I am confident that we will continue to meet the needs and demands of the young and aspirational Indian luxury car buyer. Learning from our 21 years of market leadership in China, our strategy of building a strong brand, a high quality network and a strong product portfolio is paying its dividend also in India."
Audi continues to be the fastest growing luxury car brand in India. The brand with the four rings continues to be the market leader in the super sports car segment with its R8, RS5 and now TT and in the luxury SUV segment in India with its Q5 and Q7. The launch of the Audi Q3 later this year will further consolidate Audi's leadership position in the segment. Audi India will further expand its footprint to cover markets like Coimbatore and Lucknow this year while further consolidating its presence in Mumbai and Delhi. Dealerships will be announced in these locations shortly.
Check out more-