Unfortunately, there are a ton of people on the road, particularly the youngsters who waste a lot of their time trying to impress girls with dangerous bike stunts.
In this heart-warming video, a girl is seen helping the man who falls off his Bajaj Pulsar seconds after he misbehaved with her. Now, the entire episode has been captured in the CCTV footage. The girl is waiting at the bus stop when this man arrives on his bike. He is not wearing a helmet and is seen coming near the girl asking her to sit on the bike. The girl kept ignoring him for a long time. He kept coming and going around the area on his bike.
You may also like: This Kind Gesture From Swiggy Delivery Guy Will Melt Your Heart
You may also like: Man Doing Push-ups on Garbage Truck Falls, Police Says Be Budhimaan, not Shaktimaan
Man Falls Off Bajaj Pulsar After He Misbehaved With A Girl
Finally, he tries to pull a drift when the tyre of the bike lost traction. Suddenly, he is seen lying on the ground holding his left arm. There are a few people nearby but no one was interested in helping him. This is understandable after they saw him misbehaving with the girl only a few moments earlier. However, to everyone's surprise, it was the girl who approached the man on the ground and began to tend to his wounds. She offered her scarf to tie around the injury. The bleeding elbow of the guy is clearly visible in the video.
You may also like: Owner Shares Heartwarming Story of Ford EcoSport's Build Quality
Thereafter, she hands him the bottle of water to calm him down. Meanwhile, another passerby stops to pick up the fallen bike and parks it rightly. He also joins the girl to help the injured. What is even more impressive is the fact that the girl bacons over an auto-rickshaw and takes the man to the hospital. She is seen getting in the auto herself and taking the guy to medical assistance. This is an incredibly generous deed from the girl for which she receives mad applause on the internet.
You may also like: Heart Warming- Ford India Sends B'day Gift to Customer's Toddler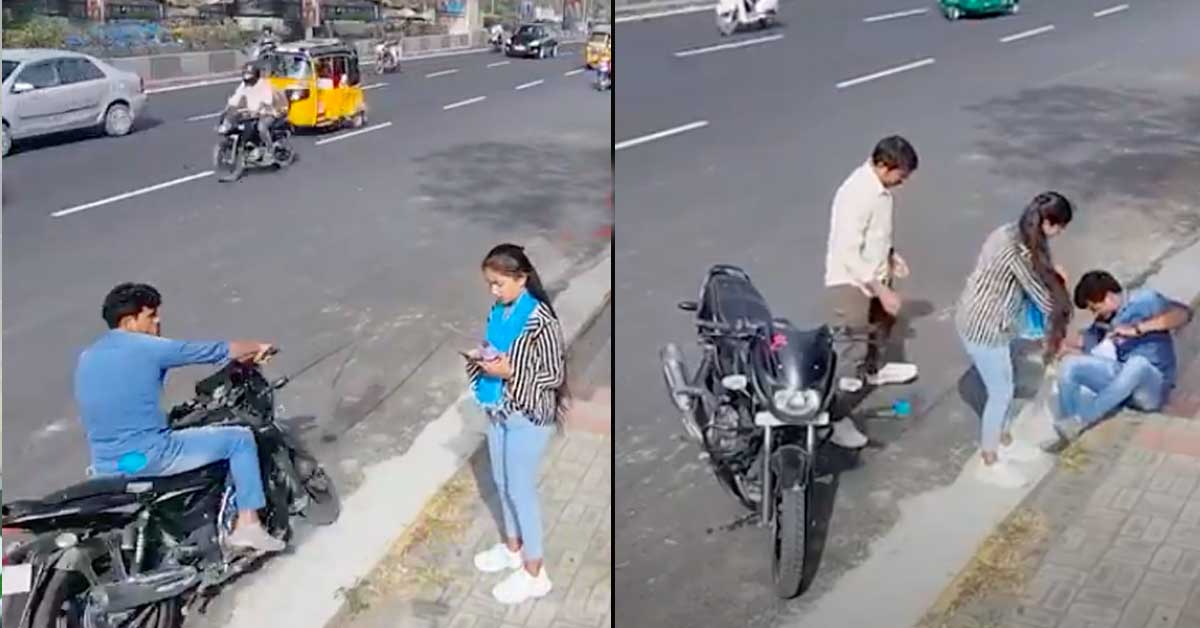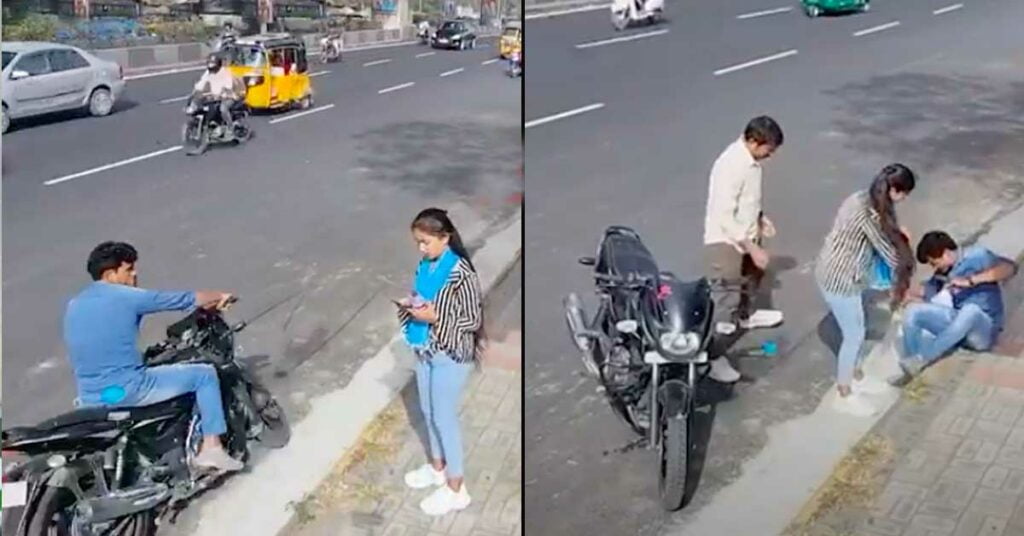 We hope that guys quit doing such stupid activities on the roads. They are jeopardizing not only others' safety but their own as well. Stopping such acts is a crucial step in establishing road safety on our roads. Unfortunately, Indian roads are regarded as some of the most dangerous in the world and we would like to rid ourselves of this unwanted title.
Join us for FREE NEWS Updates on our Whatsapp Community or our official telegram channel.