Public roads are not meant to test the top speeds of vehicles and some idiots learn this the hard way.
In an utterly disappointed and saddening incident, a BMW driver was testing the top speed of his car when he hits a Maruti WagonR. The impact from the side on the WagonR caused the hatchback to topple over and land on two children sleeping under a flyover killing them on the spot. This incident has been reported from Lodhi Road in New Delhi. Let us check out the specifics of this troubled accident.
You may also like: Maruti Wagon Rear Ends Skoda Kushaq – See Damage
You may also like: Meet Tata Nano and WagonR Budget Helicopters
BMW Hits Maruti WagonR
This video clip has been uploaded by Prateek Singh who has the aim of highlighting the safety aspects of driving and raising awareness among car buyers regarding the importance of buying cars with high safety ratings. There are not too many details about this incident but things are quite clear. The driver of the BMW was testing the high speed of the car when it hit a Maruti WagonR on a junction from the side. Because of high speed, the WagonR overturned and landed directly on 2 children who were sleeping on the roadside under a flyover. Unfortunately, both of them didn't survive this brutal impact.
You may also like: 3-Door, 3-Wheeler Maruti WagonR is 'Jugaad' of Millennium!
There are a few visuals of both the cars after the crash. The entire side profile of the WagonR is crushed due to the direct impact at high speed. There is damage to the side pillars of the WagonR too due to the crash landing. On the other hand, the damage to the front fascia of the BMW is relatively minor because of the angle of impact. WagonR had to bear the large brunt of this impact. The driver of the WagonR reported the incident to the police and we hope that strict action is taken against the driver of the BMW.
You may also like: Ford Figo Tests Build Quality of BMW 5-Series – Surprising Result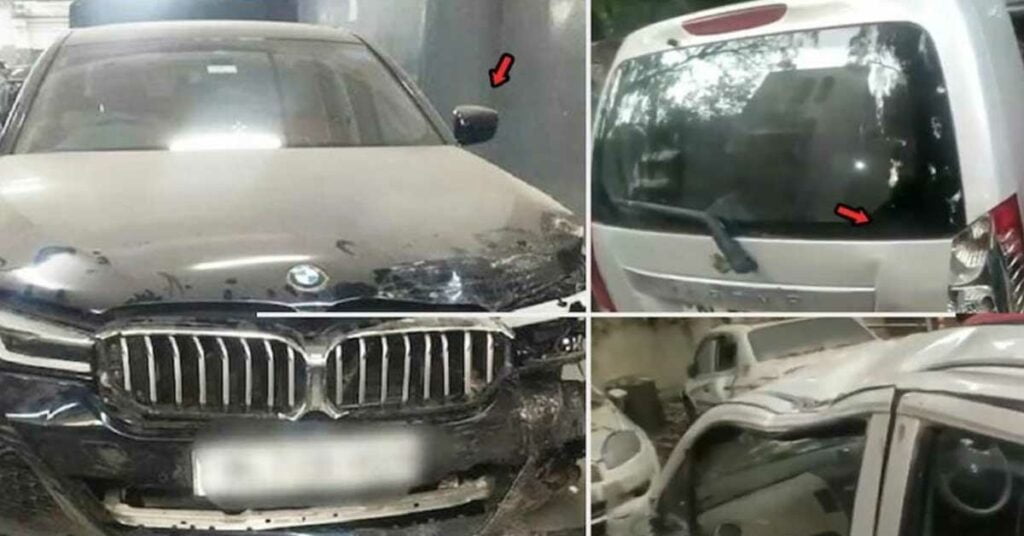 Finally, we would like to urge our readers to always follow traffic regulations and avoid overspeeding at all costs. It is the most common reason for unfortunate scenarios on the road. Also, make sure that you report any person causing a nuisance on the roads or flouting the traffic rules. Let us try to make our roads safer than they currently are.
Join our official telegram channel for free latest updates and follow us on Google News here.