Fed up with the ever-increasing fuel prices, car owners are having to look for alternatives in the aftermarket industry and CNG is emerging as the go-to solution, at least in the big cities.
This video captures the installation process and owner review of the aftermarket CNG kit on a Tata Nexon. Now, while equipping SUVs with CNG kits is not that popular, the astronomical fuel prices have persuaded people to go for it. Nexon is selling like hot cakes at the moment posting consistently healthy sales month after month. It comes with the petrol and diesel options but the constantly rising fuel prices are making it difficult for people to use cars in the traffic of the cities every day. Hence, CNG has emerged as one of the main alternatives.
You may also like: 2022 Hyundai Venue vs Tata Nexon Comparison – Which B-SUV to Buy?
You may also like: Baby Jeep Compass Looks Like a Perfect Tata Nexon Rival
Tata Nexon Aftermarket CNG Installation
The YouTuber explains that he has installed this CNG kit on the Nexon without making too many modifications to the engine bay. They have refrained from cutting any wires and have not disturbed the other engine components either. That is visible once the YouTuber opens the bonnet and shares the visuals from inside. The CNG parts are merged seamlessly into the engine. On customer demand, the gas filling hose has been positioned right next to the fuel filling socket and not near the engine as with most CNG vehicles. The entire cost of this kit is Rs 30,000 using an old cylinder.
You may also like: Next-Gen Tata Nexon Conceptualized Based on CURVV EV
He also mentions that once the RTO kits arrive, they will replace this with the new ones and reduce the amount as a discount. The boot space has been compromised but the cylinder placement is quite compact and professional. The CNG installation could certainly make sense as Tata itself is planning to introduce the factory-fitted CNG powertrain with the Nexon. There have been multiple instances of people sporting the test mule. However, there is no concrete launch date as yet.
You may also like: Tata Nexon Diesel Ownership Review After 2 Lakh Km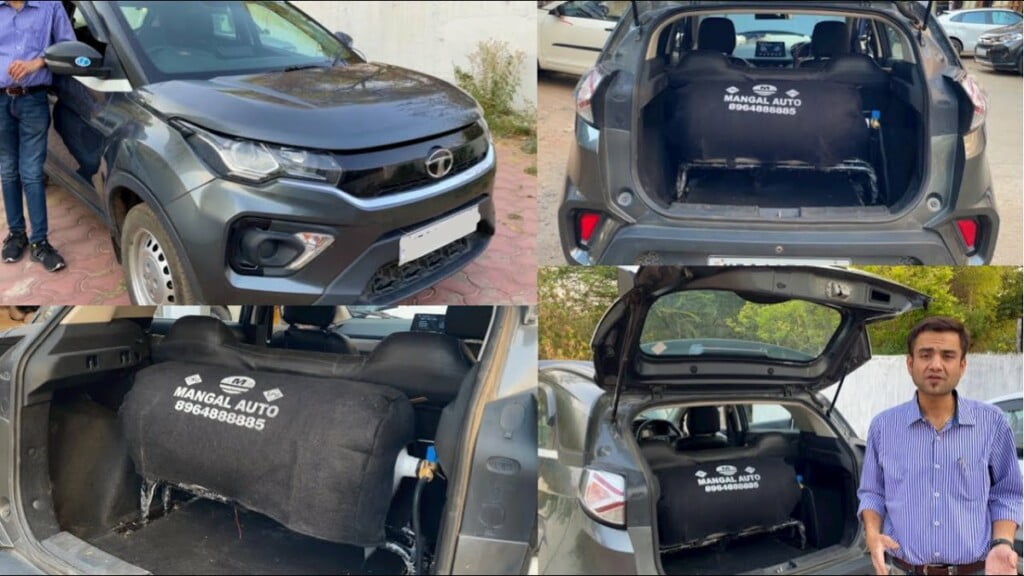 The characteristics of the CNG powertrains include a slight reduction in power and torque. Hence, the responses of the vehicle could slow down a little. On the plus side, one could save a ton of money on the fuel prices. The fuel prices are unlikely to come down in the future. In fact, the current geopolitical situation might cause them to rise even more. Are you willing to shift to CNG to tackle fuel prices?
Join our official telegram channel for free latest updates and follow us on Google News here.