Arnold Schwarzenegger is one of the most renowned faces in the world particularly known for his incredible physique and Terminator movies.
The car collection of Arnold Schwarzenegger will surely leave you in awe. Arnold Alois Schwarzenegger is an Austrian and American actor, businessman, filmmaker, investor, retired professional bodybuilder and politician who served as the 38th governor of California from 2003 to 2011. Among his countless achievements, he has been named one of the 100 most influential people in the world in 2004 and 2007 by Time magazine. Furthermore, he is incredibly famous for his insane physique and the Terminator movie franchise which is among the most popular ever. Let us take a look at his fabulous garage.
You may also like: Luxurious Car Collection of American Rapper Future – VIDEO
You may also like: Check Out the INSANE Car Collection of Orlando Bloom
Car Collection of Arnold Schwarzenegger
Cars of Arnold Schwarzenegger
Bugatti Veyron
Bentley Continental Supersports Convertible
Bentley Continental GT Speed Convertible
Bentley Continental GTC
Porsche 911 Turbo
Dodge Challenger SRT
Audi R8
Mercedes AMG SLS
Kreisel Electric G500
Mercedes-Benz Excalibur
Range Rover Vogue
Cadillac Escalade
Hummer H1 (x3)
Dodge M37
Arnold Schwarzenegger Cars
You may also like: Car Collection of Michelle Rodriguez is EXOTIC
Bugatti Veyron
Now, you would see that the top celebrities in the world who are fans of fast cars end up owning some model of Bugatti. Hence, the car collection of Arnold Schwarzenegger contains a Bugatti Veyron. The Italian carmaker makes some of the fastest and most expensive automobiles in the world. In fact, they are so rare that even some celebs don't have one. But Arnold is not just some random celebrity. The Veyron comes powered by an 8.0-litre W16 quad-turbo engine that generates an incredible 1,200 hp of peak power. Furthermore, it achieves a 0-60 mph acceleration in a mere 2.9 secs. One has to shell out a whopping US$2 million for this hypercar prior to any modifications.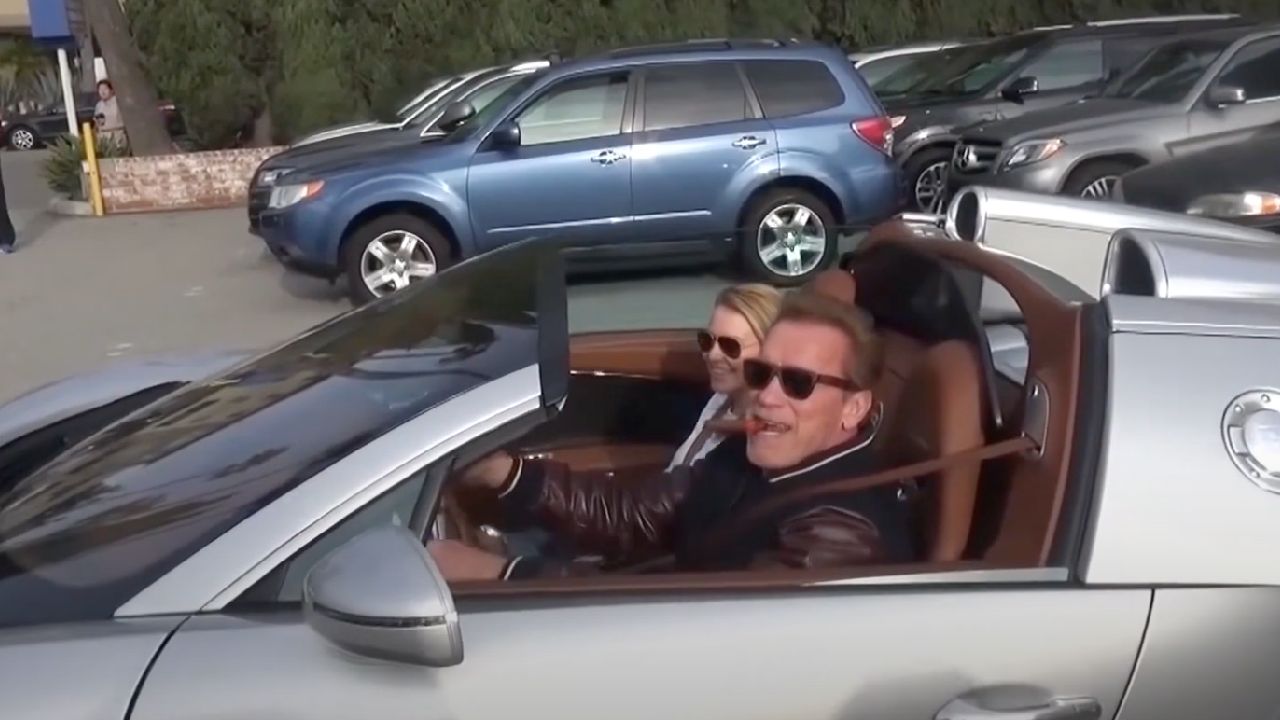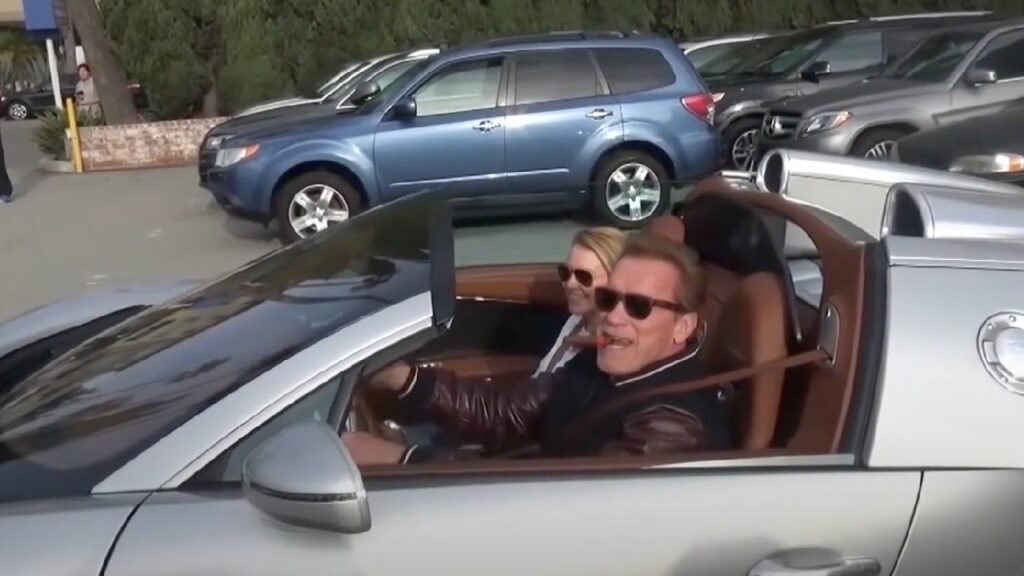 You may also like: Here's a SPORTY Car Collection of Mark Wahlberg
3 Bentley Cars
The next list of automobiles in the cars of Arnold Schwarzenegger includes various models of the Bentley Continental luxury saloon. This includes Supersports Convertible, GT Speed Convertible and GTC. It looks like he owns these models from different times as one could clearly spot the differences in the exterior of these cars. In the latest iteration, the Bentley Continental GT comes powered by a massive 4.0-litre twin-turbocharged V8 engine that churns out a colossal 542 hp and 770 Nm of peak power and torque. The top speed is limited to a jaw-dropping 318 km/h and the 0-100 km/h sprint can be completed in just 4 secs. Each model of the Bentley Continental lineup costs somewhere around US$200,000.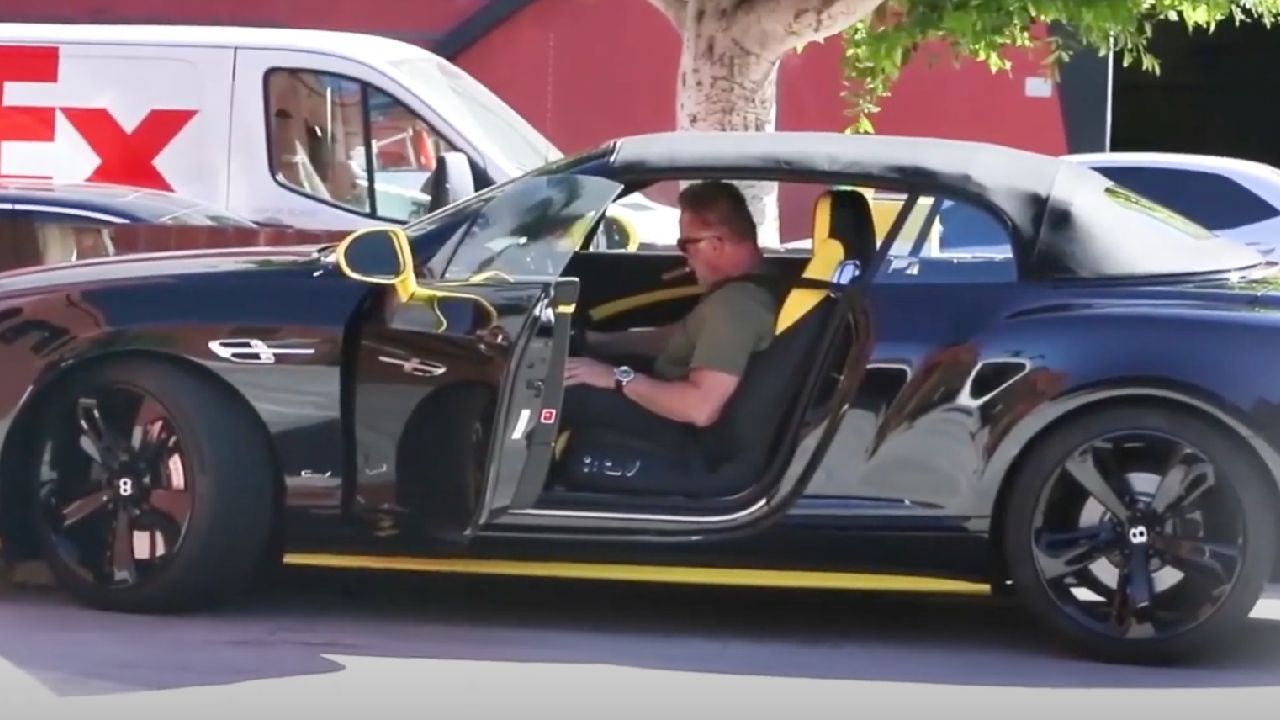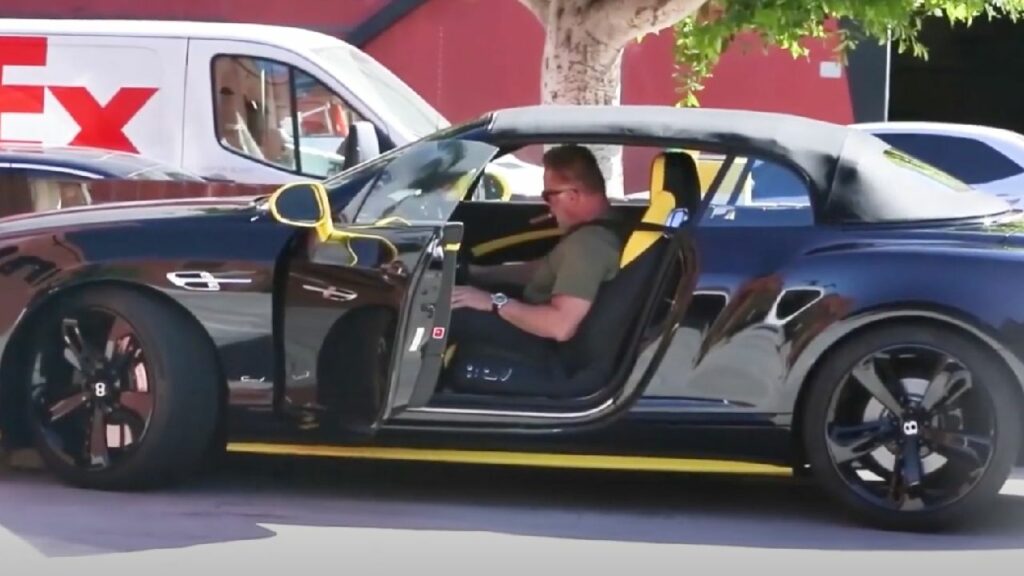 You may also like: Car Collection of Chris Pratt is UNIQUE
Porsche 911 Turbo
The car collection of Arnold Schwarzenegger also has a Porsche 911 Turbo. Now, anyone remotely interested in cars would know that the 911 Turbo is one of the most iconic models ever produced by the German performance carmaker. It has been the go-to choice for a whole bunch of driving enthusiasts because of its strong performance and impeccable handling. It comes powered by a 3.7-litre 6-cylinder twin-turbocharged boxer engine that outputs a mad 580 PS and 750 Nm of peak power and torque. The transmission duties are carried by an 8-speed PDK gearbox enabling a 0-100 km/h acceleration in just 2.8 secs. Arnold shelled out over US$200,000 for this sportscar.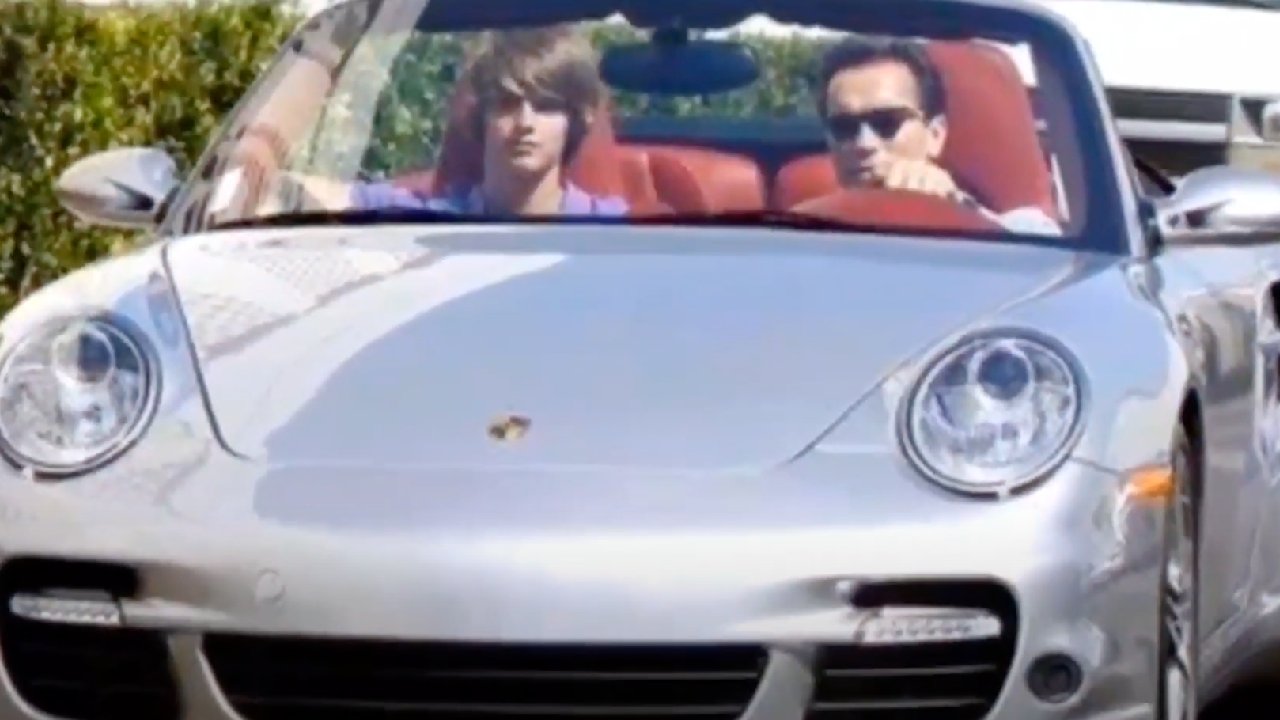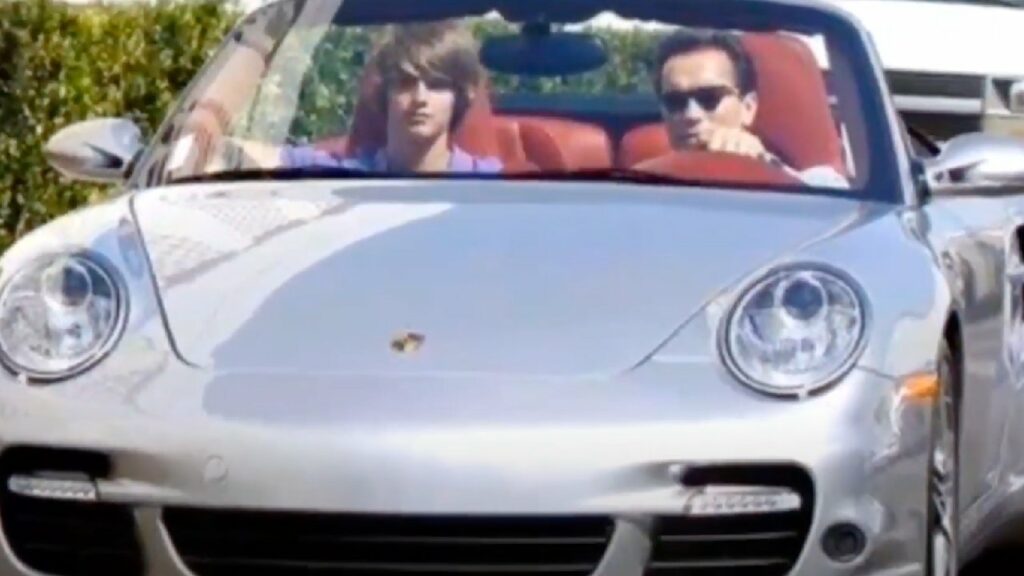 You may also like: Bike Collection of Keanu Reeves is INCREDIBLE
Mercedes SLS AMG
The SLS AMG is one of the most popular and stylish automobiles from the house Mercedes. It used to be on sale a few years ago which is why it features in the car collection of Arnold Schwarzenegger. The two-door coupe has a long hood and convertible rooftop allowing practicality to its occupants. Back in the day, it used to come powered by a 6.2-litre V8 petrol engine that produced 420 hp and 650 Nm of peak power and torque. The 7-speed automatic gearbox sent power to all four wheels allowing a 0-100 km/h acceleration time of just 3.8 secs. If you wanted to get your hands on one, you would've needed at least US$280,000.
You may also like: Robert Downey Jr. Plans to Give Away His Car Collection
Now, we can't obviously go into the details of all the cars he owns. But we have to talk about some prominent ones in his garage. This includes the likes of the Audi R8 two-door supercar, a muscular Dodge Challenger SRT for exhilarating performance, a Dodge M37, a Kreisel Electric G500 truck with an incredible road presence, a sophisticated Range Rover Vogue luxury SUV, a practical Cadillac Escalade which is a common ride for a whole bunch of celebrities in Hollywood, and 3 variants of the iconic Hummer H1. We are not sure if he has some more automobiles in his garage as well. In total, he has around 16 cars that have been spotted in public with an estimated worth of a cool US$4.48 million.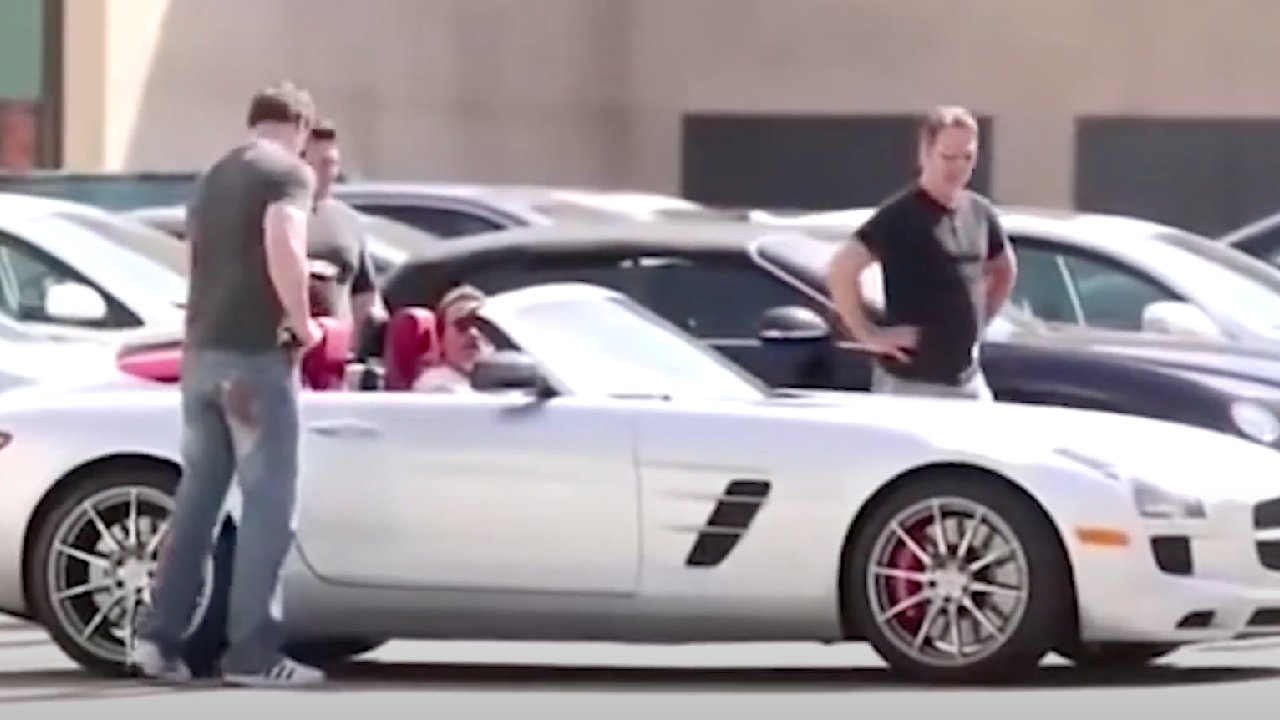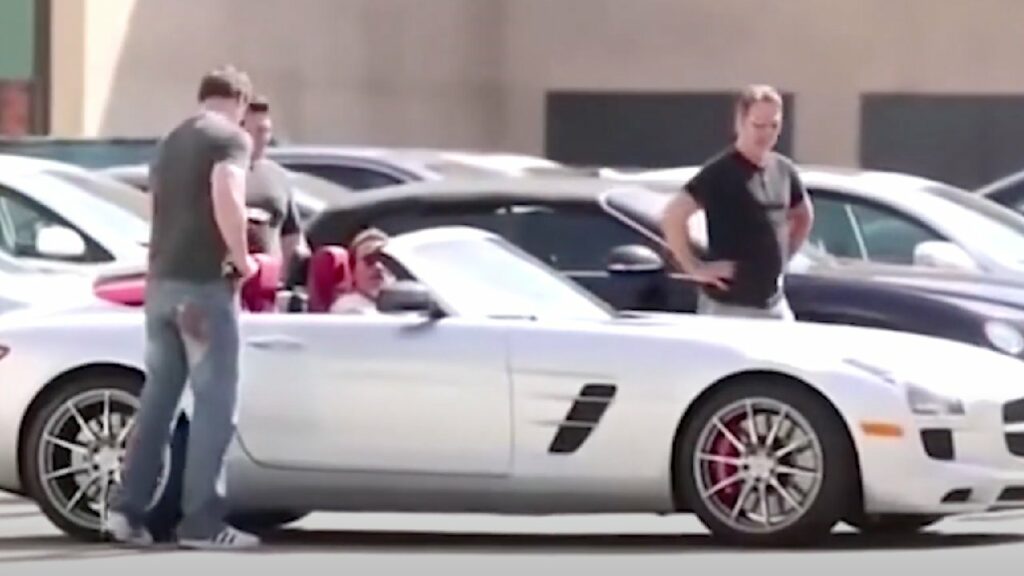 You may also like: Inside the Car Collection of Ben Affleck and Jennifer Lopez