Hamad bin Hamdan Al Nahyan is also known as the Rainbow Sheikh.
His net worth is estimated at a whopping $20 billion US.
According to some estimates, there are over 200 cars in his garage most of which are one-off special edition models.
The car collection of Rainbow Sheikh is definitely the most exciting and unique that you would ever come across. The real name of the Rainbow Sheikh is Hamad bin Hamdan Al Nahyan. With a net worth estimated at an incredible $20 billion US, the garage of the Sheikh is bound to have the most expensive and special cars in the world. He doesn't disappoint with tons of one-off special edition models that are made according to his whims and fancies. Here are the details of some of these.
You may also like: Car Collection of Sheikha Mahra (Dubai Princess) is Extravagant – VIDEO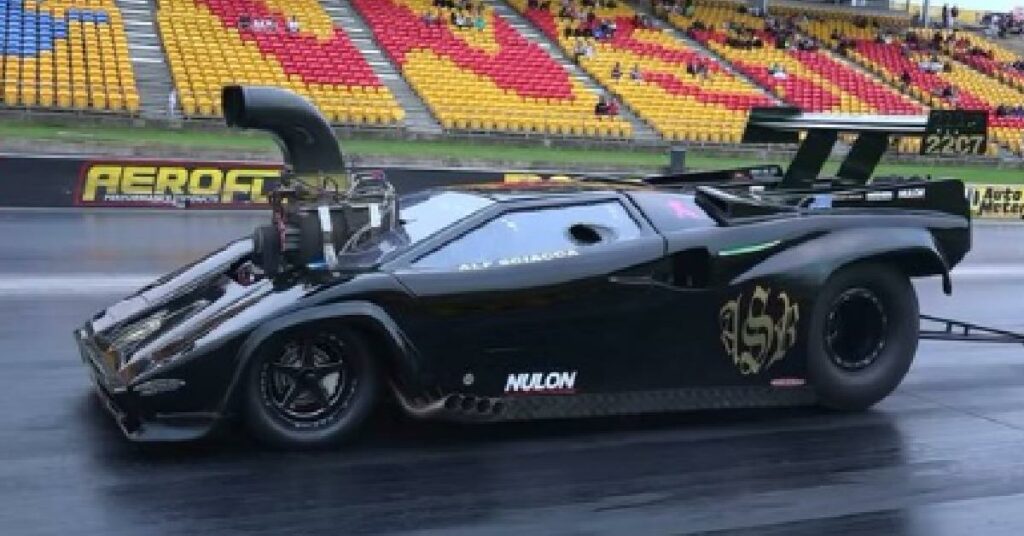 You may also like: Car Collection of Sheikh Mohammed Bin Rashid Al Maktoum is Simply Stunning
Extremely Supercharged Lamborghini
It goes without saying that we can't explain about each of his 200 cars in a single post but we shall take a look through some of his most prominent ones even though that is difficult too because of the sheer number of cars he owns. Let us start with the supercharged Lamborghini that has been modified to enhance the performance even further. While we don't know the exact specifications of the modified supercar, the name suggests that there might be some additional mechanical modifications made to the engine to make it unique and more powerful. The estimated price of the stock supercar is around $100,000.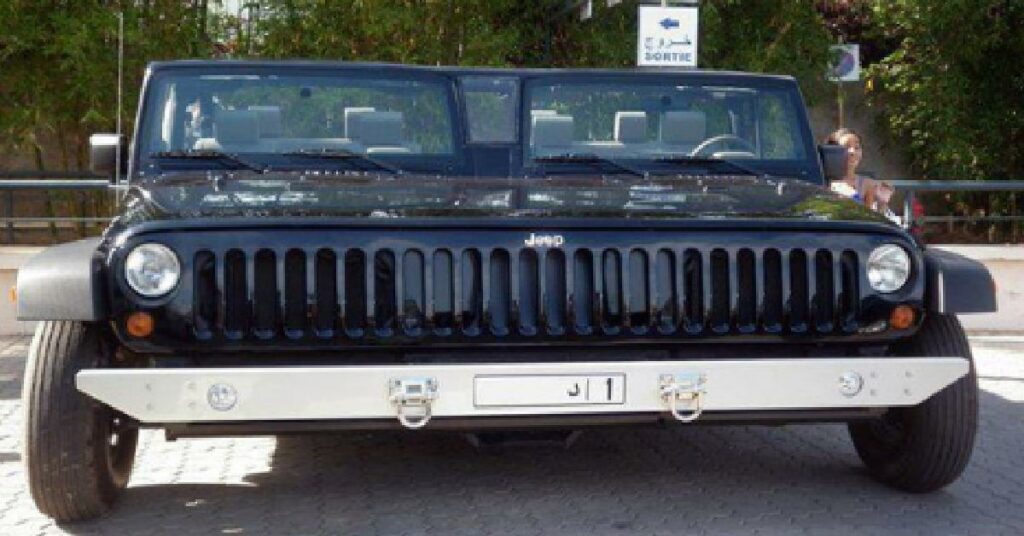 You may also like: WATCH 21ft Tall World's Biggest Hummer in Walkaround Video
Double Jeep Wrangler and Mega Hummer H1
Yet another interesting car in the collection of Rainbow Sheikh is the double Jeep Wrangler. He literally had two Jeep Wrangler SUVs joined together side by side to make a single colossal SUV. This is what happens when you have the money and power to do just about anything to a car. Thereafter, we have the super Hummer H1 SUV that holds the title of the largest Hummer in the world. It is 3 times the normal Hummer H1 in terms of size and 27 times in terms of volume. A regular Hummer H1 has a price tag of around $113,000 US. Therefore, it would be difficult to estimate the price of this.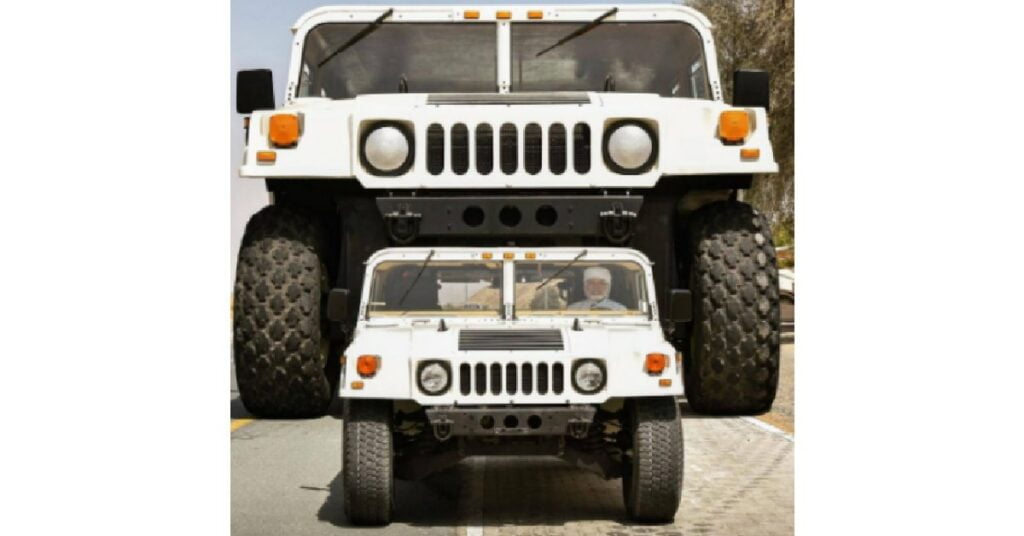 You may also like: Traffic Violations in UAE Can Seriously Hurt Your Pocket
Car Collection of Rainbow Sheikh Also Features World's Biggest SUV
In addition to these, the Sheikh also owns the world's biggest SUV, Dhabiyan. It is a 10-wheeler vehicle that is – wait for it – 10.8 m long, 2.5 m wide and 3 m tall. Looking at it from the side seems like looking at the engine of a train. The costs of such modified cars are nigh impossible to gauge. As a matter of fact, the SUV has 4 spare types which is certainly not something that one witnesses every day.
You may also like: Here's How to Get Discounts on Traffic Fines in Abu Dhabi and Ajman
Other Noticeable Vehicles in Car Collection of Rainbow Sheikh
Apart from that, the insane car collection of the Sheikh also has the world's largest pickup truck which is about 64 times the normal size of the 1950s Dodge Power Wagon. It has 4 AC bedrooms, bathrooms, a living room and a patio. Also, there is the special first-generation Porsche Boxster: Porsche 986 in his car collection as well. Shockingly, the Sheikh also owns a humble Fiat 500 compact hatchback in order to run some daily errands. What are your thoughts on the car collection of the Rainbow Sheikh?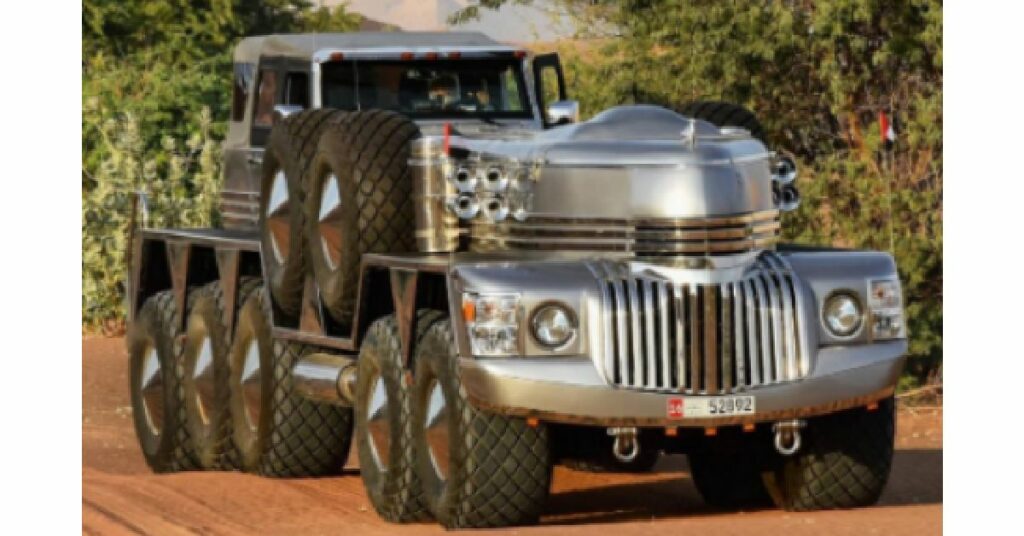 Join our official telegram channel for free latest updates and follow us on Google News here.